WATCH: Racists Run Amok In Trump Family's Favorite 'Student' Group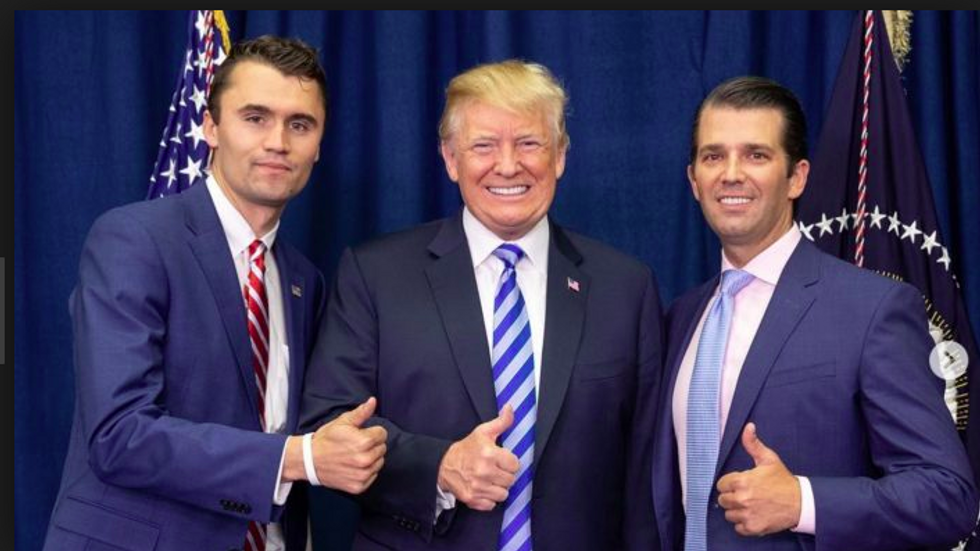 Reprinted with permission from Media Matters.
Turning Point USA is often associated with the time its members wore diapers in an attempt at "triggering" liberals, but this should not be the only public failure the group is remembered for. The conservative organization, which focuses on increasing right-wing political influence on college campuses, has a long history of involvement in racist incidents that are now permanently linked to its name.
TPUSA's founder and executive director, Charlie Kirk, has repeatedly denied that his organization is racist, yet the incidents of blatant bigotry involving members of TPUSA keep happening, even as leaks show white nationalists plotting to infiltrate it. Kirk, the right-wing "boy wonder" who has used Fox News to turn fear-mongering about left-wing ideology on college campuses into a profitable grift, has also successfully leveraged his "perfectly incoherent" sycophancy for the Trump administration into a cozy relationship with the president's family — a relationship seemingly unaffected by TPUSA's pattern of racism.
Here are incidents of racism involving TPUSA:
In viral video, leader of #LasVegas chapter of Turning Point USA seen giving Alt-Right "OK" sign while friend screams, "We're gonna run the world! White Power! Fuck N*****s!" Was seen giving same hand sign at recent "Build the Wall" rally. CW: Racial Slurs https://t.co/f0IwuCWAsR pic.twitter.com/qcQIFTzk8i

— It's Going Down (@IGD_News) May 10, 2019