WATCH: Rand Paul Says Jimmy Carter Was Better For Economy Than Ronald Reagan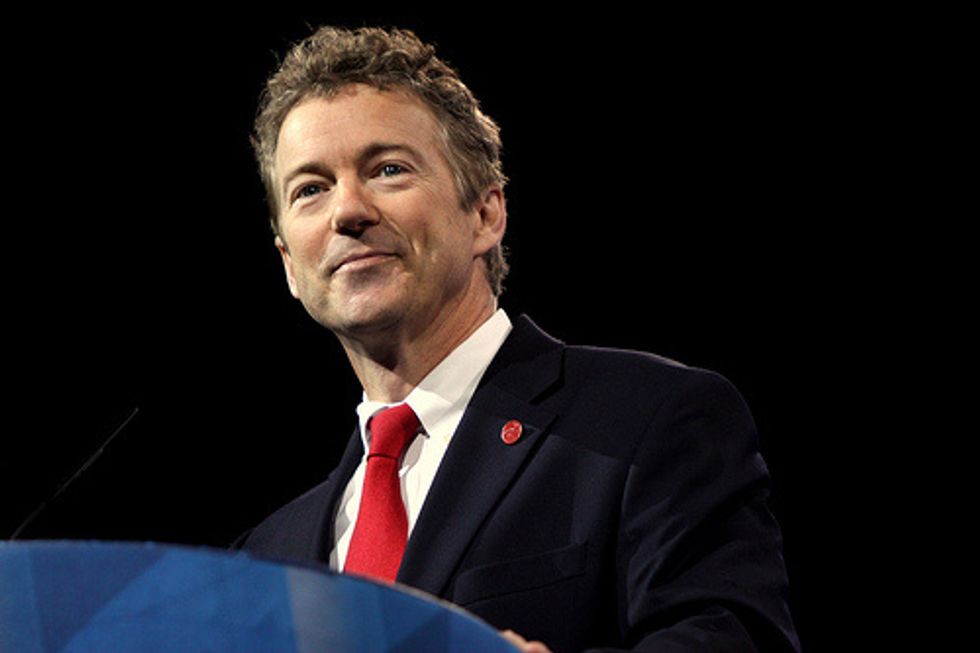 Senator Rand Paul (R-KY), a likely 2016 presidential candidate, has some explaining — and penance — to do.
On Wednesday, Mother Jonesdug up some old videos of the self-proclaimed libertarian slamming Republican hero Ronald Reagan's economic policies for increasing government spending and debt.
In 2007, while stumping on behalf of his father's presidential campaign, the younger Paul praised Ron Paul's decision to "vote 'no' against the very first Reagan budget."
"Everybody loved this 'great' budget," Paul mocked. "It was 100 billion in debt."
"This was three times greater than Jimmy Carter's worst deficit," he added. Ouch.
Paul again compared the Republican Party's most beloved hero to Jimmy Carter — the GOP's go-to punchline — at a Montana GOP event in 2008, saying, "Domestic spending went up more rapidly in the '80s than it did under Carter."
The Tea Party-backed senator went on to explain that he and his father have nothing "personal against" Reagan — they "just don't know that he had the energy or the follow-through to get what we needed."
A year later, in 2009, the punches kept rolling. "Domestic spending went up at a greater clip under Reagan than it did under Carter," Paul said while complaining for the Senate.
That same year, Paul even traced the source of Republican "hypocrisy" to Ronald Reagan — an argument he backed up by again invoking Jimmy Carter's economic record.
Paul's knockout, however, came afterwards, when he warned students at Western Kentucky University: "Well, you say, 'Reagan's a conservative, Carter's a liberal.' Not necessarily always what it seems."
"Not necessarily always what it seems" is also how Paul hopes to explain his mortal sin.
"I have always been and continue to be a great supporter of Ronald Reagan's tax cuts and the millions of jobs they created. Clearly spending during his tenure did not lessen, but he also had to contend with Democrat majorities in Congress," Paul tried to clarify in a statement issued to Mother Jones after the videos surfaced.
This is one sin that Paul is going to have to pray will be forgiven.
Watch Mother Jones' wrapup on all Paul's anti-Reagan remarks below.
Photo: Gage Skidmore via Flickr