WATCH: Rep. Grimm Threatens To Throw Reporter Off Balcony After Scandal Question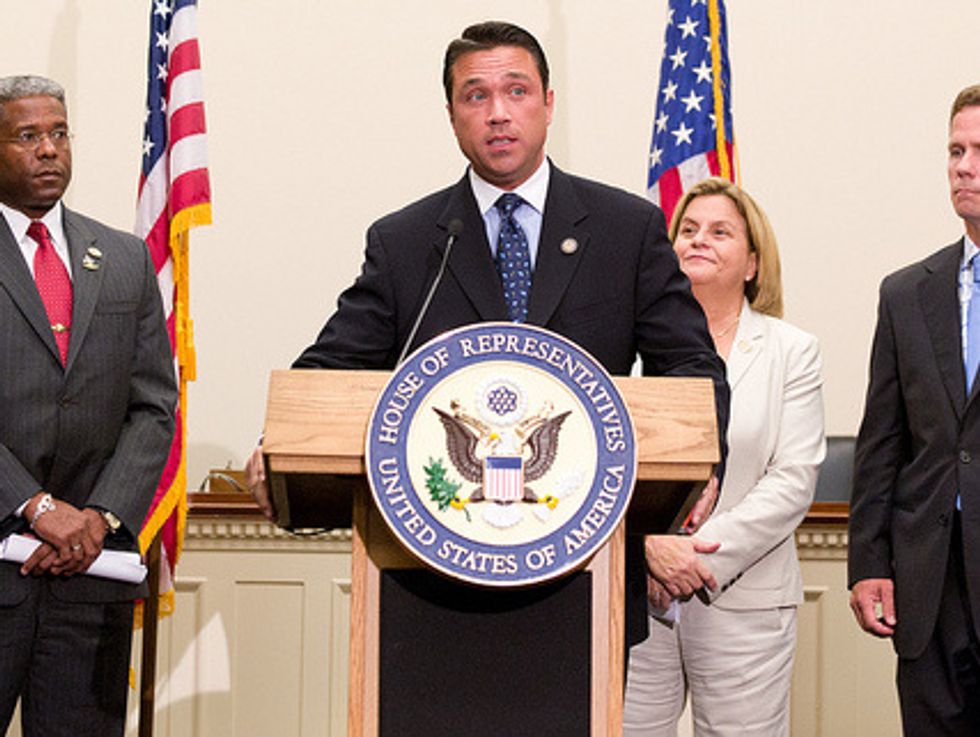 Among all of the Republican Party's many responses to President Barack Obama's 2014 State of the Union address, none was more startling — or less helpful — than that of Rep. Michael Grimm (R-NY).
Grimm, a second-term congressman representing Staten Island, was discussing the president's speech on camera with NY1's Michael Scotto, when Scotto attempted to ask Grimm about the alleged campaign finance violations that have clouded his time in office. Grimm pointedly refused, saying "I'm not speaking to you off topic, this is only about the president," then walked off camera.
But just a few moments later, things got heated when Grimm returned to confront the reporter:
"Let me be clear to you, you ever do that to me again I'll throw you off this f—–g balcony," Grimm told Scotto.
When Scotto told Grimm that he had asked a "valid question," Grimm shot back, "No, no, you're not man enough, you're not man enough. I'll break you in half. Like a boy."
Video of the confrontation went viral almost immediately, prompting a response from Grimm. But instead of apologizing, the Staten Island congressman released the following statement
I was extremely annoyed because I was doing NY1 a favor by rushing to do their interview first in lieu of several other requests. The reporter knew that I was in a hurry and was only there to comment on the State of the Union, but insisted on taking a disrespectful and cheap shot at the end of the interview, because I did not have time to speak off topic. I verbally took the reporter to task and told him off, because I expect a certain level of professionalism and respect, especially when I go out of my way to do that reporter a favor. I doubt that I am the first member of Congress to tell off a reporter, and I am sure I won't be the last.
That Grimm would chastise Scotto for being disrespectful shortly after mocking the reporter for not being "man enough" and threatening to toss him off of a balcony may seem odd, but Grimm — who has previously earned headlines for swimming in the Sea of Galilee with some fellow House Republicans (at least one of whom was nude) and for allegedly having sex in the bathroom of a Brooklyn wine bar — has never been known for his tact.
This is not the first time that questions have been raised about Congressman Grimm's temper. In 1999, Grimm — then an agent for the Federal Bureau of Investigation — reportedly brandished a gun at a New York nightclub in response to an altercation over a woman.
The latest incident is unlikely to help his already tenuous re-election hopes. Grimm, who is the only Republican representing New York City in Congress, has long been considered a top target for Democrats in 2014. His seemingly unending series of controversies reportedly has some Republicans considering other options (including Grimm's equally scandal-ridden predecessor, Vito Fossella).
UPDATE: On Wednesday morning, Grimm relented and offered an apology to Scotto, which the reporter accepted according to NY1.
""I was wrong. I shouldn't have allowed my emotions to get the better of me and lose my cool. I have apologized to Michael Scotto, which he graciously accepted, and will be scheduling a lunch soon," Grimm said in a written statement. "In the weeks and months ahead I'll be working hard for my constituents on issues like flood insurance that is so desperately needed in my district post Sandy."
Photo: House Foreign Affairs Committee Republicans via Flickr