WATCH: Scott Brown Uses Border Crisis For New Attack Ad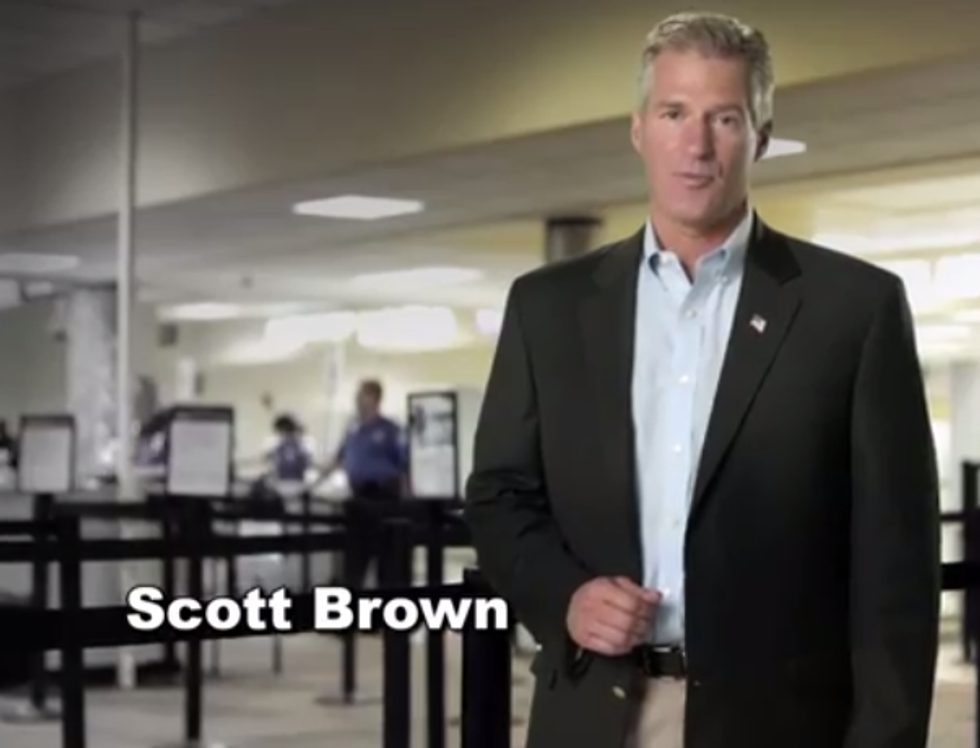 New Hampshire Senate candidate Scott Brown released a new attack ad on Monday, accusing incumbent senator Jeanne Shaheen (D-NH) and President Barack Obama of causing the border crisis with their "pro-amnesty policies."
The ad, titled "Secure Borders," is the first by a 2014 Senate candidate to politicize the huge numbers of unaccompanied minors crossing the U.S.-Mexico border.
"Americans go through security before they get on a plane, enter a government building, or attend a ballgame," Brown says in the ad. "But folks who come here illegally? They just walk across the border. That's wrong."
"Thanks to the pro-amnesty policies of President Obama and Senator Shaheen, we have an immigration crisis on our hands," he continues. "We respond with compassion. But it's time for us to secure the border once and for all. And tell people who try to come here illegally that we intend to enforce the law."
In a memo accompanying the ad, the Brown campaign specifies Senator Shaheen's votes for the DREAM Act and the Senate's 2013 comprehensive immigration reform bill as the "pro-amnesty policies" in question. Brown voted against the DREAM Act while he represented Massachusetts in the Senate in 2012, and has criticized the "gang of eight" bill.
New Hampshire's other senator, Republican Kelly Ayotte, also voted in favor of that 2013 legislation. Although Brown has accepted Ayotte's enthusiastic endorsement, he has repeatedly criticized votes that she and Shaheen made in tandem.
According to a recent NBC News/Marist poll, New Hampshire voters favor immigration reform that would create a pathway to citizenship for undocumented immigrants who currently have jobs, by 50 to 46 percent. That margin is closer than some past polls, perhaps giving the Brown campaign reason to hope that the issue could resonate for him.
But that same poll shows Shaheen leading Brown by 8 percent, a finding that is mirrored in other surveys of the race. While respondents viewed Shaheen favorably by a 52 to 39 percent margin, Brown's favorability sat at just 40 to 39 percent. That number is far too low for him to knock off a popular incumbent, and Brown's negative ad campaign seems unlikely to help it rise.
Brown may not have any other choice, however. Although Republicans initially hoped that his entrance into the race could expand the November battleground, the former Massachusetts senator has struggled to gain traction — leaving even his members of his own party concerned that his candidacy may be a bust.
Screenshot: Scott Brown/YouTube
Want more political news and analysis? Sign up for our daily email newsletter!