Watchdog Groups: Rick Santorum Illegally Directed Campaign Funds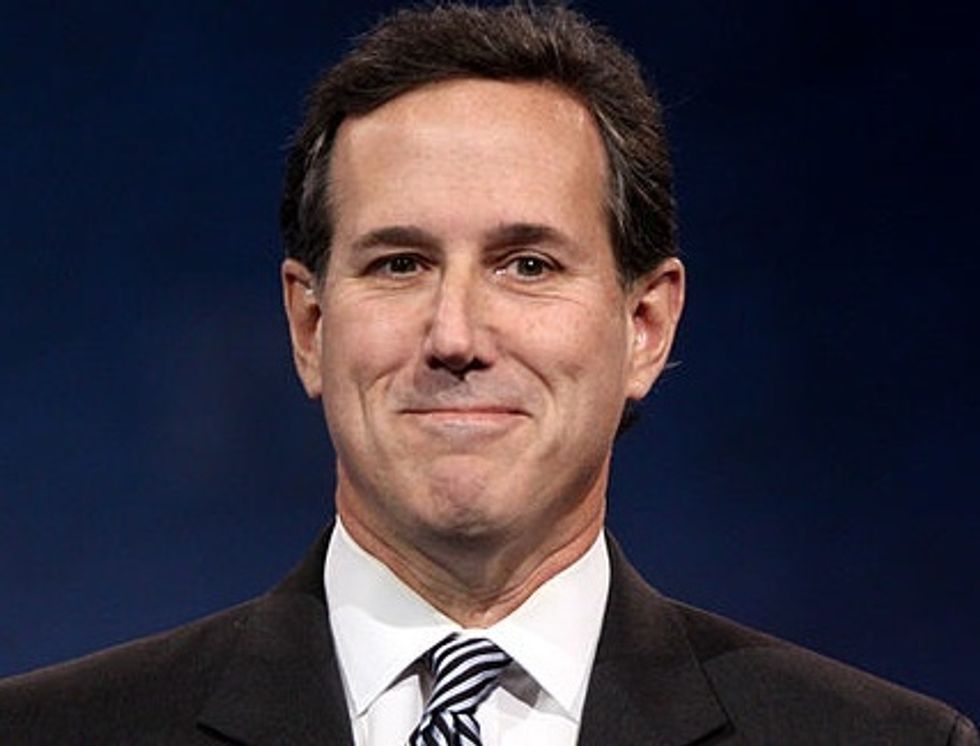 Former senator and 2008 presidential candidate Rick Santorum (R-PA) illegally directed a $1 million donation to his presidential campaign SuperPAC, according to two watchdog groups who have filed a formal complaint with the Federal Election Commission.
At a private dinner in January 2012, Louisiana businessman Bill Doré told Santorum he wished to donate $1 million to the candidate's campaign. There was one problem: A million-dollar donation far exceeds the amount a single donor can contribute to a presidential campaign. So, according to The Sunlight Foundation Report, Santorum suggested Doré donate the money to the Red, White, and Blue Fund, the SuperPAC formed to support Santorum's presidential bid. The suggestion has now given rise to a host of new problems for Santorum, because the donation may have been made under illegal pretenses.
Doré, who has a history of non-partisan political contributions, decided to financially back Santorum in the 2012 presidential race, but wanted to meet him in person before he donated money. Santorum and Doré met for dinner in Miami in January 2012, one day before Doré made the $1 million donation to the Red, White, and Blue Fund.
In an interview with The Sunlight Foundation Report, Doré said when he told Santorum about his desire to contribute, Santorum "told him about the existence of Red, White, and Blue Fund." After being pressed by reporters about his conversation with Santorum, Doré walked back his statements. "I don't want to get him in any sort of problem," Doré said. "I would not want to compromise his future."
Doré then said Santorum urged him to donate the money to the Republican Party, not to Santorum's SuperPAC. After the reporter noted that a donation to the party would be capped at $30,000, Doré admitted he was indeed told about the SuperPAC.
In a follow-up interview Doré further recanted. "After reflecting on that comment, I said to myself: Did he actually tell me that?" Doré told The Sunlight Foundation Report. "I don't think he did." He then claimed it was Santorum "aides," not the former senator, who mentioned the SuperPAC.
But, according to a formal complaint filed by the Campaign Legal Center and Democracy 21, the mention of the SuperPAC is illegal, even if it was done by a Santorum aide. In the complaint, the watchdog groups argue the Federal Election Campaign Act (FECA) provides that a "candidate" or an "agent of a candidate" shall not "solicit, receive, direct, transfer, or spend funds in connection with an election for Federal office…unless the funds are subject to the limitations, prohibitions, and reporting requirements of this Act."
FECA defines "directing funds" as, to "guide…a person who has expressed an intent to make a contribution…by identifying a candidate, political committee or organization, for the receipt of such funds." The complaint calls for an immediate investigation by the Federal Election Commission and for the Commission to impose "appropriate sanctions for any and all violations."
Photo via Wikimedia Commons