Weather Could Make Firefighting More Difficult In Northern California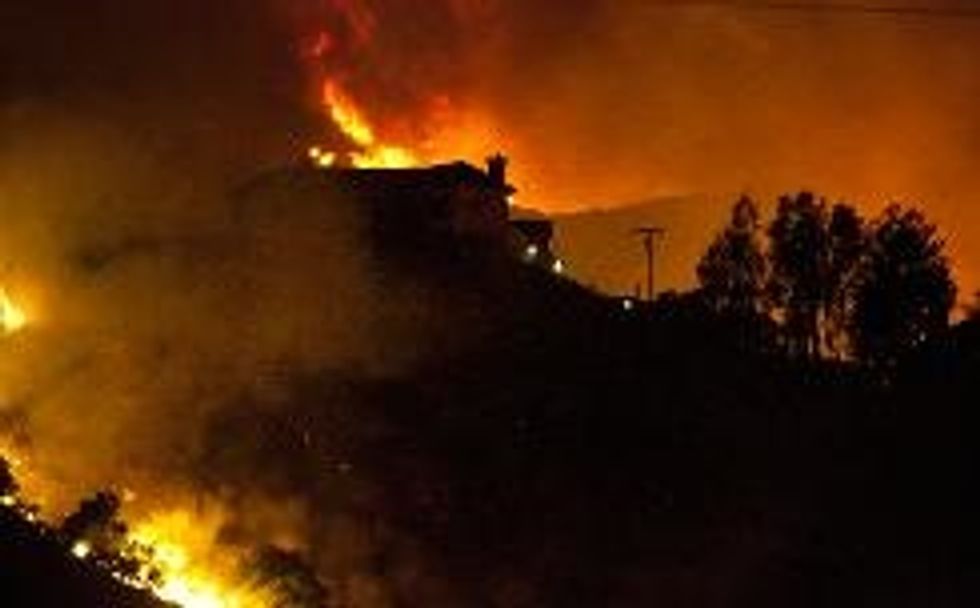 By Eryn Brown, Los Angeles Times
As two Northern California wildfires continued to burn out of control Sunday, weather in the days ahead is threatening to worsen and expand the blazes.
The Sand fire east of Sacramento grew to 3,800 acres Sunday, and forced the evacuation of hundreds of residents, destroyed 10 homes, and may not be fully contained until the first week of August, officials said.
A second blaze outside Yosemite National Park had chewed through 2,100 acres, forcing evacuations and was drawing closer to homes.
The efforts of hundreds of firefighters could be complicated this week by extreme weather conditions. Thunderstorms are predicted near Yosemite, raising the possibility of lightning strikes, while the unrelenting heat and winds near Placerville could fan the flames and push the Sand fire deeper into brittle vegetation.
"Any time we have gusts along with high temperatures and low humidity it's a recipe for aggressive fire growth," Drew Peterson, a Sacramento, Calif.-based National Weather Service meteorologist, said of the conditions near the Sand fire.
Temperatures this week are expected to climb into the low 100s, with humidity hovering around 10 percent — a level that presents a significant fire danger.
To the southeast in Yosemite, meteorologists said they were unsure how expected thunderstorms in the area might impact the other large fire in the state, which had been burning for about a day.
"A thunderstorm is a mixed blessing," said Hanford, Calif.-based National Weather Service meteorologist Gary Sanger. "You get rain, but you also run the risk of lightning and more fires, and gusty winds which can cause the fire to spread."
About 1,500 firefighters aided by a dozen air tankers and water-dropping helicopters were battling the flames of the Sand fire Sunday, said Lynne Tolmachoff, spokeswoman for the California Department of Forestry and Fire Protection. One inmate firefighter suffered minor injuries Saturday, she said.
By late Sunday, officials said, the fire had destroyed 10 homes in two separate areas and was 35 percent contained.
Half of the houses were near San Ridge Road near California 49, where the fire started Friday afternoon when a vehicle drove through dry brush, Tolmachoff said. The rest of the homes were to the south and east, burned by a part of the fire that "blew up" Saturday afternoon, stoked by a combination of high temperatures, low humidity, and 20-mph wind gusts, she said.
A Red Cross shelter at Ponderosa High School in Shingle Springs was set up to assist the roughly 1,200 people who'd been evacuated from more than 500 homes in the area, officials said.
Scott Gediman, a spokesman for the park in Yosemite, said that fire started at 4 p.m. Saturday near El Portal. He said more than 400 firefighters were attacking the flames on the ground and from the air, with more expected to arrive.
One home was burned and about 100 homes in the communities of Old El Portal and La Floresta had been evacuated.
"We have steep, rugged terrain and hot, dry conditions. It's supposed to be over 100 here today," Gediman said. "We're working aggressively to get the fire out."
Last year, the 410-square mile Rim fire burned an estimated 77,000 acres, or 120 square miles, within Yosemite National Park. Sparked in mid-August by an illegal campfire in the Stanislaus National Forest, the Rim fire was not fully contained until late October.
Peterson, the Sacramento-based meteorologist, said the Sand fire has so far proved to be easier to access for firefighters than the remote Rim fire.
Staff writer Adolfo Flores contributed to this story.
AFP Photo/Jorge Cruz
Interested in national news? Sign up for our daily email newsletter!