This Week In Crazy: Pharrell Is Distracting You From #Benghazi, And The Rest Of The Worst Of The Right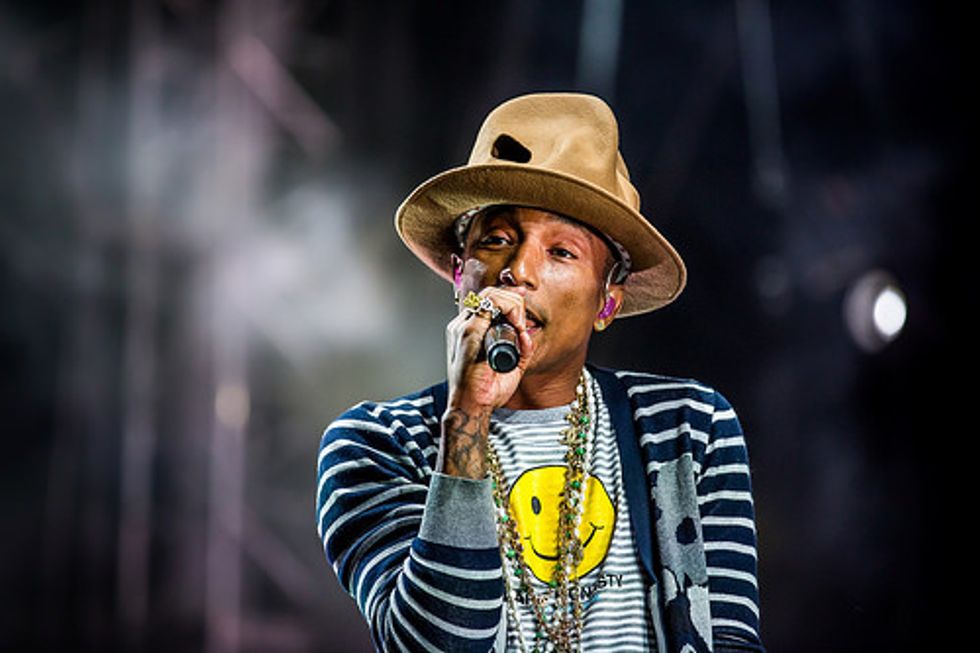 Welcome to "This Week In Crazy," The National Memo's weekly update on the wildest attacks, conspiracy theories, and other loony behavior from the increasingly unhinged right wing. Starting with number five:
5. Rush Limbaugh
As the crisis at the U.S.-Mexico border intensifies, cynical politicians and bored media figures have increasingly begun referring to the situation as President Obama's "Katrina moment" (not to be confused with all of Obama's other Katrinas).
Thankfully, one man has been brave enough to speak out about how ridiculous the comparison is: Rush Limbaugh.
But Limbaugh isn't upset for all of the logical reasons you may be thinking. No, according to Rush, the two situations have nothing to do with each other because the Bush administration's response to Hurricane Katrina was actually pretty awesome:
"The post-Katrina response was far more massive, far more sensible, far more effective than what is being done at the border today to handle this humanitarian crisis," Limbaugh claimed on Thursday. "The FEMA response post-Katrina was far better and more effective and more efficient than anything that has happened during the Obama years."
Limbaugh recognizes that you may be skeptical, but he knows who to blame: The liberal media.
"The reason you don't believe it is because they were able to demonize the FEMA director at the time," he explained. "They were able to create a narrative that the entire Bush administration was stupid, and incompetent, and ineffective, and that the whole response to Katrina was an outrage."
I wonder how they managed to pull that one off.
4. Bob Frey
Meet Bob Frey, a Republican candidate for state House in Minnesota's Carver County. Frey, as the MinnPost explains, is locked in a tight primary battle with Waconia mayor Jim Nash; both take nearly identical, conservative-friendly positions on the usual primary issues of taxes, health care, and gun rights. But Frey has a plan to separate himself: Highlighting his vehement opposition to "the gay agenda.
According to Frey, he's not interested in "pigeonholing a lifestyle." But he does think it's important to explore "the science and the financial impact of the agenda."
Here's what that science looks like, according to Frey:
When you have egg and sperm that meet in conception, there's an enzyme in the front that burns through the egg. The enzyme burns through so the DNA can enter the egg. If the sperm is deposited anally, it's the enzyme that causes the immune system to fail. That's why the term is AIDS – acquired immunodeficiency syndrome.
As the MinnPost points out, that is outrageously wrong. And Frey's explanation of the financial case against gay people isn't much better:
"It's about sodomy. It's huge amounts of money," Frey says. "AIDS is a long term illness, causing pain, suffering, death, a long-term illness that's very expensive to treat."
Somewhere in Washington, Dennis Prager is nodding his head.
Meanwhile, this seems like a good time to mention that Frey cites his work to help Michele Bachmann kill a "profiles in learning" education plan as a major qualification.
3. Louie Gohmert
It's been a busy week for Texas congressman and asparagus defender Louie Gohmert.
On Monday, Gohmert joined Newsmax's Steve Malzberg for an interview on the thousands of unaccompanied minors crossing the U.S.-Mexico border. According to the congressman, President Obama is orchestrating the crisis to recruit millions of new voters to turn Texas into a Democratic state.
"In the end, they have said that they want to turn Texas blue, they want to turn America blue," Gohmert said. He went on to explain that Obama will tell immigrants that they have to vote for him or they will lose all of their benefits, and "that drives people to vote and it will ensure that Republicans don't ever get elected again."
Gohmert's theory is odd, considering that unaccompanied minors can't vote — because they're neither citizens, nor of legal voting age — and because Gohmert himself is about to join Glenn Beck and Senator Mike Lee to visit immigrant children in detention centers at the border. Presidnet Obama would have to release them pretty quickly if they are going to swing the 2014 midterms.
One day later, Gohmert was feeling a bit better about the future. According to the congressman, although Latino voters currently back Democrats overwhelmingly, they will "eventually realize that those in favor of hard work, faith in God and belief in democracy will eventually start voting Republican." Sadly, Obama may destroy the country before that happens.
"In the meantime I'm not sure there's a country left by the time they realize that," he lamented.
2. Ben Carson
The lamestream liberal media has already proven that it will do anything to distract you from the horrible truth about the 2012 attack on the U.S. mission in Benghazi, Libya. But according to possible presidential candidate and definite nutcase Ben Carson, the conspiracy goes deeper than you could ever imagine.
This week, Dr. Carson sat for an interview with WorldNetDaily editor and fellow This Week In Crazy favorite Joseph Farah. During the interview, Carson claimed that President Obama and Attorney General Eric Holder are intentionally pushing issues like marijuana legalization and changing the Washington Redskins' name in an effort to distract Americans from the real issues.
"We need to look at the things that are truly having a deleterious effect on our society and stop the subterfuge," Carson warned. "We do so many things to distract people…I mean, the trademark issue with the Redskins, give me a break. When we've got IRS going on, and Benghazi going on, and NSA going on, and Fast and Furious going on, and a dozen other things going?"
The Redskins are just the tip of the iceberg, however. The real distraction? You guessed it: Pharrell.
"If you go out on the street and you start talking to people, and you say to them, 'Who sings the 'Happy' song?' most of them will know," Carson said. "And you say, 'what can you tell me about Benghazi?' They won't know."
"These people vote, that's the sad thing," he added. "And of course, they have no idea."
There is a happy thing, though: They probably won't be voting for the crazy person on the street yelling about Pharrell and Benghazi.

1. Brandon Smith
This week's "winner," Kentucky state senator Brandon Smith (R), technically shared the best climate-change denial in the history of climate last Thursday. But it is just too insane not to include.
While debating the EPA's new carbon emission regulations, Smith stated that "I don't want to get into the debate about climate change." Unfortunately, he declined to stop there.
"I will just simply point out that I think that in academia we all agree that the temperature on Mars is exactly as it is here. Nobody will dispute that," Smith said. "Yet there are no coal mines on Mars, there's no factories on Mars that I'm aware of. So I think what we're looking at is something much greater than what we're going to do."
Back on Earth, academics would dispute Smith's claim; Mars' average temperature is -81 degrees Farenheit, or 138 degrees colder than that of Earth. They would probably also dispute Smith's claim that he's part of academia.
In Smith's defense, there are no coal mines on Mars. There are plenty on Earth, however — and you'll surely be shocked to learn that he owns one.
Check out previous editions of This Week In Crazy here. Think we missed something? Let us know in the comments!
Get This Week In Crazy delivered to your inbox every Friday, by signing up for our daily email newsletter.