Weekend Reader: 'Jonas Salk: A Life'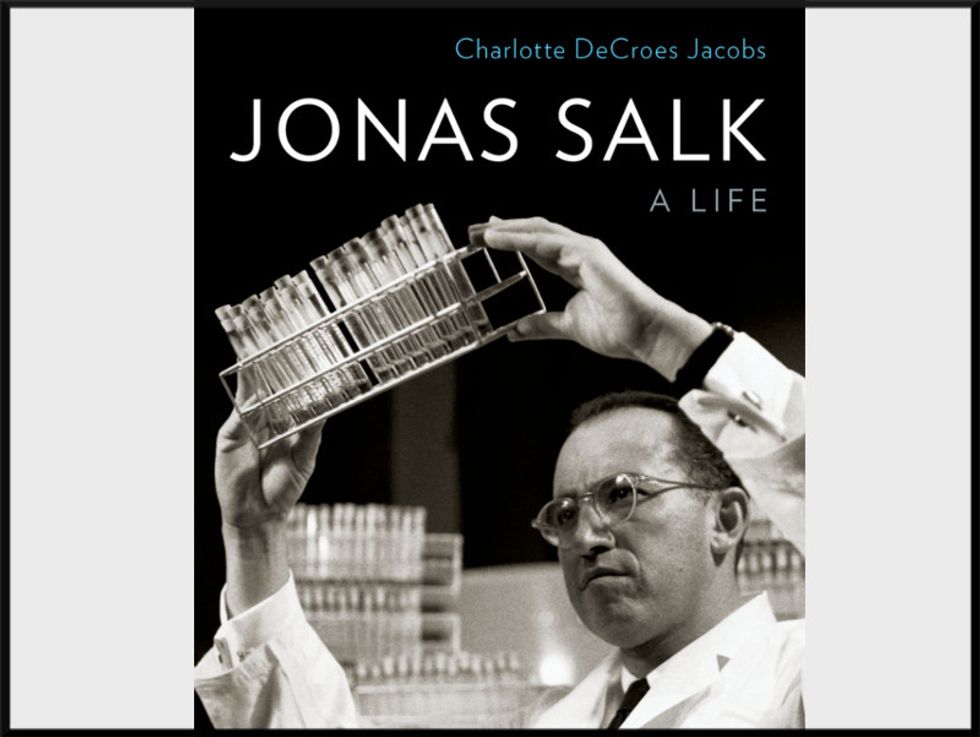 Earlier this year, the mindless hysteria of anti-vaxxers — a coalition of parents and quack doctors who cling to conspiracy theories and debunked pseudoscience — led to a perfectly preventable measles outbreak decades after the country was said to be rid of the disease. The conflagration of idiocy surrounding vaccines is especially senseless to anyone who appreciates the profound impact they've had on public health, private lives, and our day-to-day existence.
Reviewing the documentary Paralyzing Fear: The Story of Polio In America for The National Memo, Harold Itzkowitz wrote: "Within the living memory of the oldest Baby Boomers is a terrifying specter that haunted childhood in America. It was a disease, a disease that could have no symptoms, or could begin with a chill and then cripple or kill the victim. It could spring up at school, at a birthday party, at a summertime swimming pool. It mostly affected children, but it also paralyzed a future president, Franklin Roosevelt, who surmounted it but never recovered from it. It infected tens of thousands of new victims a year in the decade after World War II. There was no cure and there was no vaccine. The disease is polio."
Charlotte D. Jacobs' Jonas Salk: A Life is the first complete biography of the scientist who defeated polio — a long-overdue chronicle of the man whose full story, despite all the media praise and public adoration he received in his life, has not yet been told.
You can read an excerpt below. The book is available for purchase here.
—
Epidemiologists forecast that 1952 would be a record year for poliomyelitis. "Eight in One Family Stricken," announced the Chicago Daily Tribune on September 12. "Fifth Polio Case on North Carolina Campus Strikes Freshman Guard on Football Squad," read a New York Times headline on October 4. The press was full of harrowing tales of innocent people being maimed or dying, such as twenty-three-year-old Philip Thorpe. Three days before he was to receive his US Air Force flight wings at William Field in Chandler, Arizona, he got a flat tire. When he tried to lift the spare tire out of his trunk, he found he couldn't. Then his legs gave out. He was rushed to Phoenix Memorial Hospital. The young man never walked again. Twenty-two-year-old Lawrence Lubin had just come back from a Cape Cod vacation when he became so weak he couldn't even scratch his nose; then he couldn't swallow. "Bulbar polio," he heard a doctor tell his wife from the iron lung in which he had been entombed. "Be prepared for somebody who is going to be pretty useless his whole life."
In early 1952, Jonas Salk told Harry Weaver the time had come to test his vaccine in human subjects. Both knew the Committee on Immunization would block such a study and agreed Salk should conduct it sub rosa. In his first trial, he planned to determine the levels of antibodies induced by vaccination. He thought it best to start with children who had already survived a bout with polio, since he wasn't trying to demonstrate prevention, rather the safety and antigenicity of an inactivated virus vaccine. It was a dangerous step, one he would be taking alone.
On June 6, Salk contacted Dr. Jessie Wright, Director of the D.T. Watson Home for Crippled Children, located in Leetsdale, Pennsylvania, eighteen miles northwest of Pittsburgh. He had chosen this potential test site carefully, at a safe distance from reporters and colleagues.Wright had an interest in polio research, having already made her mark by adapt­ ing a rocking bed, which used gravity to enhance respirations. This simple device allowed a number of patients to leave the iron lung and return home. Lucile Cochran, administrator of the Watson Home, recalled Salk's first visit: "He was charming and gentle, and obviously he was not just a scientist on an experiment but a man deeply concerned about the human importance of the experiment." Wright agreed to his proposal, and Cochran contacted parents to obtain written consent:
I have been informed that Dr. Jonas E. Salk … with the financial sup­ port of the National Foundation for Infantile Paralysis, Inc., has inaugurated in the D. T. Watson Home … a project for test purposes in connection with a study of infantile paralysis, its causes, remedies, and prevention….It is proposed to inject into children a poliomyelitis vac­ cine that has previously been injected into animals without subsequent harm …. The vaccine will contain several ingredients consisting of the vaccine itself and a vehicle that will result in different rates of absorption. It is proposed to test small samples of blood to determine level of immunity before and at intervals after treatment. To assist in this project I hereby consent that the preparations above mentioned may be injected into my child.
Salk had one firm proviso: no one could talk about the trial until its completion. He did not want the press hovering, photographing children or predicting results. And he did not want scientists sniping at him before he began. "For many months we have been bursting with the desire to tell our friends," a participant later wrote for the Sunny Hill World, the Watson Home's school paper, "but we and our families were sworn to secrecy."
Before inoculating the patients with his vaccine, Salk measured the levels of antipolio antibodies in their blood. Lorraine Friedman accompanied him to keep records. She observed how much the children liked Dr. Salk; he was tender and playful, yet firm. He remembered each child's name and where they lived, recalling things they talked about on his last visit. Among the patients was Jimmy Sarkett, whose poliovirus had been used to make the vaccine. (After Salk left Pittsburgh, he often took Sarkett and his wife to dinner when he was in town.) The staff became enamored of Salk as well.If the cook knew he was coming, she baked a strawberry pie.
Back in his lab, Salk and his staff determined that almost every patient who had had paralytic polio still had measurable antibodies against one type of polio, mostly Type 1. He hoped his vaccine could induce the pro­duction of antibodies against all three subtypes. Soon he would find out.
On July 2, 1952, Salk addressed the patients and staff assembled in the Watson Home auditorium. "This is id" he announced, holding up a small vial. Sixteen-year-old Bill Kirkpatrick volunteered to go first. A year earlier, he had been preparing to play high school football when he contracted polio. His symptoms began on the way home from his grand­ mother's house, where the family had spent Labor Day. He had been running laps and throwing a football. "I thought I had overdone it," Kirkpatrick recalled. "My neck felt stiff. My skin felt chapped." That night he had a fever, the next morning excruciating pains. "It was just like someone taking a sledgehammer and beating it against your spine. I could feel my legs get soft like jelly, and all of a sudden I couldn't move them." His breathing became shallow; he felt like he was suffocating. A spinal tap confirmed the diagnosis of poliomyelitis.
As he was wheeled to the isolation ward, down halls lined with iron lungs, Kirkpatrick felt overcome by fear. His parents were not allowed to visit. His only solace from the masked attendants and crying children was a nurse who came back to his bedside after finishing her shift to hold his hand and comfort him. Once the immediate crisis had passed, he was transferred to the Watson Home, where he was relearning to walk. A metal frame held him upright; ropes extended from his legs to above his head. "I was like a puppet, he recalled."
Even though Kirkpatrick's parents had been reluctant to give their consent to his participation, the sixteen-year-old insisted on it, thinking of Peggy, a pretty redheaded teen admitted to the hospital with acute poliomyelitis just before him. She had sent him a rose, which he kept under his pillow.When he was able to write, he sent a thank-you note.It was returned, marked "DECEASED." And he thought of his older brother's children. He'd do anything to help protect them from polio. So when the first group of volunteers in wheelchairs and on stretchers gathered in the auditorium, Bill Kirkpatrick was among them. One glimpse at the long table on which bottles of alcohol, cotton swabs, and hypodermic needles were arranged was enough to frighten the other kids, Kirkpatrick recalled."So I stepped up to bat first."
Initially Salk inoculated fifty-two subjects, giving every shot himself. Although confident of the vaccine's safety, he later confided in reporter John Troan, "When you inoculate children with a polio vaccine for the first time, you don't sleep well for two or three weeks." He returned that night to check up on them; no one suffered any ill effects from the shots, just some redness at the injection site. He gave a second injection six weeks later and measured antibody levels five weeks after that. In the first twenty-seven children vaccinated, he found increased levels of anti­ bodies to the Type-2 virus; they were still measurable four months later. Although Salk had demonstrated the vaccine's safety, those children al­ ready had low levels of antibodies from a previous infection. Now he needed to confirm its safety in subjects who had never had poliomyelitis. This was a dangerous move, as uninfected children had no natural protection. If any live virus remained in the vaccine, it could infect and even kill a child.
For this trial, Cochran identified patients at the Watson Home who had been crippled by conditions other than polio, such as congenital abnormalities. Salk inoculated twenty-seven children. Then he waited. "He phoned frequently," Cochran recalled, "and returned frequently in that old rattletrap car of his." Salk was relieved that not one child showed symptoms of poliomyelitis. His formalin technique had inactivated the virus in the vaccine; it was safe. Now he needed to determine if the vaccine had done its job. He took blood samples from the children two weeks following vaccination, returned to his lab, and mixed their serum with Types 1, 2, and 3 polioviruses.Then he inoculated cultures of monkey kidney cells with the mixtures. Instead of dying from infection, the kidney cells thrived. His vaccine worked.
Years later, Salk told John Troan that he considered this to be the most remarkable moment in the entire polio saga, for it was then that he knew he could prevent poliomyelitis."It was the thrill of my life.Compared to the feeling I got seeing these results under the microscope, everything that followed was anticlimactic." That evening, his sister-in-law recounted, he came bursting into his house and cried, "I've got it!"
—
Reprinted from JONAS SALK: A Life by Charlotte DeCroes Jacobs with permission from Oxford University Press, Inc. Copyright © 2015 by Charlotte DeCroes Jacobs.
If you enjoyed this excerpt, purchase the full book here.
Want more updates on great books? Sign up for our email newsletter!