Weekend Reader:<i>The American Health Care Paradox: Why Spending More Is Getting Us Less</i>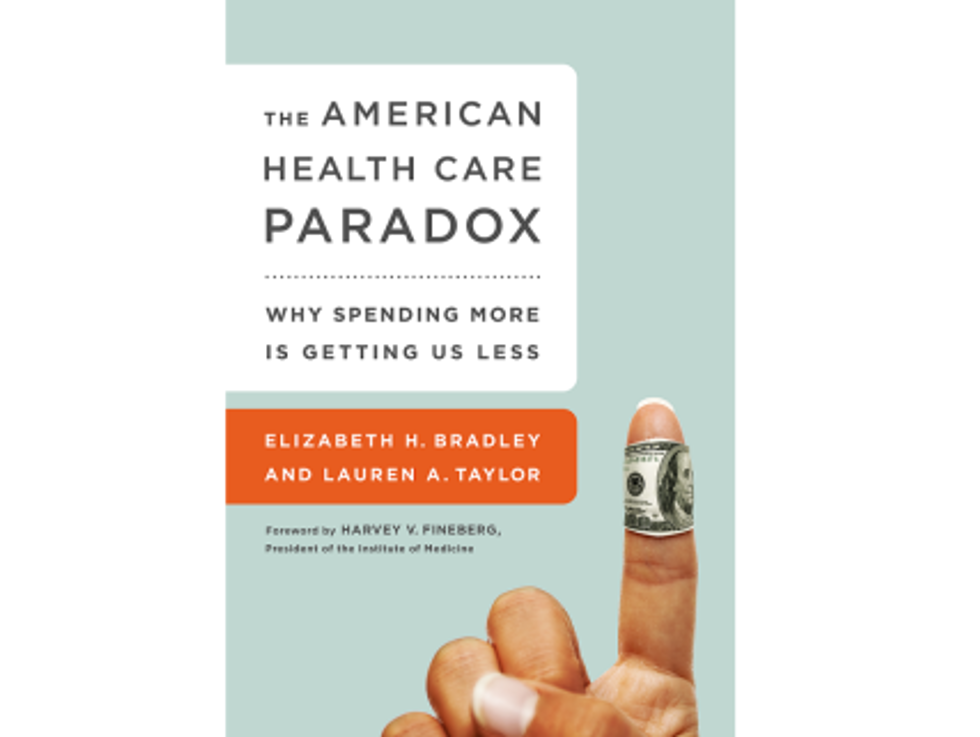 Today Weekend Reader brings you The American Health Care Paradox: Why Spending More Is Getting Us Less, by public health Yale professor Dr. Elizabeth H. Bradley and Lauren Taylor, a presidential scholar at the Harvard Divinity School studying public health and medical ethics. In The American Health Care Paradox, which is set for release on November 5,  Bradley and Taylor assert that the U.S. should refocus health spending on social services, like many other countries around the world. Their study describes the ways in which our current system is broken, and explains why reforms like Obamacare fall short of solving issues facing health and social services. For the percentage of GDP that the U.S. spends on health services, Americans are generally an unhealthy population compared to many other countries around the world. Why is this? Making affordable health care accessible to all is only half the battle; a complete overhaul of the American health care system and the way we look at social services — as a necessity instead of an entitlement — could not only cut costs but create a far healthier society. 
You can purchase the book here.
In spite of the clear and recent data, the United States stumbles when addressing these social determinants of health. Although Americans do not like being mediocre in national health outcomes, they have been even less enthusiastic about facing the complex web of social conditions that produce and reinforce these outcomes. They continue to pay top dollar for hospitals, physicians, medications, and diagnostic testing yet skimp in broad areas that are central to health, such as housing, clean water, safe food, education, and other social services. It may even be that Americans are spending large sums for health care to compensate for what they are not paying in social services—and the trade-off is not good or the country's health.
Roughly five years ago we started thinking that there might be a connection between soaring health costs and meager social service spending, when we were musing about theoretical roots to the so-called health care paradox in the United States. To explore whether our hypothesis would hold up, we examined ten years of spending and health outcome data from thirty OECD countries that collected data using comparable methodologies. The results confirmed our suspicions.
Our comparative study, published in the academic literature in 2010, broadened the scope of inquiry about health and health spending to include spending on social services as a potential determinant of population-level health outcomes. For the purposes of our study, social services expenditures included public and private spending on old-age pension and support services for older adults, survivors benefits, disability and sickness cash benefits, family supports, employment programs (e.g., public employment services and employment training, unemployment benefits, supportive housing and rent subsidies), and other social services that exclude health expenditures. Health expenditures included public and private spending on curative care, rehabilitative care, long-term care, laboratory and diagnostic services, outpatient and preventive care, and public health services.
The study found that if we counted countries' combined investment in health care and in social services, the United States was no longer spending the largest percentage of GDP—far from it. In 2007, for example, the United States devoted only 25 percent of gross domestic product to health and social services combined, while such countries as Sweden, France, Austria, Switzerland, and Denmark dedicated about 30 to 33 percent of their respective GDP to the combination. In 2007, while the United States ranked highest in health spending, it ranked only thirteenth in spending on health services and social services combined (see Figure 1.4).
Moreover, the study revealed that America was one of only three industrialized countries (the other two were Korea and Mexico) to spend the majority of its total health and social services budget on health care. On average in the OECD countries other than the United States, for every dollar spent on health care, an additional two dollars was spent on social services. Yet in the United States, for every dollar spent on health care, less than sixty cents was spent on social services. Most important, we found that less spending on social services relative to spending on health services was statistically
associated with poorer health outcomes in key measures, such as infant mortality and life expectancy, and this result held even when the United States was removed from the analysis.

Our study found that countries with high health care spending relative to social service spending had significantly lower life expectancy and higher rates of infant mortality and low birth weights than did countries that favored social spending. While the life expectancy in the United States remains stagnant at age seventy-eight, it has leapt well over eighty years of age in many European countries, and several countries boast infant mortality rates approximately half of those in the United States.
These findings validated our initial suspicions about the significant impact social service investments have on health outcomes at a national level. But as is the case with any good piece of research, the results left us with more questions than answers. In particular, we were left interested in better understanding this new way in which we had discovered the United States to be an outlier. The United States was not necessarily spending more than everyone else; but it was spending quite differently.
Core principles from public health suggested that such a skewed allocation of financial resources, reflecting what many would deem underspending on social services, could drive exorbitant health care costs. While popular and political discussions about saving money in health care proliferate, they almost uniformly center on issues relating to what is paid to hospitals and physicians, who pays for insurance and what it covers, and how to set diagnostic and treatment standards. Reform proposals have taken different approaches over the years—from the growth of health maintenance organizations in the 1970s and '80s, to the development of managed care organizations and coinsurance schemes in the 1990s, to establishing of more recent clinical guidelines and quality of care campaigns. Nevertheless, these are all proposals about medical care. Even the initiative to provide health care insurance for the currently underinsured expands access only to medical care, not to better housing, nutrition, employment, and other social services.
Our research has forced a reconsideration of whether more effective means of improving health may exist beyond the traditional bounds of health care. Instead of seeing health and social spending as independent entities, should we be considering how what is done in one area may be affecting the other? Perhaps it is time to take a broader view.
This book reflects our efforts to better understand the relationship between the health and social service sectors in the United States. In concept, the two sectors are intuitively linked. In practice, however, the health care industry and social support systems in this country are rarely coordinated, much less planned together or provided in an integrated way. Should they be? How might Americans gain by thinking differently about the essential elements of health? Is it practical to think these long-divided domains could be addressed simultaneously? If so, how? These were the questions we set off to investigate.
We organized this book as follows. In Chapter 2, we discuss the historical roots of the current bifurcation of American's health and social care sectors to illuminate why they evolved this way and to recognize potential impediments to reform. Chapter 3 takes the readers to the front lines to see the real-life challenges created by the administrative, financial, and cultural boundaries between the two sectors. We profile a set of people who are frequent users of health care services and social services, and we share their perspectives of health care and social service providers who coordinate services on behalf of patients and clients. In Chapter 4, we present examples of national systems that do integrate health and social services, and compare the United States with Scandinavia, which leads the world in achieving superior health outcomes for its people. We examine the values of American and Scandinavian societies as they relate to health and investigate whether Scandinavia's balance between health service and social service sectors provides a potentially instructive model. We consider data from the World Values Survey to investigate how different Americans really are, and are not, from their Scandinavian peers. Chapter 5 highlights a set of small but innovative programs in the United States that offer new models of health and social service integration with strong results. Chapter 6 explores the shortfalls of national efforts to integrate social services and health care delivery and highlights the need for a new conception of health in order for effective approaches to flourish, and Chapter 7 summarizes the key messages and identifies new issues for public dialogue.
In the course of this inquiry, we seek to broaden readers' views about what creates health. We do so in hopes of shifting American discourse about the intersection of the health care sector and social services and opportunities for effective reform. Our goal for readers is that they may recognize the role that social, environmental, and behavioral realities play in the moderation of health—on both personal and societal levels—and incorporate this perspective into meaningful discussions about the United States' efforts to improve health without accelerating costs.
If you enjoyed this excerpt, you can purchase the full book here.
From the book The American Health Care Paradox: Why Spending More Is Getting Us Less by Elizabeth H. Bradley and Lauren A. Taylor. Excerpted by arrangement with PublicAffairs, a member of The Perseus Books Group.  Copyright © 2013.