Weekend Reader:<i>The Investigator: Fifty Years Of Uncovering The Truth</i>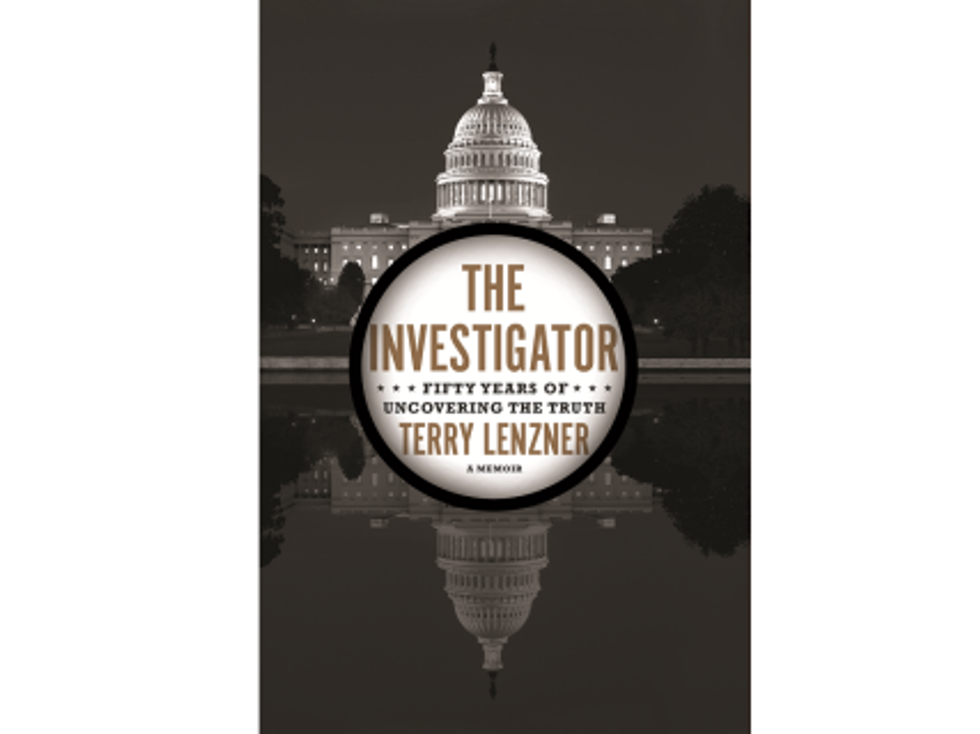 Today Weekend Reader brings you The Investigator: Fifty Years Of Uncovering The Truth, a remarkable new memoir by Terry F. Lenzner, the legendary attorney and investigator, which explores his behind-the-scenes role in such seminal events as the civil rights struggle of the early Sixties, the Alaska pipeline scandal, the Clinton impeachment and — in this excerpt — the Senate Watergate Committee probe of the 1972 Republican campaign, leading inexorably to the resignation of President Nixon.
As Lenzner explained to National Memo editor-in-chief Joe Conason, the "Dirty Tricks" campaign undertaken by Nixon's operatives was the opening salvo of a multitude of improper initiatives designed to defeat the leading Democratic presidential candidate, Senator Ed Muskie (D-ME), in the early primaries. It was a clever, albeit improper and often illegal, effort to prevent Muskie's nomination by infiltrating offices, stealing campaign plans, and distributing literature designed to create animosity and bitterness between the Democratic candidates. All these activities were financed with monies that came through an undisclosed source. And they were effective: Muskie eventually stepped aside, leaving only Senator George McGovern (D-SD), who proved to be a significantly weaker competitor. 
The money spent on Nixon's covert trickery was never disclosed to election officials. Looking at campaign finance laws today — and in particular to the Citizens United case — Lenzner warns that the doors are now open to unlimited sums of money, from sources that need not be disclosed, which could overwhelm any candidate's efforts in a primary.  With unlimited unaccounted money, secretly deployed to disrupt the other party's campaign, it is easier than ever to deprive the voters of an effective franchise.
In this gripping excerpt, Lenzner recounts the challenging early days of the historic 1973 investigation that brought down a president.
You can purchase the book here.
Before the Watergate hearings began in May, I spent weeks flying around the country meeting with various witnesses. Carmine Bellino, a former FBI agent who had assisted Robert F. Kennedy's Senate investigation of the Teamsters union, sometimes came with me. Early on, we flew to California to talk to President Nixon's personal lawyer, Herb Kalmbach. We asked to see bank records and other information relating to money we had learned was provided to the Watergate burglars. Kalmbach calmly replied that those documents had been destroyed. My heart sank. Not Carmine's. "That's not a problem, Mr. Kalmbach," he said. "I'm going to sit right here with you and reconstruct all those files."
He did exactly that, for hours at a time, over a couple of weeks. Focused and dogged, Carmine left no stone undisturbed. He subpoenaed many vendors and companies in Key Biscayne, Florida, where Nixon and his close friend, Bebe Rebozo, each had homes. He asked for Kalmbach's index cards, containing his daily schedule and notes.
Carmine discovered that Kalmbach controlled money paid to campaign operatives including the Watergate burglars. He managed to pull together tax records to build an elaborate chart tracing various campaign funds to all sorts of non-campaign purposes, such as Nixon's purchase of a Harry Winston necklace for his wife's birthday. Unlike a lot of other people, Bellino did his work without bragging about what he accomplished. I recognized how valuable his skills were, and later I would use him as the model for seeking out forensic accountants on future cases for my investigative company.
Other committee staffers were less impressive. Some were favorites of the senators and came from their home states. They liked to line up in the hallways after committee sessions and chat up reporters. Others just seemed to like saying they worked on the Watergate Committee; no matter what was happening, they came in at nine and left at five. Of utmost importance to many was the opportunity to sit behind one of the senators during the hearings to be captured by TV and press cameras for all their family and friends back home to see.
Rufus Edmisten, a North Carolinian who had headed a small sub-committee for Senator Sam Ervin, the committee chair, was named deputy chief counsel. In fact, chief counsel Sam Dash received his own appointment only after making a deal with Edmisten. In typical Washington fashion, the deal was that Rufus would push Dash very hard for the job if Dash agreed to Rufus as his deputy.
Rufus was totally loyal to Ervin, his patron. He also was a real creature of the Washington culture. Shortly after he came to the committee, he asked the Senate administrative people to create a special chair for him to use behind the rostrum. Whenever a senator asked a question during the hearings, Edmisten in his armless chair wheeled over so that he was wedged right beside the questioner. With that technique, Rufus Edmisten became one of the most photographed members of the Watergate Committee.
One member of the committee staff who stood out was Scott Arm­strong. Armstrong was a very good and resourceful investigator, but he created a variety of problems. There were elements of his background that I thought could be troublesome. Most problematically, he had roomed at Yale with Bob Woodward, who continued to investigate the break-­in, and had remained close to him since. I was concerned that Armstrong's friendship with Woodward might supersede his allegiance to the committee. Dash asked me to interview Armstrong be­fore hiring him, though ultimately he hired Armstrong before listening to my concerns.
Armstrong did help Woodward break a number of stories on the investigation. In one instance, the leak was so severe that Armstrong was suspended from the committee. He was the primary source for a Rolling Stone article that criticized the committee staff and senators. He eventually returned, but it took a long time for him to regain my trust.
As mentioned, not everyone was dying to join the committee staff. At the United States Attorney's Office, I had worked with a terrific senior criminal investigator for the IRS named Marvin Sontag. I thought he'd be an excellent addition to our staff, so I called him up
"I'm an assistant chief counsel on the Watergate Committee," I told him. "I'm heading up some of the investigations, and we need someone like you."
He paused for a second. "Let me see now," he said. "You're asking me to leave New York and my job of twenty-­five years to go to Washington to investigate the president of the United States? And you think I will be able to go back to it after I do that? Are you crazy?" Like so many others, he thought the president and his administration would walk away from the investigation unscathed. He assumed there was no future for anyone involved in it.
For some time, the committee staff didn't even have a workspace. Through a friend, Jim Flug, who worked for Senator Ted Kennedy, I managed to find a place to work temporarily in their offices. Good thing the White House didn't know about that.
Eventually tiny makeshift offices were found for us in the Senate auditorium of the Russell Senate Office Building, an ornate edifice with dark corridors and marble floors. My office was located directly behind the stage and was one of the few with a door that could be closed for privacy. The Watergate hearing room was directly upstairs. My only access to the outside world was a narrow window giving me a view of the rest of the staff. With piles of papers and reports stacked on my desk and spilling onto the floor, it was obvious to visitors that the appearance of my office was not my top concern.
There were a few issues that confronted us early on which, if decided differently, would almost certainly have helped the Nixon administration survive the hearings. The first came from Archibald Cox, the special prosecutor that attorney general–designate Elliot Richardson appointed in May to investigate the Watergate break-­in. After hearings had begun in mid­-May, Cox came to Chairman Ervin in June and urged him to scrap plans to televise our hearings. The special prosecutor felt that public hearings would complicate his efforts to assemble an independent and impartial grand jury. He also did not want his witnesses exposed to the televised testimony of potential co­conspirators, which might help them craft their own stories. Some senators and even one of my co­-counsels were inclined to agree. But Dash and I argued that it was imperative that the Senate committee not cave to the Department of Justice. For one thing there was no reason to expect Cox or Earl Silbert, the U.S. Attorney presenting to the grand jury, would withstand pressure from the attorney general and the White House. Ervin thought about it and decided to go forward. The chairman believed strongly that the American people had a right to hear as much as possible about the case. I would find, however, there were exceptions to this rule.
Another issue involved soap operas like General Hospital. The senators, who were politicians first and foremost, were risk averse almost throughout the entire investigation. They were terrified that long, drawn­-out hearings would annoy their constituents, particularly those outraged by the pre-emption of their favorite daytime dramas. To my continued disbelief, this was an ongoing concern; so great, in fact, that the senators seriously deliberated a proposal put forward by Senator Baker that would have been disastrous. He suggested immediately bringing before the committee senior White House officials who might have information about the break­-in and cover­-up: former attorney general Mitchell, Haldeman, Ehrlichman, and Colson. That way the hearings wouldn't last too long and the soap operas could return to the airwaves.
I argued to Dash and anyone else who would listen that if we brought all the big names before us early, we wouldn't have any idea what to ask them. We had no trail of evidence, no affidavits from witnesses, no way of challenging what they said.
The most effective way to begin an investigation is to start with the people at the lowest levels and move up the chain. Dash shared this view. Fortunately Senator Ervin and the others were easily convinced. If they hadn't been persuaded, I have no doubt the Watergate hearings would have had a very different result.
There were no established procedures for congressional investigations, how to amass evidence, or what to do with evidence when it was found. Even today, very few law schools provide that education. The issuance of subpoenas was informal. Probably 99 percent of them, except for those most politically sensitive, were signed by Senator Ervin's autopen machine. Among the first things I instructed my investigators to do was create witness trees, listing all the employees of various organizations—the White House, the Republican National Committee, and the Committee to Re-­Elect the President (CREEP). I wanted to know what role each person played, and who their assistants and secretaries were. I asked my team to assemble all biographical material and press coverage on the individuals that could be found.
Our first targets were those at the lower rungs of each organization— the support staff in the offices of major figures, those who kept their schedules, took their dictation, typed up their notes, and sometimes listened in on phone calls or sat in on meetings. I assumed that these subordinates, though well informed, generally didn't intend to participate in a cover­-up. They might not even know that a cover­-up was in progress. They had far less invested in administration spin than those at the top, and also were far less likely to be complicit in any wrongdoing that they needed to cover up.
Some of them were disgusted by what was happening in the ad­ministration and actually sought us out. Almost from the beginning of the investigation, we received calls from staffers asking to meet with us privately. I worried that some of these might be setups—to get us to divulge information or to say something that would indicate hostility to the president and raise questions about our objectivity. I made a point of instructing committee staff to be careful about shooting their mouths off, either about Nixon or any of his people.
When interviewing witnesses, I used the lessons I'd learned during my days in Mississippi and Alabama. I instructed my investigators to assemble as much information as possible about a witness before an interview so we knew what questions to focus on. I also made sure that every witness was always asked: "Is there anything else you wish to add that we haven't covered?" Eventually I added a second question to be asked at the end of every interview: "Are you aware of a taping system that may have been in use anywhere in the White House?" We'd heard that President Johnson had installed a tape recording system in the Oval Office, and we wondered if Nixon might have continued this practice. As we all know now, that turned out to be an extremely important question.
If you enjoyed this excerpt, you can purchase the full book here.
Reprinted by arrangement from Blue Rider Press, a Penguin Random House Company, from The Investigator by Terry Lenzner © 2013