Libertarian Vice-Presidential Nominee Bill Weld Vouches For Hillary Clinton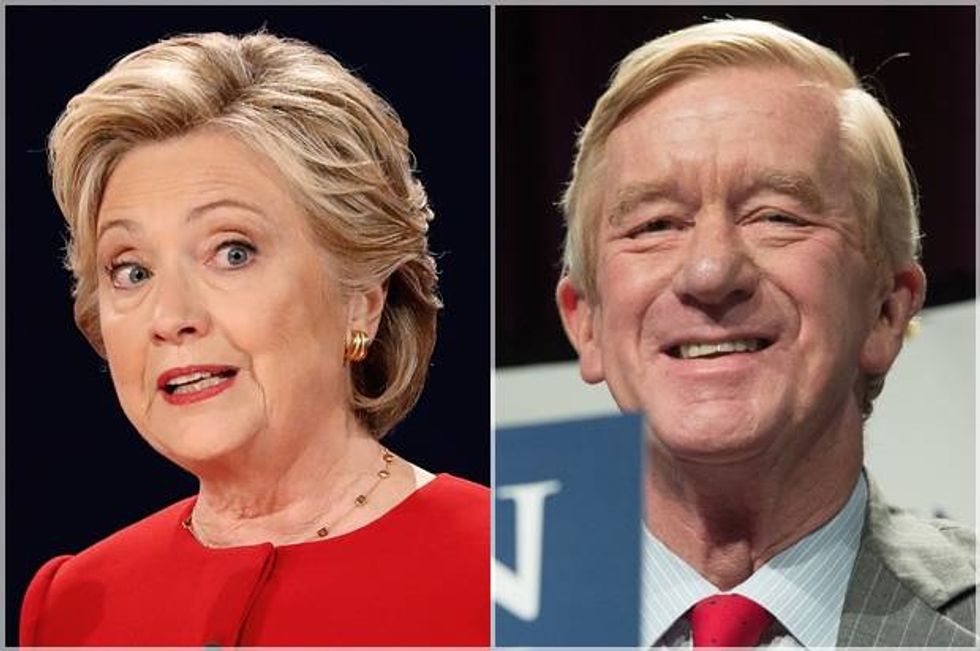 Reprinted with permission from AlterNet. 
Libertarian vice-presidential nominee William Weld has taken to the national airwaves to defend Hillary Clinton.
Splitting with Libertarian presidential candidate Gary Johnson, Weld defended Clinton Tuesday night in an interview with MSNBC's Rachel Maddow. Weld criticized FBI director James Comey's decision to publicly announce the agency was looking into more Clinton emails days before the election, and praised Clinton's candidacy.
"I'm here vouching for Mrs. Clinton, and I think it's high time somebody did," Weld said.
Conservatives who saw the Johnson-Weld ticket as a principled alternative to voting for Trump cringed at Weld's remarks.
"Sadly, Weld's willingness to help out Clinton was predictable," wrote Jim Geraghty, writer of National Review Online's "Morning Jolt" column.
Citing his own profile of Weld from last spring, Geraghty said Weld has known Clinton for decades and respects her. Geraghty wrote:
"Weld graduated summa cum laude from Harvard with a degree in economics, studying the subject further at Oxford before returning to Cambridge, Mass., to earn his JD from Harvard Law School. Three years later, he was hired to work on the U.S. House of Representatives Impeachment Inquiry into Richard Nixon's Watergate scandal. 'If I was the first staffer, Hillary Rodham from Yale Law School was the second staffer,' Weld told the Nixon Library Oral History Program. 'She's just a very decent person, and if I recall correctly, on the occasion when I got in the middle and [special counsel to the Judiciary Committee] John Doar himself got frowny-faced with me—which he should not have, by the way, I was doing my duty—I think Hillary intervened and defended me on that and I've never forgotten that.'

"(Weld isn't kidding: Earlier this year, he dismissed the scandal surrounding Clinton's private email server as much ado about nothing. 'I've never bought that email thing,' he told Boston Herald radio on February 29. 'I don't think anything was classified when she did it, it got classified later. … I don't think she would lay a lot of stuff on the table that she thought would compromise our national security.')"
Whether or not Weld's comments will sway young millennials who have been drawn to Johnson's candidacy is an open question. But it is striking that the vice-presidential nominee of a competing ticket is agreeing with Clinton that the FBI's latest disclosures in the email controversy are a smear based on a non-issue.
IMAGE: Reuters/Mike Segar/Getty/Bryan R. Smith