Well, Good For Michelle Wolf, Anyway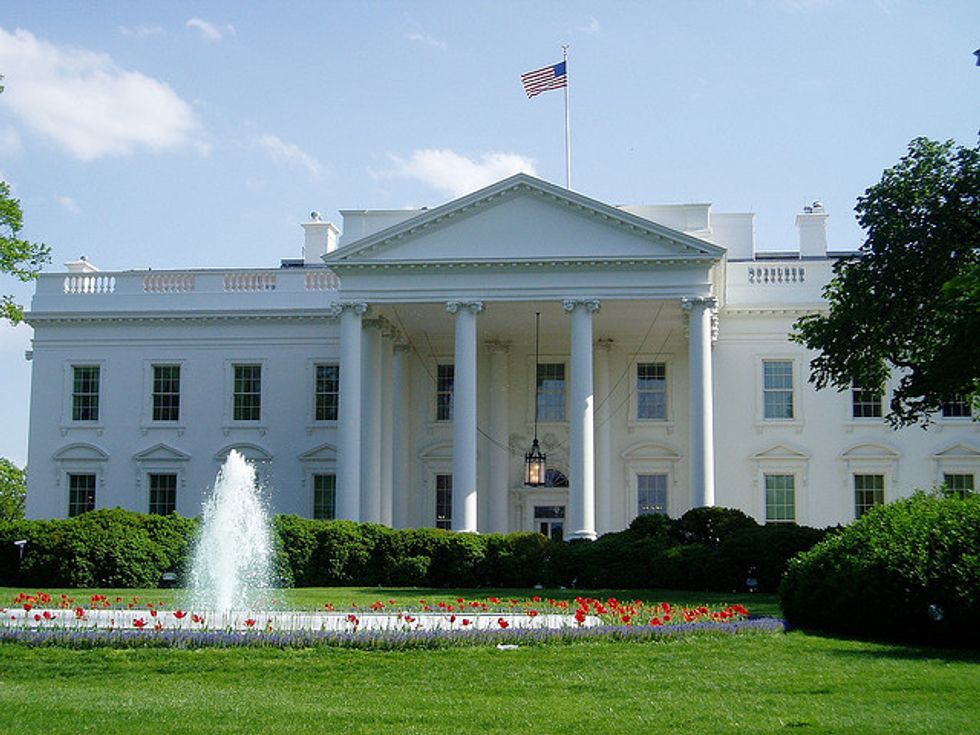 Things are happening at warp speed these days, and maybe you've already moved on from comedian Michelle Wolf's performance at last weekend's White House Correspondents' Association dinner.
Alas, I haven't. Not just yet.
The annual dinner is that one night of the year when Washington journalists try to act as if it were perfectly normal to parade around in senior prom attire while making jolly with politicians. These are the same politicians in Congress and the White House whom they are supposed to be scrutinizing with the red-hot heat of a Black & Decker steam iron tackling taffeta. It's never been a good visual.
I'm hardly the only journalist who has long called for an end to this charade of ethical compromise. As James Poniewozik reported, for example, The New York Times has not attended this dinner for a decade. It's wonderful that the White House Correspondents' Association awards annual scholarships for young reporters, but virtually nobody talks about that. And in these times, this hours-long spectacle reinforces everything the president tells people they should hate about us.
Presidents have traditionally attended this dinner, but for the second year in a row, Donald Trump has boycotted it and held a campaign rally instead. This year, he was in Michigan, where he bragged about his crowd numbers and presidential victory, yet again, claimed that Democrats colluded with Russians, and said that if he doesn't get funding for his border wall, he'll "close down the country."
He also accused journalists of making up sources and "hating your guts." This is not true, but it gets to why this year's White House Correspondents' Association dinner was a bad idea.
To address the most common post-dinner retorts from many of my fellow liberals:
1) Yes, Lenny Bruce was a trailblazer of a comedian, with his foulmouthed self. He died in 1966.
2) Yes, Donald Trump has repeatedly stooped to this level of behavior. If I want a mirror held up to Trump — never, thanks — I can watch Fox so-called News Channel.
3) No, I'm not wearing pearls, so I can't possibly be clutching them. That sort of thing ended decades ago anyway. (See Lenny Bruce, above.)
My objection to Wolf's performance has nothing to do with her and everything to do with who invited her.
We now have a president who loves to work up crowds into mobs chanting their attacks on journalists and who calls us "the enemy of the American people." It'd be nice if we could avoid fueling this rage and growing the number of people who hate us.
Wolf is a comedian, but that night she was the face of journalism. If you don't think that's true, please be a journalist trying to do your job anywhere but Washington, D.C.
I get that covering the White House has never been tougher. There's a reason for your bubble of in-the-trenches camaraderie — but you do know the rest of us can see you, right? As one of my students asked after we viewed Wolf's entire performance in ethics class: "Did they not think that what happened at that dinner would affect local journalists?"
I have a recent story that might help illustrate what she means. Last month, I was at the Cleveland Indians' home opener, roaming the stadium to talk to fans about their affection for Chief Wahoo, the racist mascot that the team is phasing out, sort of.
I've been working as a journalist in Cleveland for nearly 40 years. I've interviewed countless fans in the past about Wahoo. For the first time in my career, one person after another responded to my request for an interview with the same accusation: "You're fake media."
They were aggressive.
They were angry.
They were a lot like Trump.
I wish only the best for Michelle Wolf. She's a female comedian owning center stage. That's almost as rare as Americans' trust in our journalism.
How hilarious is that?
Connie Schultz is a Pulitzer Prize-winning columnist and professional in residence at Kent State University's school of journalism. She is the author of two books, including "…and His Lovely Wife," which chronicled the successful race of her husband, Sherrod Brown, for the U.S. Senate. To find out more about Connie Schultz (con.schultz@yahoo.com) and read her past columns, please visit the Creators Syndicate webpage at www.creators.com.