What Makes Katie Hill So Different From All The #MeToo Men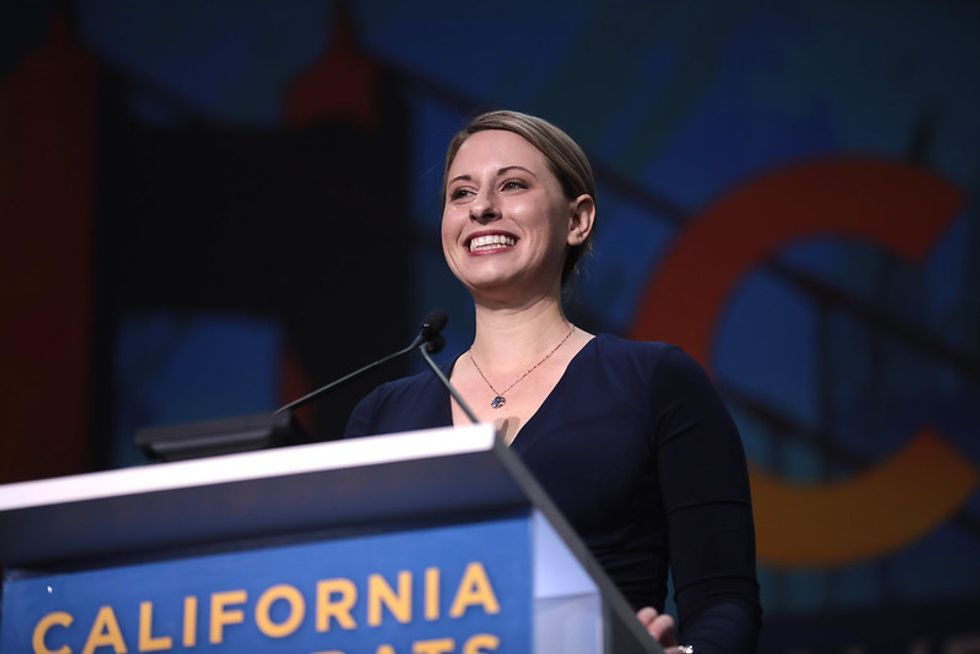 OPINION — Katie Hill said, "I'm sorry," a lot. In a speech that was not quite seven and a half minutes long, that stood out.
With a public impeachment inquiry now underway and a torrent of names and made-for-TV characters moving in and out of the spotlight, few remember that one of the votes approving this step was the last cast by Hill. The freshman congresswoman resigned her seat as she was about to face an ethics investigation after accusations that she was having a sexual relationship with a congressional aide. She denied that, though she admitted to one with a campaign staffer that she said was inappropriate though not rule-breaking.
This column is not to rehash the fairness or unfairness of the charges or the pros and cons of her decision to leave. As my CQ Roll Call colleague Patricia Murphy has written, she had little choice after Congress approved needed rules to establish lines its members had been crossing with impunity for years. #MeToo means everyone.
And it is not to rehash the prurient details that drove much of the public interest, no doubt the intent of the spouse Hill labeled "abusive," who, with the help of conservative outlets, she has accused of sharing photos of a relationship he apparently had no problem participating in at one time. As many have pointed out, technology has advanced while society's rules and judgments have not quite caught up — and images last forever.
This is not a cautionary column about the intimate photos people choose to take and share. Those, too, have been written and no doubt nervously digested by more than would be willing to admit it.
But in reading and viewing Hill describing her very tumultuous, emotional ride to the decision she felt she had to make, you can't help but reflect on the difference between her parting words and the reactions of men caught in their own personally and politically fraught situations.
Parting words
Hill's speech ran the gamut of moods, understandable considering she was giving up something she had worked hard to achieve. She was stepping away from the legislative branch of the U.S. government, where she had rapidly risen to vice chair of the House Oversight and Reform Committee. Now, she was moving on to an unknown future in a world where everyone knows too much and too little about her. Her parting words were angry and self-pitying, sad yet defiant, as she spread some of the blame to others and took a piercing verbal shot at "men who have been credibly accused of intentional acts of sexual violence and remain" in their jobs, and "in the Oval Office."
Ultimately, though, Hill settled more somberly on feelings of disappointment that she had let so many people down: herself, the voters in her district and the young girls who looked up to her.
Thus, that litany of regret.
"I wanted to show young people, queer people, working people, imperfect people that they belonged here because this is the people's House," Hill said. "I fell short of that, and I'm sorry."
"To every young person who saw themselves and their dreams reflected in me, I'm sorry. … And to every little girl who looked up to me, I hope that one day you can forgive me. The mistakes I made and the people I've hurt that led to this moment will haunt me for the rest of my life, and I have to come to terms with that."
No one would argue with the reality of a "double standard" Hill said still exists. But society's harshness for some is a given. At 32, Hill walking the halls of Congress was a role model whether she liked it or not, as anyone who is a first or an only or one of the very few knows, visible when you want to be invisible, on the clock 24 hours a day.
Your successes are shared and your stumbles reflected on to not just yourself but all the folks you don't even know you represent.
When Speaker Nancy Pelosi, a woman in politics for a long time, said at Hill's departure, "We must endure a climate of integrity and dignity in the Congress, and in all workplaces," she acknowledged the need for some to set the highest examples.
Different rules
Men can feel that way too, and of course, many do. But it's not a requirement. The male rogue remains a figure of fascination and sometimes grudging admiration. Condemnation can come with a wink, and a slap on the wrist, something not lost on the young boys who seldom hear, "I'm sorry I let you down."
Who hasn't seen the present and past reaction from those on both sides of the aisle or on the top of the corporate heap caught in a harsh spotlight? It's generally outrage and denial, an attack on the integrity of the person who revealed said misdeeds, followed by bristling at the mere suggestion they have done anything wrong, and if they did do something, why won't people just quit whining about it and, really, don't you wish you could get away with something like that?
It can't just be core conservative values that explain the electoral longevity of Hill's still-serving fellow Californian, Republican Rep. Duncan Hunter, who is facing ethical and federal charges involving the misuse of campaign funds — with charges of extramarital relationships of some sort, including with staffers, thrown in. While his wife has pleaded guilty to one conspiracy charge, Hunter calls another charge "baloney."
The high-profile tough guy is a role model too, a scary thought for parents trying to set a different standard and a higher bar. Few of those men care, it seems, or think they are responsible for other men and boys. And other men and boys don't think that just because they're the same sex as the offender, their gender is somehow tarnished by them.
In this era of change, with fresh faces in a Congress slowly changing to reflect America, some things aren't changing much.
That's the sorrow.
Mary C. Curtis has worked at The New York Times, The Baltimore Sun, The Charlotte Observer, as national correspondent for Politics Daily, and is a senior facilitator with The OpEd Project. Follow her on Twitter @mcurtisnc3.