Whatever Report Says, Looming Investigations Still Threaten Trump
@FAWFULFAN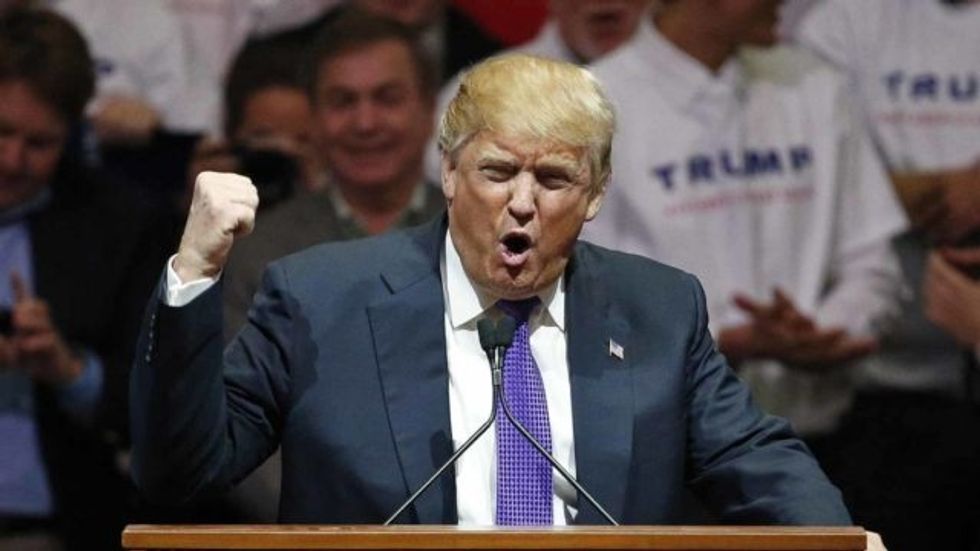 Reprinted with permission from Alternet.
Special counsel Robert Mueller's investigation into Russian interference in the 2016 presidential election, and President Donald Trump's potential involvement in it, has reached its conclusion. While there are a few loose ends to tie up, including the sentencing of former National Security Adviser Michael Flynn and the trial of former Trump campaign adviser Roger Stone, Mueller is finished issuing indictments, and his report has been delivered to Attorney General William Barr, who will soon be briefing Congress on the key findings.
While no one yet knows exactly what the report contains, the mere fact that Trump was never indicted is being sung from on high by the president's supporters as proof that he has been exonerated. But that isn't the case — there was never that big a chance Trump himself was going to be slapped in cuffs and hauled before a judge, and the finer points of the investigation could be damning for him politically even if Mueller lacked the authority or standard of evidence to prosecute him.
But just as important: Trump's problems do not end with Mueller's investigation. There are a number of other legal dangers for the president, in the form of federal, state, and congressional investigations that have not yet concluded — many of which have potential to criminally implicate the president, financially harm him, or imperil his re-election prospects.
Here are the biggest ones:
The Michael Cohen investigation
In some ways, prosecutors with the Southern District of New York were always a bigger threat to the president than Mueller. The special counsel was limited byecutorial actions, whereas the Manhattan U.S. Attorney's office has no such constraints. subject matter, and had to request permission from the Justice Department to take certain pros
Federal prosecutors have been investigating Trump's former personal attorney Michael Cohen's hush payments to women the president allegedly slept with ever since Mueller referred the matter to them over a year ago — which has led to Cohen pleading guilty to fraud, tax evasion, and campaign finance violations. Cohen has asserted he committed these crimes at the president's direction, and has suggested that Trump encouraged him to lie about a proposed Trump Tower project in Moscow, an issue about which Cohen pleaded guilty to lying to Congress. If any of this can be proven by prosecutors, it could put the president in legal jeopardy.
The inaugural committee investigation
Cohen is not all the Southern District is looking into. They are also leading a criminal investigation into the Trump inaugural committee, and last month subpoenaed documents concerning its finances. The probe is scrutinizing whether the committee accepted illegal donations, whether donors sought a quid pro quo in return for their contributions, and whether the committee was used to enrich the president's personal businesses. The attorneys general for New Jersey and Washington, D.C. have also subpoenaed the committee.
This investigation could theoretically also implicate Trump's daughter Ivanka, who according to a ProPublica investigation, approved contracts between the inaugural committee and the Trump organization that charged an exorbitant amount for food and event space — thus potentially funneling inaugural money into the family business.
The Trump Victory Fund investigation
Meanwhile, the Department of Justice is also investigating a $100,000 donation to the Trump Victory Fund came from Jho Low, a Malaysian businessman who is on the run in the wake of the 1MDB scandal, in which a state-run Malaysian investment fund was allegedly used to funnel money into the personal accounts of corrupt government officials.
The Trump Victory Fund is joint fundraising committee between the Trump campaign and the Republican National Committee, and while a 2014 Supreme Court decisionempowered these types of committees to take unlimited donations,
The New York Attorney General investigations
At the state level, New York Attorney General Letitia James is also waging a multi-pronged investigation into the president's side ventures. A lawsuit brought by New York against Trump's charitable foundation, which will dissolve as part of an agreement reached last year, accuses the foundation of violating state nonprofit laws, using charitable donations to enrich Trump, settle legal disputes, and influence the 2016 election.
The attorney general has also issued subpoenas to Deutsche Bank and Investors Bank, as part of a civil investigation into four projects by the Trump Organization and Trump's unsuccessful attempt to buy the Buffalo Bills football club in 2014.
Congressional probes of Trump's finances and business
While all of this is going on, House Democrats are gearing up to do what the president once promised he would do himself: release his tax returns. It is unclear what, exactly, is in Trump's financial records, but whatever it is has made him desperate to keep them locked up. He is planning to do whatever he can to obstruct their release.
Additionally, Democrats plan a deep look into Trump's business history, with an interview of Trump Organization CFO Allen Weisselberg already planned. In a recent hearing with Michael Cohen, Democrats like Rep. Alexandria Ocasio-Cortez (D-NY) zeroed in on financial questions about Trump, like allegations that he inflated his assets to insurance companies, that merit further investigation.
The emoluments lawsuit
One of the longest-running legal questions about Trump's presidency is the extent to which he is using it for personal profit, and particularly whether he has leveraged it to accept gifts from foreign governments, which would be a violation of the Emoluments Clause of the Constitution, which is the focus of an ongoing lawsuit brought by the Attorneys General of Maryland and Washington, D.C.
The essential problem for Trump is that he has hosted foreign diplomats at the Trump International Hotel in Washington, a hotel which charges far more than comparable hotels in the area. That raises two immediate legal questions: whether diplomats were essentially paying for access to the president, and whether the excessive price they were willing to pay for the rooms could be construed as a gift. If the answer to either of these is yes, the president could be in big trouble.
Trump would like the American people to believe that his legal problems end at "Russian collusion." But it is clear that that is only where they begin.