What's In A Name? 'Hillary' By Any Other Name Would Still Be Controversial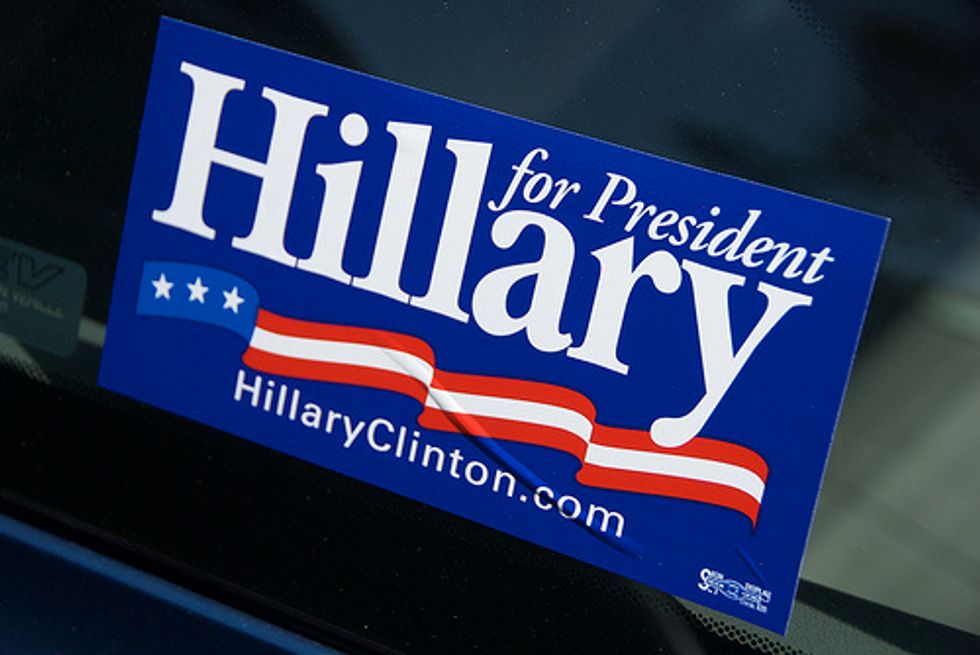 By Anita Kumar, McClatchy Washington Bureau (TNS)
WASHINGTON — There's Beyonce and Madonna, Cher, and Prince. And now Hillary.
It may not be exactly the same as the long list of celebrities known by their first name. But Hillary Clinton has become known simply as Hillary in bumper stickers and headlines, on Twitter and Facebook, around water coolers, and in coffee shops.
Yet some Americans, mostly women, don't think the former secretary of state, U.S. senator from New York and first lady should be called by just her first name.
"I think it's pretty unjust," said Monica Warek, 23, on a recent visit to Washington from New York City. "I think it shows the level of inequality that still exists in the workforce and just in general in society."
As Clinton gets ready to kick off her campaign for the White House, some wonder whether calling a female candidate by her first name reinforces gender stereotypes.
Or does it make her seem more personable?
Kathy Sullivan, a Democratic activist who co-chaired Clinton's 2008 presidential campaign in New Hampshire, said she has long noticed that women politicians in her own state are called by their first names. The first-in-the-nation presidential primary state boasts a female governor and an all-female congressional delegation to Washington.
"It has nothing to with political party," Sullivan said. "It reflects a tendency of some people, but it may be totally unconscious."
Hillary Clinton, 67, a fixture in American politics for more than two decades and the presumed front-runner for the Democratic nomination in 2016, is expected to launch her campaign for president this month, according to those knowledgeable about her plans but not authorized to speak publicly.
Already, businesses are hawking Hillary 2016 T-shirts and posters and Ready for Hillary, a political action committee helping lay the groundwork for a second presidential run, is signing up volunteers.
Terrell Penn, 39, of Washington, says he thinks people call Clinton by her first name because they are comfortable with her. "I think it's cool," he said. "First name, last name; as long as she's getting recognized."
Of course, in Clinton's case, this may all just be a way to distinguish her from her husband, former President Bill Clinton, who dominated Democratic politics for so long and still has a 65 percent favorability rating. An online search of the word "Hillary" produces a slew of news stories about the 2016 race, while a search of "Clinton" leads to information about husband and wife.
Clinton, the first female candidate to seriously vie for the presidency, was called by her first name four times more than her 2008 Democratic rival Barack Obama, according to a study examining news coverage of the 2008 presidential race by University of Utah researchers published in the Political Research Quarterly. Male news anchors and reporters also dropped Clinton's title of senator more than did female broadcasters, the document showed.
In any case, John Mosier, 67, of New York City, never liked the practice. "I think it generally cheapens the image of the candidate," he said.
Deborah Tannen, a linguistics professor at Georgetown University who referred to Clinton in her book, Talking from 9 to 5: Women and Men at Work, said Clinton may be called by her first name in part because "Hillary" is more distinctive than common female names such as Susan or Mary. (Clinton's mother had said she was named after Sir Edmund Hillary, a New Zealand explorer who with Nepalese Sherpa mountaineer Tenzing Norgay became the first climbers to reach the summit of Mount Everest. In 2006, her aides said that was not true.)
Tannen said that no matter the reason that people use first names — even if it's a sign of friendliness — there is no denying that the result is that the person does not get as much respect.
Carly Fiorina, the former Hewlett-Packard chief executive who unsuccessfully ran for the Senate in California, is often called Carly, another distinctive name. A group of supporters recently launched Carly for America to prepare for her potential presidential run.
But some male politicians have been called by their first names, said Allan Lichtman, a political historian who teaches at American University.
Teddy Roosevelt was called Teddy, though he apparently despised the nickname. Calvin Coolidge was called Silent Cal. Dwight D. Eisenhower was called Ike. (Remember "I Like Ike"?) More recently, 2012 Republican presidential nominee Mitt Romney was often called Mitt and former Florida Gov. Jeb Bush, now exploring running for the White House, used "Jeb!" on bumper stickers.
"There's nothing to it," Lichtman said about Clinton being called by her first name.
Laura F. Edwards, a history professor at Duke University who studies gender, said calling a woman by her first name is part of a larger problem in our culture in how to acknowledge women, who have always used their fathers' and husbands' names because they were never expected to have a public place in the world.
"All this gets to the point that women had no public identities of their own," she said. "And we're still living with the implications of that."
Some argue that Clinton should be called by her first name because she, herself, embraced it during her previous campaigns as a way to establish perhaps more than an identity, but a brand.
"Political campaigns like to put candidates in a familiar frame and that is why they often promote them by first names," Kiki McLean, a senior adviser to Clinton's campaign in 2008.
In 2008, Clinton avoided talking about her experiences as a woman, repeatedly saying that she was running because she was the best-qualified candidate. But this time, she has started to share more personal anecdotes about being a working mother and focusing on issues that might appeal to female voters including equal pay, paid family leave, affordable child care, and access to health care.
Debbie Walsh, director of the Center for American Women and Politics at Rutgers University, said the issue of women's names has come up in debates where male candidates use their female opponents' first name or skip her title to diminish them. But, she said, that is not the situation with Clinton.
"Part of the rap about her has been she's not accessible and she's not warm or friendly. This makes her a real person," Walsh said. "She chose to run as Hillary. She has owned her first name. It's become part of the vernacular."
(c)2015 McClatchy Washington Bureau, Distributed by Tribune Content Agency, LLC