When NBC Dumped Trump Because He Violated Their Core Values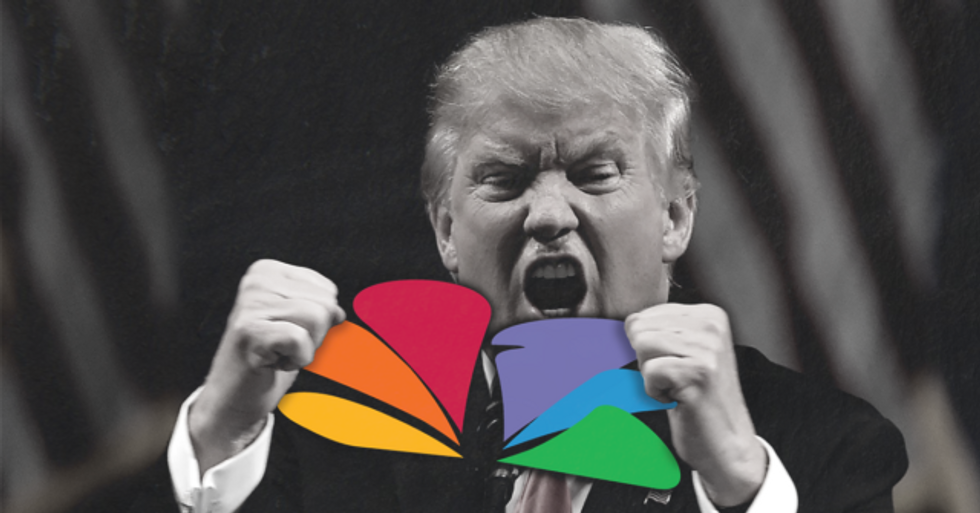 Reprinted with permission from Media Matters.
The announcement that President-elect Donald Trump will remain an executive producer on NBC's Celebrity Apprentice opens up a series of conflicts of interest for both Trump and NBC News. It also defies NBC's previous claim that they did not want to be associated with Trump because his bigoted statements had defied the network's core values.
Trump began his presidential campaign with a blistering, widely-denounced attack on Mexican immigrants. In his June 16, 2015, presidential announcement speech, he claimed that "when Mexico sends its people, they're not sending their best," instead claiming that most immigrants were rapists or drug dealers.
Two weeks after that speech, NBC announced that they were "ending its business relationship" with Trump due to what it termed his "derogatory statements" about immigrants. The network announced that they would no longer air the Miss USA and Miss Universe pageants, which were part of a joint venture between the network and Trump and were scheduled to run during the presidential election. According to the statement, "At NBC, respect and dignity for all people are cornerstones of our values."
At the time, the network stated that Celebrity Apprentice "is licensed from Mark Burnett's United Artists Media Group and that relationship will continue." But NBC News reported that this was because "Trump ceased his involvement with the reality show during the presidential bid." Now, Trump adviser Kellyanne Conway is suggesting that Trump might actively work on the show as president in his "spare time."
In any case, since NBC released their statement cutting ties with Trump, he has not demonstrated that he shows "respect and dignity for all people." Instead, he has continued to denigrate people of color , immigrants , Muslims , and women . In fact, NBC fired Billy Bush over the former Access Hollywood host's role in an open mic tape that featured Trump admitting to sexual assault. NBC didn't want a business relationship with someone who laughed at such comments, but apparently has no qualms with the man who said them.
It certainly raises questions about what NBC really considers "cornerstones of our values."