Where Does Sanders Stand In His Adopted Party?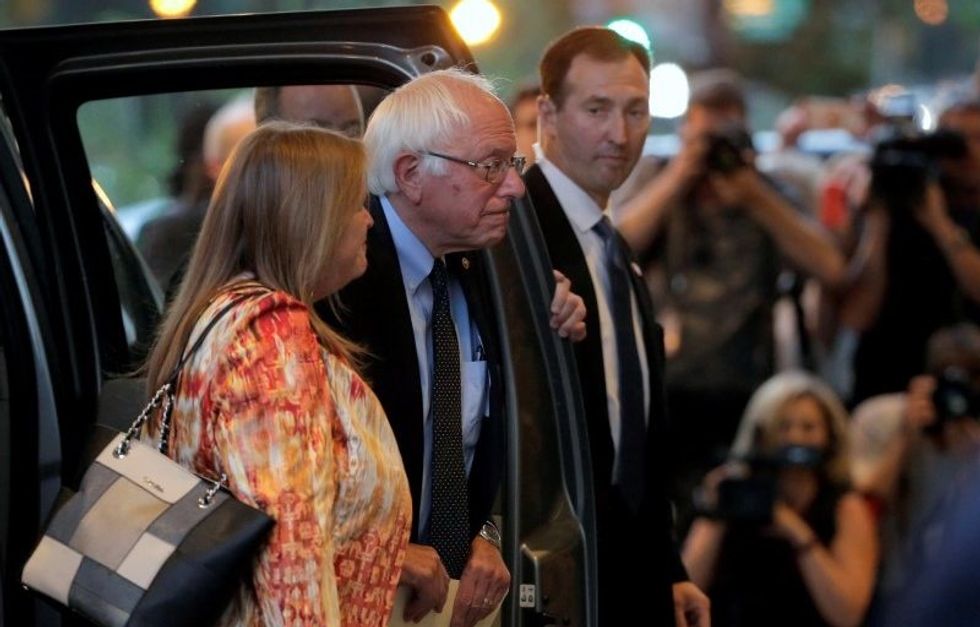 All that stands between Hillary Clinton and the Democratic nomination are a few days in Philadelphia.
Washington, D.C. cast the last primary ballots Tuesday, giving Clinton a wide victory over Bernie Sanders. The two met for 90 minutes after the district's vote became clear, a coming together ostensibly focused on the party platform, and certainly also focused on contrasting Democratic Party unity with the GOP's slow, public identity crisis.
Clinton clinched the delegates necessary to win the nomination last week.
Sanders isn't going to the White House next year, except to visit. He'll be nearby on the Senate floor, bobbing with the millennial campaign trail energy that turned his message into a contentious movement. Democrats have a good chance of retaking the Senate in November; Republicans should be worried — according to a recent Reuters/Ipsos poll, over 75 percent of Democrats say Sanders, the guy who legitimized socialism in America, should have a "major role" in shaping the party's positions.
And it seems the people will get what they want.
On Tuesday, USA Today reported on a closed-door meeting between Sanders and other Democratic senators, Sanders said he plans to play an active role in shaping a new platform for the party. Sen. Tom Carper said Sanders "mentioned he has every intention of being involved in the platform process and making sure his 2,000 delegates have the opportunity to have their voices heard."
Sanders, who Carper said was greeted with a "warm welcome, a friendly welcome" and standing ovations, also discussed the necessity for job training and making it easier for people to vote and participate in Democratic Party activities, as well as ensuring that young people feel welcomed by the party.
Senate Minority Leader Harry Reid said the meeting was "terrific."
"Sen. Sanders took time to talk to us about his experiences. It was really very, very moving," he said.
Also on Tuesday, during a press conference, Sanders told reporters, "We need a person at the leadership of the DNC who is vigorously supporting and out working to bring people into the political process," adding that he knows "political parties need money, but it is more important that we have energy."
Laying out a list of reform plans for the Democratic Party, Sanders discussed electoral reform, calling for the elimination of superdelegates and the need for more open primaries, which allow independent voters to participate.
"We need an electoral process that is worthy of the Democratic Party," he said.
Sanders' comments came as polls were closing for the D.C. primary, the final nominating contest of the Democratic presidential campaign. The Vermont senator met with presumptive Democratic nominee Hillary Clinton later in the evening.
Throughout the primary, Sanders has stood firmly to Clinton's left on policies like raising the minimum wage to $15 an hour and providing universal health care and tuition-free college.
Although Clinton, who last week was endorsed by President Obama, Vice President Biden and Sen. Elizabeth Warren of Massachusetts, had already secured the delegates needed to claim the Democratic nomination, Sanders followed through with his pledge to compete in the D.C. primary.
Spokesman Michael Briggs stills says he expects Sanders "will be a candidate through the Democratic National Convention in Philadelphia." Briggs said Sanders will speak via live video Thursday night, "directly to grassroots supporters from Burlington (Vt.) about how the revolution continues."
"Sanders' strength in the primaries had a significant impact on shaping the party platform," said Brad Bannon, Democratic strategist.
In an interview with The National Memo, Bannon said Sanders used his campaign as a leveraging tool to move Hillary Clinton further to the left.
"When Bernie got in the race, I don't think he thought about winning the nomination," Bannon said. "I think he got in to use the primary process to make the Democratic Party more progressive."
Given Sanders' successful candidacy, the senator from Vermont will likely return to Washington not as a ranking member, but a committee chairman, and the same could be said for Elizabeth Warren, the Massachusetts senator and a prominent progressive voice from the sidelines during the primary, especially against Donald Trump.
"Sanders helped jumpstart a generational change in politics," Bannon said. "He activated a young generation of activists who aren't going away," who "will have a significant impact on local, state, and eventually national politics."
Robert Shrum, who was a senior advisor to Sen. Edward Kennedy during the 1980 presidential election, told The National Memo that an insurgent campaign like Sanders' will incorporate new voices into the process.
Shrum noted that George McGovern's 1972 presidential campaign "brought in Bill and Hillary Clinton, and they stayed around for a long time."
"These ripples keep going for a long time."
Photo: Democratic U.S. presidential candidate Bernie Sanders and his wife Jane O'Meara Sanders arrive for a meeting with Democratic U.S. presidential candidate Hillary Clinton at a hotel in Washington, U.S., June 14, 2016.      REUTERS/Joshua Roberts