Where Is The Republican Gene McCarthy?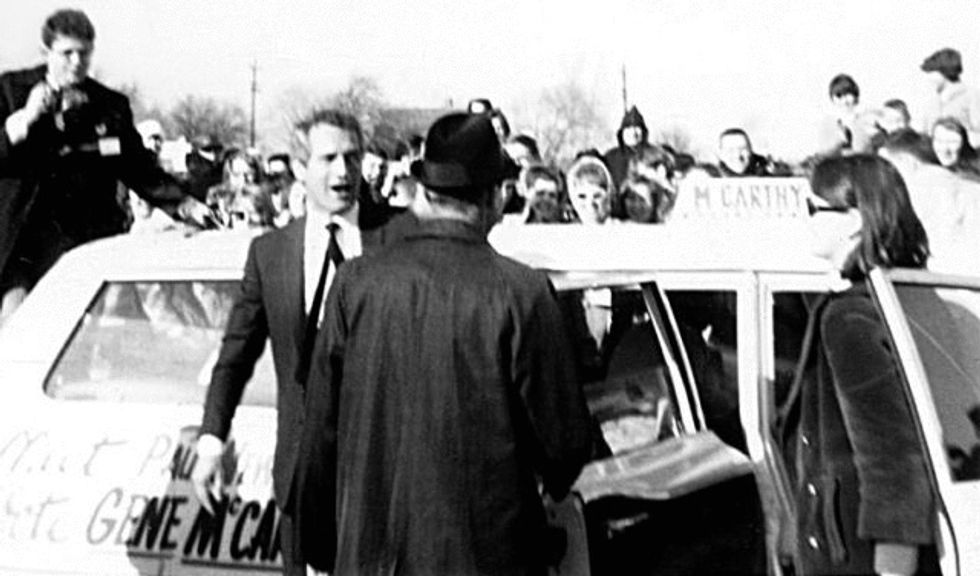 Reprinted with permission from Creators.
After Election Day in 1964, when Lyndon B. Johnson won a landslide victory over Republican Barry Goldwater and Democrats procured a 68-32 majority in the Senate, the Democratic Caucus of the U.S. Senate met in private. Rightly confident — they now had the numbers needed to pass Medicare, Medicaid and the Voting Rights Act — euphoric Senate Democrats were generally unreceptive to the solemn reality check delivered by their just re-elected Minnesota colleague, Eugene McCarthy. Stipulating his own and the caucus's strong support for LBJ, who was their former majority leader, McCarthy warned that if there arose a need to stand up to President Johnson for any major error in foreign or domestic policy, because the Republicans were such a depleted minority, it could only come from those on the Democratic side.
True to his word, Gene McCarthy, undefeated in seven Minnesota elections, on Nov. 30, 1967, earned the begrudging admiration of his timid colleagues and the gratitude of concerned Americans when he effectively sacrificed his own political career by rising to challenge LBJ, whose war policy in Vietnam many objected to, for the Democratic presidential nomination. He also changed history.
Twice in this campaign year, I have heard candidates publicly disparaging their opponents for, not unlike McCarthy, acting on conscience. The first was Democrat Marie Newman — backed by many national liberal groups, including the political arms of Planned Parenthood and NARAL Pro-Choice America — who attacked her Illinois primary opponent, Rep. Dan Lipinski, for his lifelong opposition to abortion. This statement by Newman went publicly uncriticized by her liberal supporters: "We can't vote our own conscience as (Lipinski) likes to say. We have to vote how our constituents want us to vote." By that logic, the 156 senators and representatives who dared, when the public backed going to war by more than a 3-1 ratio, to vote against the mistaken U.S. invasion of Iraq should have been banished from office. Newman lost.
The second occurred this past week in South Carolina. Rep. Mark Sanford, a former two-term governor, lost his Republican primary to state Rep. Katie Arrington, who had blasted career conservative Sanford for being one of only five House Republicans to vote against an $827 billion bill that included $1.6 billion for President Donald Trump's cherished border wall. Sanford had angered Trump when the president was a candidate by publicly urging him to release (as he had repeatedly promised he would) his personal tax returns and advocating a more welcoming administration policy toward immigrants who were brought here illegally as children.
Chutzpah, which might be defined as a defendant found guilty of killing both of his parents daring to seek mercy from the judge on the grounds that he is now an orphan, begins to describe Trump's tweet endorsing Arrington and making it all personal: "Mark Sanford has been very unhelpful to me in my campaign to (make America great again). He is MIA and nothing but trouble. He is better off in Argentina." Here Trump, who has often publicly boasted about his nonmarital sexual conquests, raised hypocrisy to an art form by invoking then-Gov. Sanford's publicly admitted marriage-ending infidelities, which ended his national political prospects. Winner Arrington, who had campaigned against Sanford's differences with the president, gratefully pledged her fealty to the Leader: "We are the party of Donald J. Trump."
This was South Carolina, where, in a 2016 primary debate, candidate Trump accused former President George W. Bush of lying about Iraqi weapons of mass destruction to take the country to war. ("They lied. They said there were weapons of mass destruction … and they knew there were none.") In spite of the fact that there is video of the debate, Trump denied ever having said this. But this is the party of Donald J. Trump, and that chill causing Republican office seekers to shiver is the frost from the cowardly fear they have of offending their master. Where is the Republican Gene McCarthy?
To find out more about Mark Shields and read his past columns, visit the Creators Syndicate webpage at www.creators.com.