Where Is Trump Still Hiding Secret  Documents? Video Provides Big Clue
@LucianKTruscott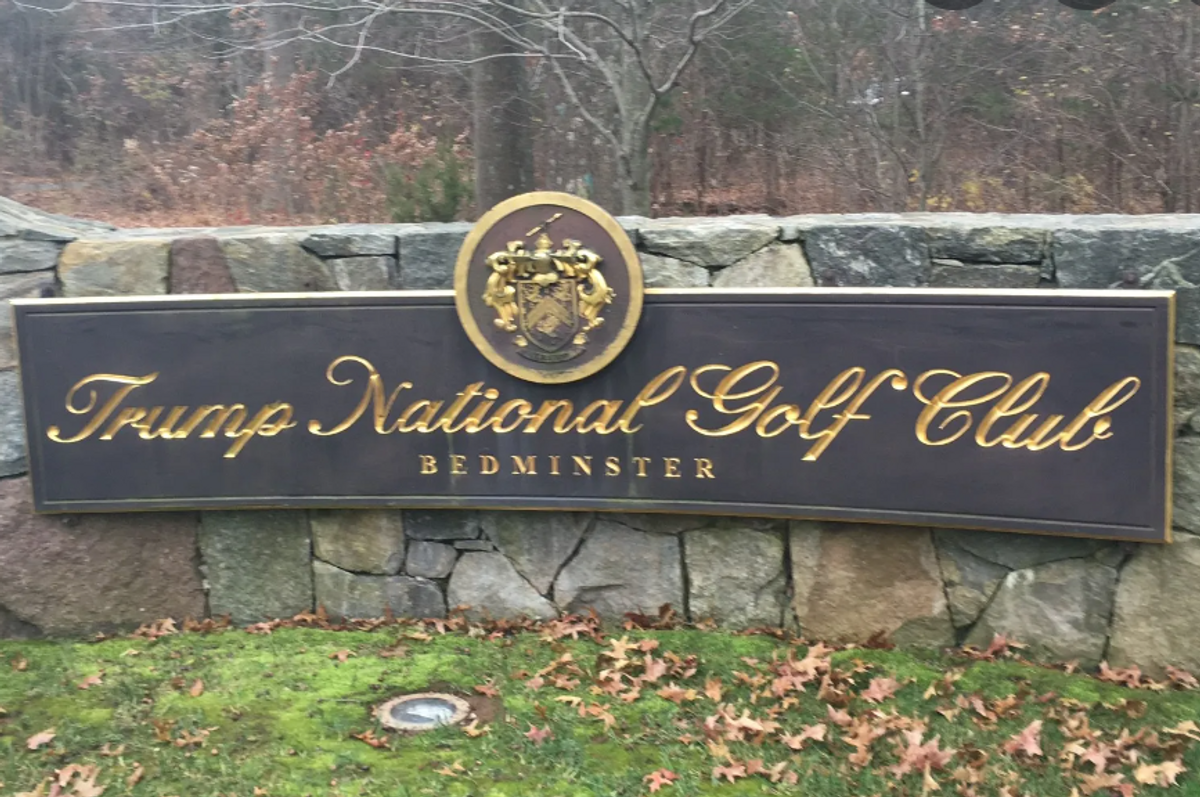 The big story late this week was the belief of the Department of Justice that former president Donald Trump has not turned over all the classified documents he took from the White House way back in January, 2021 before President Biden moved in. Whoa, big surprise, huh? Who woulda thunk that the man who had top secret documents stored in cardboard boxes in the basement of Mar a Lago, and in white file boxes used when you're moving, would have failed to turn over a final stash of secrets he's still hiding somewhere?
But nobody to my knowledge has gone back and had a look at a video that was taken on May 8 of this year by London's Daily Mail when Trump left Mar-a-Lago and moved his household, lock stock and barrel, to Bedminster, New Jersey. Someone tipped off the Daily Mail that Trump had always moved out of Mar-a-Lago for the summer season on Mothers Day, so the paper sent a video crew out to a private airport and filmed the entire procedure of Trump's armored SUV's arriving, Trump getting out and boarding a quite large private jet, and aides unloading four white file boxes from one of Trump's SUV's and loading them into the plane that carried him to New Jersey via a private airport near Bedminster.
Here is a screen capture from the video of Trump boarding the plane: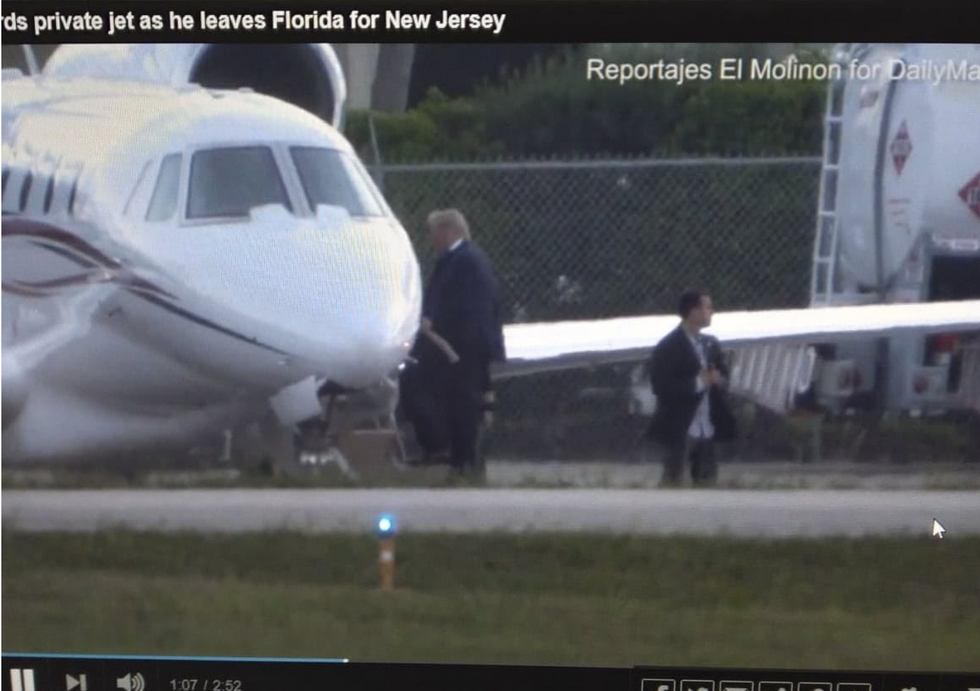 Here is a screen capture of the first box being delivered by a male aide. Box is visible beneath plane's wing: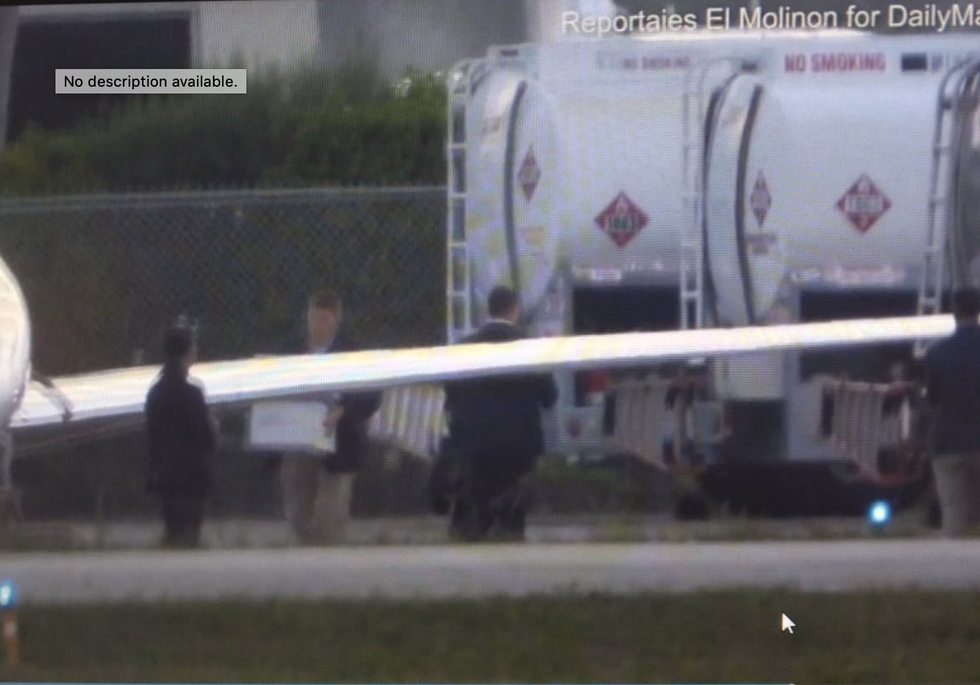 Here is the screen capture of the second and third boxes being delivered to the plane. It's blurry, but a female aide can be seen carrying one box; a male aide just behind her is carrying two boxes stacked atop each other.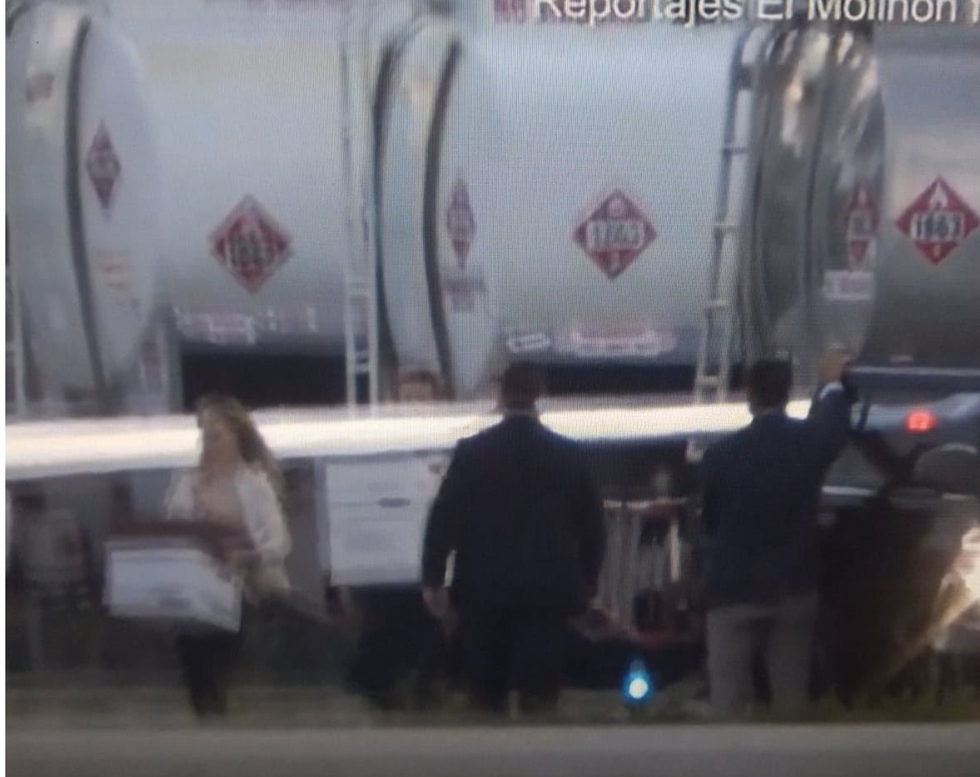 Here is the screen capture of another male aide carrying the fourth box to the plane, again visible below the plane's wing: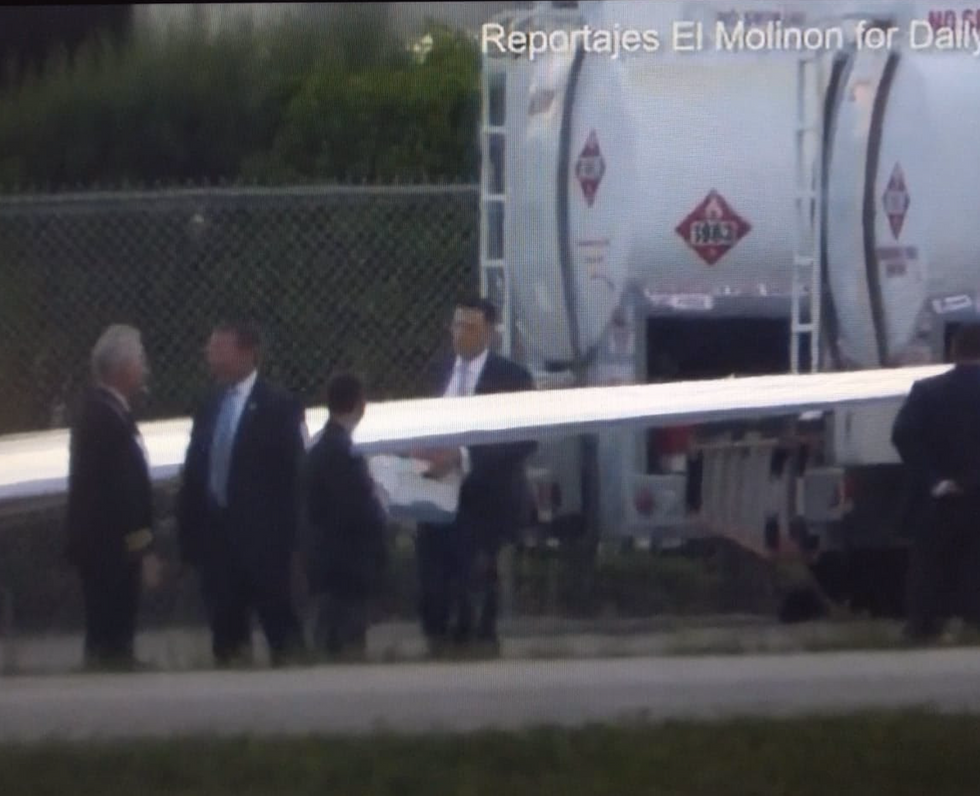 So that's four white file boxes being loaded onto Trump's private jet on May 8, 2020, bound from Palm Beach to Trump's residence at his Bedminster golf resort in New Jersey. But all four boxes are exactly like the file box shown in the FBI photo of the classified files on the floor of Mar-a-Lago. They are also similar to another photo taken on or about January 20, 2021 when Trump was on his way to Mar a Lago. Five file boxes are shown here in a close-up outside the White House on moving day waiting to be loaded onto a truck, one of them marked, "Storage."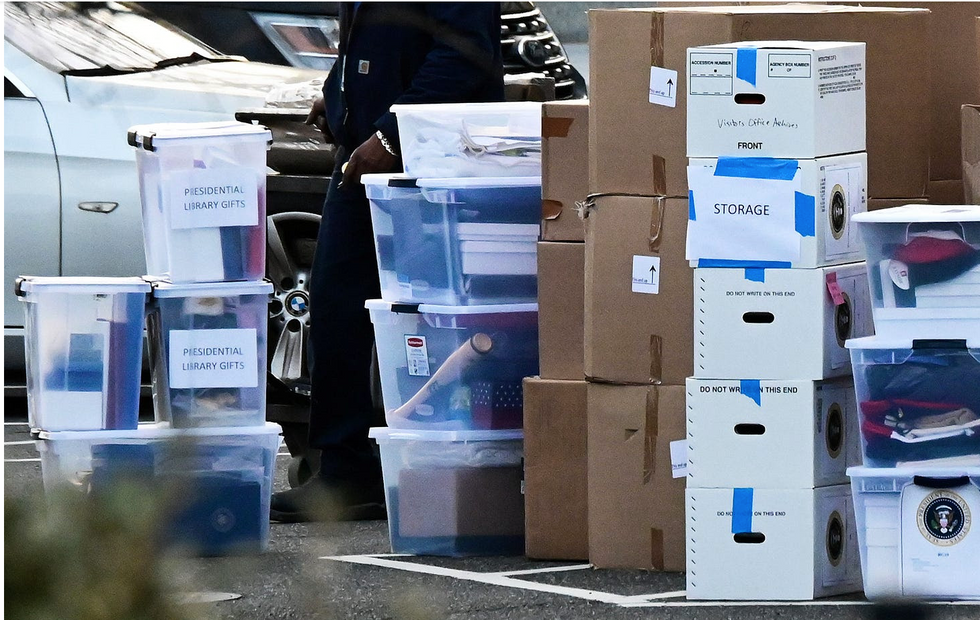 Again, we don't know what's in any of the boxes in the photos. The one marked "storage" in the photo outside the White House could have gone into Trump's wildly unsecured "storage room" in the basement of Mar-a-Lago. The boxes being loaded onto Trump's plane when he was leaving Palm Beach for Bedminster might be filled with Melania' shoes for all we know.

But the whole thing with Trump and his boxes filled with classified documents that he took from the White House to Mar-a-Lago, some of which were only recovered when the FBI executed a court-ordered search warrant on the place…well, they sure do get your attention, don't they?
They must have gotten the attention of the Department of Justice as well, because the New York Times reported this week that Jay Bratt, who heads the counterintelligence section of the DOJ's national security division, spoke with Trump's lawyers this week and told them some classified documents were still missing and asked if Trump had the missing classified documents in his possession. On the cable news shows, legal experts noted that Trump isn't exactly known for his close relationship with the truth, so why would the DOJ even bother to ask his lawyers such a question? This move is called, in simple English, tipping your hand – giving the other player a glimpse of what's in store for him if he keeps bluffing – a warning shot fired across his bow, as it were.
Several things could be going on here, according to the legal eagles on the cable shows. The DOJ is really worried about the missing classified documents and is trying everything they can to get them back because they are so sensitive, so they figured they would just ask for them as a first move in what could turn into a long legal battle. It is not known what Bratt said to Trump's lawyers, but at least one expert interviewed on MSNBC said the DOJ already knows what is in the missing documents for two reasons.
Some of them are thought to have come from the empty folders recovered by the FBI at Mar a Lago, and the folders are marked to show their contents. And at least some of the missing documents were not from the empty folders, but the DOJ knows what's in those documents as well, because classified documents, especially those marked Top Secret/Compartmented Sensitive Information, are logged in and out of the locations where they are kept, so the government knows from those records which documents they are. That is why the DOJ is so worried about the missing documents, because they already know what's in them.
The other thing that could be happening has to do purely with legal strategy. By questioning Trump's lawyers about the missing documents, the DOJ is signaling that one or more things are coming: either they will go to a judge and get a search warrant for Trump's office in Trump Tower and his office and residence at his Bedminster golf club, or the department will file another motion in court asking that Trump and his lawyers be ordered to certify that they don't have any more classified documents stored at any of Trump's residences.
The DOJ tried that before, and Judge Aileen Cannon gave Trump's lawyers a loophole through which they strode without Trump having to sign an official affidavit certifying that he turned over all the records he took from the White House. The DOJ can appeal if Trump gets Cannon to give him another loophole, and the 11th Circuit Court of Appeals has already shown it is skeptical at the least and even contemptuous of Judge Cannon's previous orders, so the DOJ may end up prevailing with the Circuit Court again.
The other reason the DOJ is going after the missing documents is that they are not subject to Judge Cannon's order for the special master, which covered the 11,000 documents Trump has already turned over as well as the top secret documents the FBI recovered from Mar a Lago in its search on August 8. If the DOJ can get its hands on the missing documents, there are no bogus orders from Trump's favorite judge, Aileen Cannon, preventing them from using the documents any way they want.
This is not true of the documents already subject to the order for the special master. Even though the 11th Circuit allowed the DOJ to use the 100 folders of classified documents in its criminal investigation of Trump, because those documents and the rest of the 11,000 the DOJ recovered are subject to review by the special master, the department's prosecutors and FBI investigators must be especially careful about how they handle them.
If even a single page is improperly used to question a witness, or is accidentally revealed to a witness or anyone else, and ends up being used in evidence against Trump in a trial, that might be grounds to overturn a conviction of Trump for mishandling classified documents or so-called NDI, or National Defense Information which need not be classified to be covered under 18 U.S. Code 793, the federal statute the DOJ has told the 11th Circuit its criminal investigation involves. With no court orders hanging over the missing documents, the DOJ could handle them separately from the others and use them to get a conviction of Trump that would be much, much harder to overturn.
Trump is extremely vulnerable on the question of the missing documents. In June, he had one of his lawyers, Christina Bobb, sign an official affidavit certifying there were no other documents or materials Trump removed from the White House. That certification turned out to be false, when several dozen boxes of documents, including the 100 classified folders, were found by the FBI during its court-ordered search of the premises.
As the Washington Post reported this week, back in January Trump tried to get another of his lawyers, Alex Cannon (no relation to Aileen) to certify to the National Archives that he had returned all the documents he took from the White House. Alex Cannon rather wisely refused to sign the certification. In a later statement Trump made, he was unable to assert that he had returned everything he had taken from the White House to the National Archives. There was a similar assurance made by Pat Philbin, one of Trump's lawyers, that former White House Chief of Staff Mark Meadows, had told him Trump had returned everything to the National Archives. That assurance wasn't in a sworn statement, but it was also false, of course.
The probable reason Trump is still holding onto some classified documents is that he has discovered, too late it seems, that every single classified document he removed from the White House had been accounted for by an army of bureaucratic gnomes who followed security procedures regarding secret documents, even if Trump didn't. He probably now realizes that all the lies he told about not having taken anything from the White House to Mar-a-Lago – or elsewhere – are going to come back and bite him in the ass and be used in court against him if he is indicted by the DOJ. If he can keep the missing documents from the DOJ, at least they won't be able to be used against him, or so he seems to believe.
The irony is delicious, isn't it? Trump's hated "Deep State," in the person of all the bureaucratic record keepers he was so contemptuous of, who documented the handling of classified documents by the Trump White House and the CIA, NSA, and DIA, may end up being what brings Trump down.
Lucian K. Truscott IV, a graduate of West Point, has had a 50-year career as a journalist, novelist, and screenwriter. He has covered Watergate, the Stonewall riots, and wars in Lebanon, Iraq, and Afghanistan. He is also the author of five bestselling novels. You can subscribe to his daily columns at luciantruscott.substack.com and follow him on Twitter @LucianKTruscott and on Facebook at Lucian K. Truscott IV.
Reprinted with permission from Lucian Truscott Newsletter