While Praising Kanye West, Trump Persistently Ignores Waffle House Hero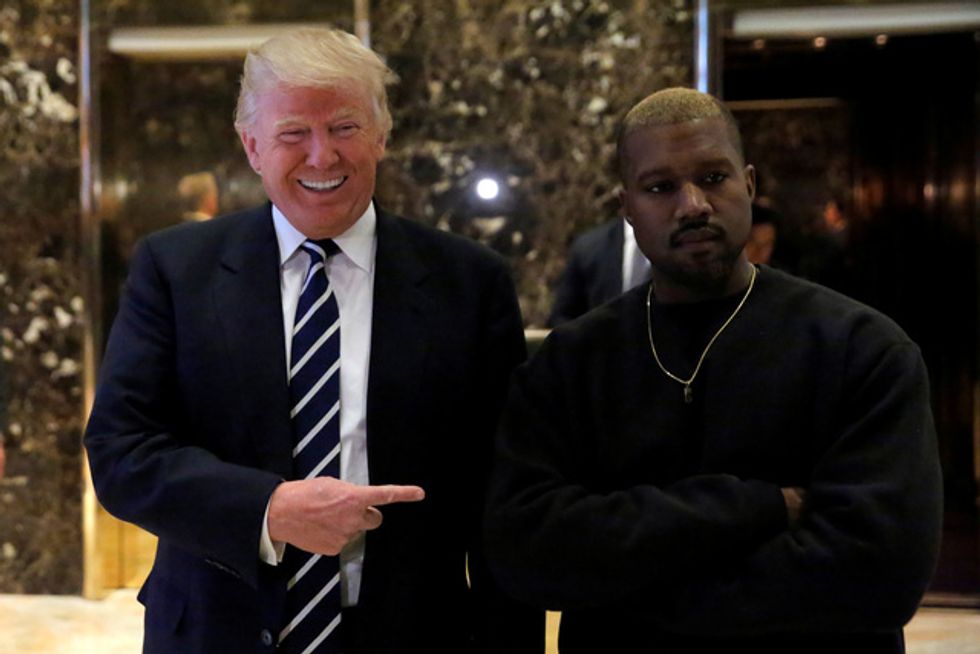 Reprinted with permission from Shareblue.com
Trump has thus far adamantly refused to acknowledge the heroism of James Shaw Jr., the man who saved lives in a mass shooting. But he managed to find the time to reach out to Kanye West multiple times on Twitter.
Shaw saved the lives of multiple people Sunday morning when he wrestled an AR-15 away from a gunman at a Tennessee Waffle House. Four people died, but countless more could have had Shaw not literally grabbed the weapon from the gunman's hands.
Shaw, who is black, has been widely and rightly praised as a hero. But none of that praise has come from Trump.
But Trump did find the time to praise West, an entertainer, who recently said nice things about Trump. Kanye tweeted that he and Trump are both "dragon energy," adding, "He is my brother. I love everyone."
Even though West made it clear he does not agree with everything Trump does, Trump nonetheless responded on Twitter with, "Thank you Kanye, very cool!"
Shaw has raised more than $148,000 for the families of the victims of the shooting at the Waffle House, as well as funding for medical bills of those who were injured.
"Please take the time to donate as all of the proceeds will be given to the families," Shaw wrote. "Thank you again for your generosity and blessings!"
Trump did not praise this action as "very cool," or even acknowledge the gesture. But once again, he did take time to acknowledge West on Twitter. West posted a photo of a red "Make America Great Again" hat signed by Trump, which Trump retweeted saying, "MAGA."
Other elected leaders decided that ignoring a hero is not a classy way to act.
On Tuesday, lawmakers in the Tennessee state capitol gave Shaw a standing ovation for his bravery. "You were confronted with the most unspeakable evil imaginable and you acted with the utmost honor, heroism, imaginable," state Rep. Jason Powell told Shaw. "And I want to say, James Shaw Jr., you are my hero and you are Tennessee's hero."
Trump had plenty of opportunities to praise Shaw. He had press availabilities with visiting French president Emmanuel Macron. Or he could have used Twitter, the same way he communicated with West.
In his 26 tweets since the shooting, Trump found time to attack the Mueller investigation (twice), attack Democrats (three times), and reach out to Canadian Prime Minister Justin Trudeau about the horrific terrorist attack in Toronto. Plus the aforementioned two tweets to West.
But he did not find time to thank a heroic black man who saved the lives of fellow Americans. His shameful silence is heard loud and clear.