Whitaker Balks Over Threat Of Judiciary Committee Subpoena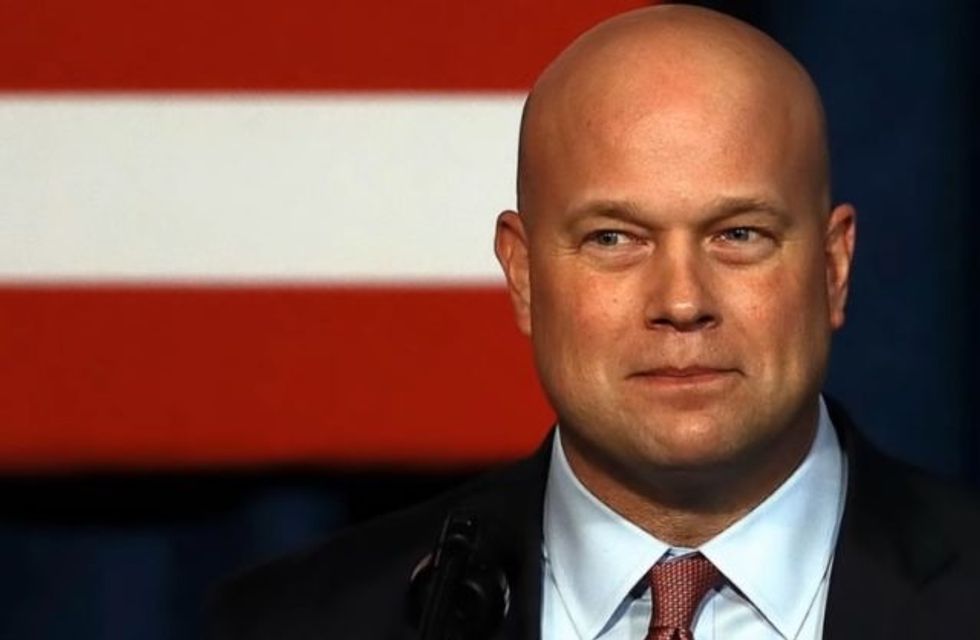 Reprinted with permission from Shareblue.
Members of Congress weren't sure if they could trust Matthew Whitaker, Trump's acting attorney general, to answer all of their questions during his scheduled testimony before a House committee on Friday. So on Thursday, they authorized a subpoena just in case they needed it.
And judging by Whitaker's petulant response — announcing that he'll refuse to testify as long as the subpoena threat remains — it looks like they were right to be worried.
Democrats on the committee want to talk to Whitaker because they're concerned about his hostility to special counsel Robert Mueller's investigation of the Trump campaign's interactions with Russian operatives during the 2016 election.
After weeks of avoiding the issue, Whitaker finally agreed to testify Friday before the House Judiciary Committee.
But, as committee chair Rep. Jerrold Nadler (D-NY) explained in a statement, some in the Trump administration have reportedly been urging Whitaker to skip Friday's hearing. And if former Attorney General Jeff Sessions' testimony was any guide, there was a serious risk that Whitaker would simply avoid answering tough questions with bogus claims of "executive privilege."
That's why the Judiciary Committee passed the resolution that authorizes them to subpoena Whitaker. They're not subpoenaing him yet, and say they won't if he cooperates — but they're giving themselves the option in case they need it.
"When we invite officials to testify before this Committee, they have to appear," Nadler wrote. "When we ask them questions, they have to provide us with answers—or provide us with a valid and clearly articulated reason to withhold certain information."
"Without the threat of a subpoena, I believe it may be difficult to hold Mr. Whitaker to this standard," Nadler added.
Whitaker didn't take kindly to this. Shortly after the committee made the authorization on Thursday, Whitaker demanded the committee promise not to subpoena him on Thursday or Friday — or else he'll refuse to testify.
"Based upon today's action, it is apparent that the Committee's true intention is not to discuss the great work of the Department of Justice, but to create a public spectacle," Whitaker said in a disingenuous and evasive statement.
Whitaker is a shady operator who was installed by Trump as acting attorney general after he fired Sessions. Despite Sessions' boosting of Trump and longtime credentials as a conservative hack, Trump wanted an attorney general who, unlike Sessions, might be willing to slow down the Mueller probe.
Whitaker had previously committed to a January hearing in a phone call to Nadler and Rep. Elijah Cummings (D-MD), chairman of the Oversight committee.
But since then, he has been a no-show.
Nadler said Whitaker and officials at the Department of Justice engaged in "unacceptable" delay tactics by trying to hold off Whitaker's testimony until a permanent attorney general was confirmed.
The chairman also took a hard line on the question of "executive privilege," and reserved the right to subpoena Whitaker if he tries to pull the same stunt Sessions did in 2017.
During that testimony, Sessions repeatedly avoided question on communications between Trump and the Department of Justice. He claimed Trump might theoretically want to invoke executive privilege over the content of those conversations, blocking them from congressional oversight.
"This excuse is, of course, ridiculous," Nadler explained, "The President can choose to invoke executive privilege and instruct a government witness not to answer a specific question. The witness cannot speculate that the President might want to assert executive privilege and refuse to answer a question on that basis."
However, Republicans allowed Sessions to get away with avoiding key questions — just as they've given Trump's corruption a free pass for two years in every other way.
Whitaker is acting like he has something to hide from Congress about Trump's actions. Even if he does eventually appear, his track record indicates he'll do whatever he can to avoid key inquiries on Trump's attempts to obstruct justice.
Published with permission of The American Independent.