White House Admits Quid Pro Quo With Ukraine For 'Investigation'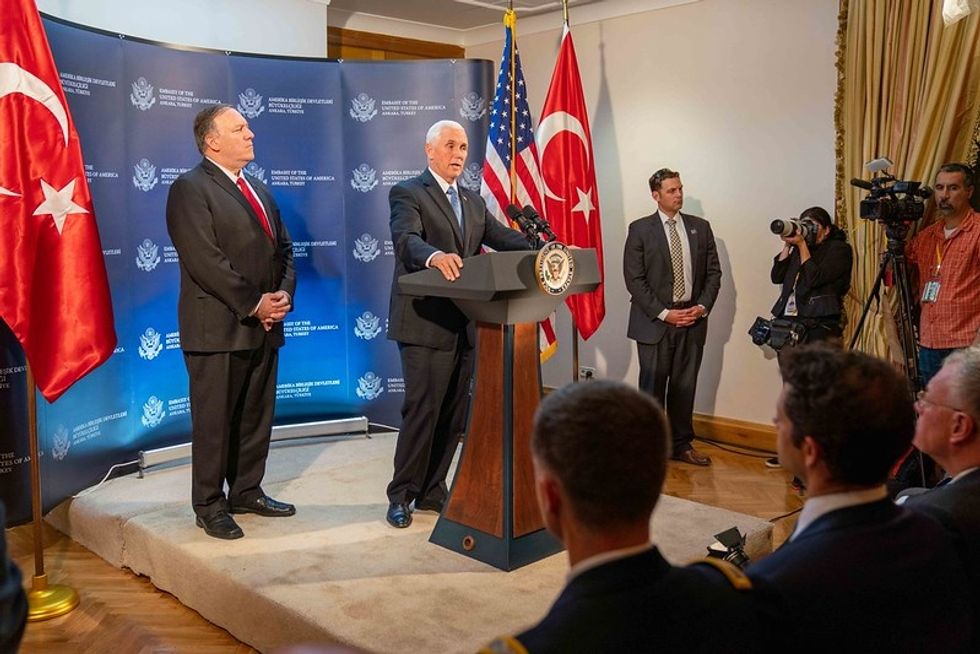 Acting White House chief of staff Mick Mulvaney said Thursday that Donald Trump did, in fact, withhold military aid to Ukraine in order to force the country to investigate his political rivals — a stunning admission as Trump faces the prospect of impeachment with regards to the matter.
"Did he also mention to me in the past the corruption that related to the DNC server? Absolutely," Mulvaney said from the White House briefing room, moments after announcing the 2020 G-7 meeting would be held at Trump's struggling Doral golf resort in Miami.
"No question about that," he said. "But that's it, that's why we held up the money."
ABC News reporter Jonathan Karl pushed Mulvaney to clarify his admission of a quid pro quo with Ukraine, something Trump and his allies have denied repeatedly.
"So the demand for the investigation into the Democrats was part of the reason to withhold funding to Ukraine?" he asked.
"Certainly, and that is absolutely appropriate," Mulvaney replied.
Mulvaney's comments come as current and former White House aides are defying Trump's orders not to testify in the House impeachment inquiry.
All of the witnesses interviewed so far have backed up an initial whistleblower complaint about Trump's call with Ukrainian President Volodymyr Zelensky in July, during which Trump asked the leader to investigate his political rival, former Vice President Joe Biden.
That complaint and Trump's own remarks from the White House lawn later, in which he asked Ukraine openly to investigate Biden, were what kickstarted the House impeachment inquiry.
Trump is simultaneously dealing with multiple investigations into his business practices in New York, and is still recovering from the fallout from special counsel Robert Mueller's final report on Russian interference in the 2016 election.
That report detailed the Trump campaign's extensive ties to Russia as well as 10 instances of possible obstruction by Trump himself. Trump has claimed simultaneously that the report both exonerated him and was part of a partisan witch hunt to undermine his presidency.
Published with permission of The American Independent.