White House Aides: Summit 'Didn't Go As Planned'
@KailiJoy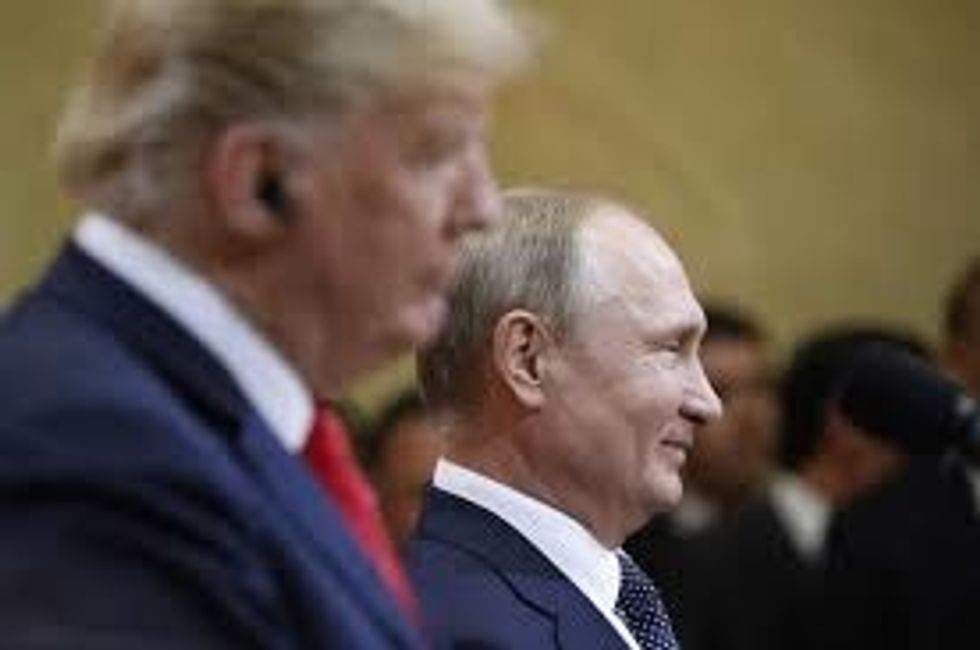 Hillary Clinton rightly predicted that Trump would be Vladimir Putin's "puppet," and now, after his humiliating and disgraceful joint press conference with the Russian dictator on Monday, the whole world knows she was right.
That wasn't the plan, according to U.S. officials, as if Trump ever follows the plan.
The White House wanted him to "push Putin," the Wall Street Journal reports, thinking that such an unexpected confrontation would somehow surprise the former KGB officer and make Trump "look good."
"Obviously, it didn't happen," a White House official said.
Obviously.
Trump attacked U.S. law enforcement and intelligence agencies, while standing mere feet away from Putin, as if delivering remarks scripted by Putin himself.
"Putin, now, is the master puppeteer of Donald Trump, the person who is in our Oval Office," said former CIA Director John Brennan after watching the pathetic display.
"Question for President Trump as he meets Putin," Clinton tweeted the day before the summit. "Do you know which team you play for?"
Evidently not. "Well, now we know," Clinton said after the presser.
Everyone who watched the cringe-inducing press conference knows it was a disaster, including Fox News reporters and even the most shameless Trump sycophants.
Disgraced former House Speaker Newt Gingrich, usually so quick to defend the most egregious of Trump's actions, demanded he "clarify his statements in Helsinki" and blasted the pathetic performance as "the most serious mistake of his presidency."
To correct that mistake would take a great deal of clarification indeed.
"White House officials openly admitted they don't know how to respond to questions about Trump's striking declaration that Putin was 'extremely strong and powerful in his denial' of election interference," CNN reported.
"How bad was that?" one White House aide back in Washington asked. Others apparently avoided answering their phones, trying to dodge any questions altogether.
How bad was it? Really bad. Asked directly about Russia's interference in the 2016 presidential election, the supposed American leader repeated Putin's denials and launched into a tiresome tirade about Clinton's emails and said he didn't "see any reason" why Russia would have been involved in hacking our elections.
Never mind that just days ago, 12 Russian intelligence officers were indicted for — that's right — hacking our election. Trump was briefed on the indictment by Deputy Attorney General Rod Rosenstein, just as he has been briefed by many members of U.S. intelligence on Russia's election interference.
But he simply does not believe them, as he made clear while standing beside Putin.
"I have great confidence in my intelligence people. But I will tell you that President Putin was extremely strong and powerful in his denial today."
It was the "but" heard round the world.
Instead of catching Putin by surprise with tough talk, as White House officials apparently — and absurdly — hoped Trump would do, Trump performed exactly as Putin wanted him to.
He undermined his own experts and advisers, insisted again before all the world that Russia is innocent, and even showered Putin with praise for his "incredible offer" to help with the investigation of the intelligence officers who tried to hijack our presidential election.
Incredible is right, though Trump doesn't realize it. Because, as Clinton so rightly said, he is indeed Putin's willing puppet. And on Monday, much to everyone's horror, we got a front-row view of Putin pulling the strings.
Published with permission of The American Independent.