White House Comms Chief Shine Ousted As Scandals Explode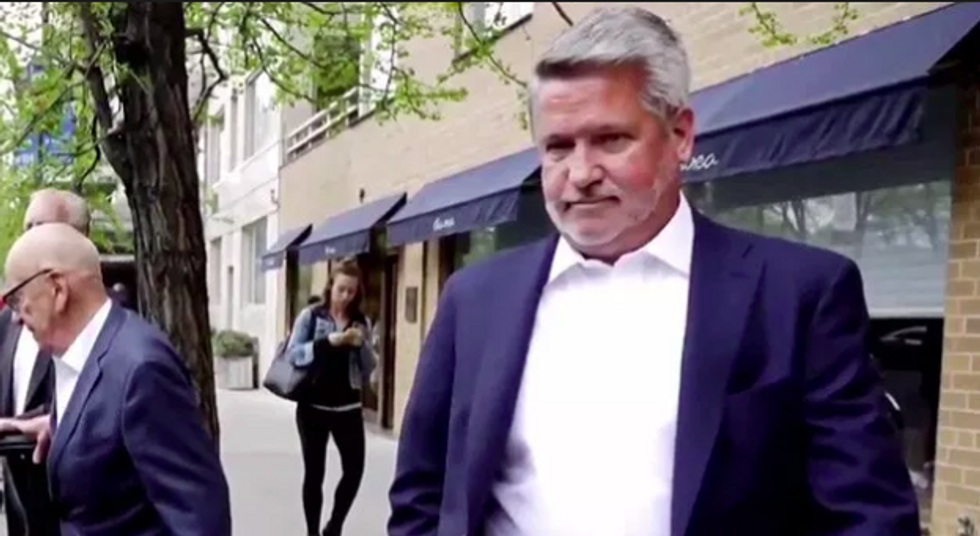 Bill Shine, Trump's sixth communications director in just over two years and the disgraced former co-president of Fox News, resigned on Friday from his White House position.
"Serving President Trump and this country has been the most rewarding experience of my entire life," he said in a statement. He will be working for Trump's re-election campaign as an adviser.
His ouster comes as numerous Trump scandals are rising in the public consciousness, some of them directly involving Shine. During his tenure, Shine was unable to do anything to improve Trump's popularity, which has never risen above 45 percent, while his unfavorable rating has held at 54 percent.
Trump reportedly blamed Shine for the overwhelmingly negative public reaction to his decision to shut down the federal government over his racist border wall.
The New York Times reported that during the shutdown, Trump repeatedly asked people "whether Mr. Shine has been 'good' for him." Trump also belittled a meaningless photo-op at the border that had been arranged by the communications chief, blaming the propaganda moment on "these people behind you" as he pointed to Shine and other aides while speaking to the Times.
During Shine's tenure at Fox News, he presided over the massive cover-up of sexual abuse by network founder Roger Ailes.
Despite his work covering up abuse — or perhaps because of it — Trump went ahead and hired the former Ailes aide. Trump himself is an admitted sexual assailant.
Shine was recommended by Fox News host Sean Hannity, a fan of Trump's and one of his most high-profile propagandists, who functions as a shadow chief of staff for the White House. For years, Shine was a producer on Hannity's show.
Trump is also facing multiple revelations about his unethical and possibly criminal conduct, including violating federal law by paying off porn star Stormy Daniels before the 2016 election — a story Fox News reportedly had and killed prior to the election to help Trump win, while Shine was still at Fox.
Trump has maintained that public relations are the key to avoiding the consequences of his actions, but Shine was unable to convince Americans to look away from Trump's misdeeds. And Trump has struggled to keep communications directors and spokespeople — as well as Cabinet members and other top officials — at the White House.
By comparison, President Barack Obama had five communications directors over eight years. George W. Bush had four during his two terms.
Getting rid of Bill Shine won't stop Trump from being Trump, which is Trump's biggest problem.
Published with permission of The American Independent.