White House Confirms Explosive Detail In Whistleblower Complaint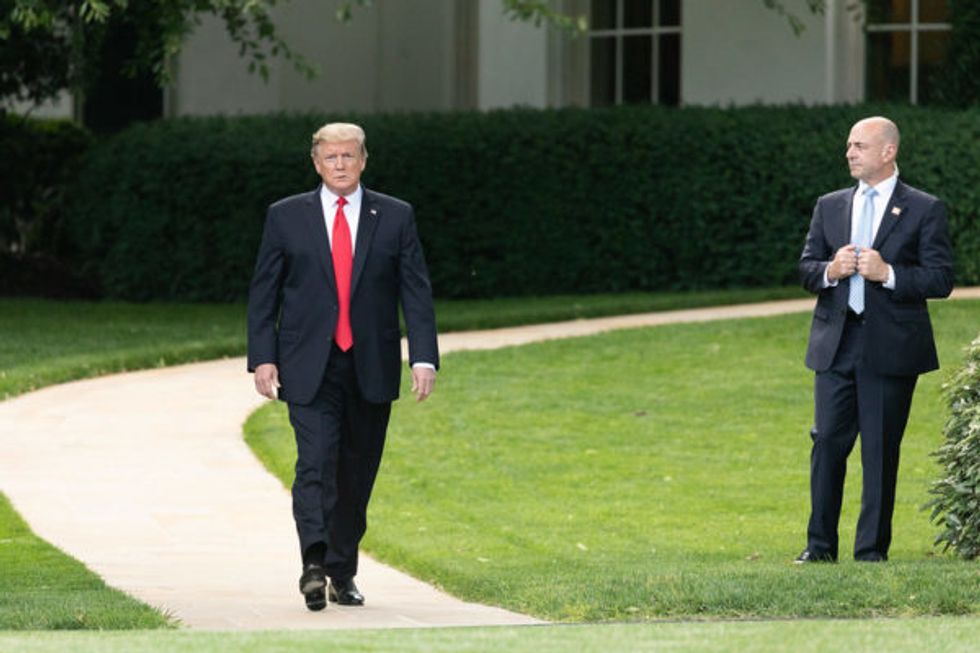 Reprinted with permission from Alternet
NEW: White House says lawyers directed moving documents to highly secure system (@KaitlanCollins) pic.twitter.com/jdbtRUDLhL

— Josh Campbell (@joshscampbell) September 27, 2019
Defenders of President Donald Trump pushing back against the drive for impeachment have clung to a desperate talking point as they try to deflect from the growing Ukraine scandal: the whistleblower complaint that has drawn so much attention to the issue, they say, is based on second-hand information and is not credible.
The problem with that line is that the whistleblower complaint keeps getting confirmed — by the White House itself. On Friday, it admitted to another damning detail in the complaint — that White House staff used a highly secure storage system to conceal the records of Trump's call with the Ukrainian president, since released under public pressure, which clearly showed up him pressuring the foreign leader to investigate Joe Biden, a potential 2020 election opponent.
"The White House is acknowledging for the first time that that transcript of the president's call with the president of Ukraine was moved from where these transcripts are typically stored to a different server, a server that's typically for information that's national-security sensitive, for very sensitive information, not typically for the readouts of the president's calls with heads of state," said Kaitlan Collins of CNN, which first broke the story. "This is one of the more explosive claims in that whistleblower's complaint."
It's explosive for at least two reasons. First, it shows that the White House, and possibly the president himself, knew immediately that the call was improper — demonstrating "consciousness of guilt," if you will. Second, it could constitute another abuse entirely — misusing the administration's record-keeping apparatus to conceal embarrassing and damning information about the president.
Further, it bolsters the allegation's general credibility, which has already been substantially confirmed. The complaint accurately detailed both the July 25 call with Ukraine before it has been made public, and it also revealed that the White House had been withholding aid to the country in an apparent effort to further place pressure on its president before this was publicly known, which the president has since admitted.
CNN reported:
In a statement provided to CNN, a senior White House official said the move to place the transcript in the system came at the direction of National Security Council attorneys.

"NSC lawyers directed that the classified document be handled appropriately," the senior White House official said.
White House officials say the transcript was already classified so it did nothing wrong by moving it to another system.
But Washington Post national security reporter Shane Harris argued that this claim from the White House was highly misleading.
"That system is NOT intended for calls like this," he said in a tweet. "That system contains information that is so highly-classified and restricted that even having the highest-level clearances doesn't automatically get you access. This is a compartmented system, and access is particularized and restricted."
He added: "Information about covert operations, for instance, can be stored on this system. Experts I've spoken to see no credible national security purpose that required or justified the Trump/Zelensky transcript, at least as we've seen it, being placed there."