White House Dumps Major Climate Report On Black Friday
@AlterNet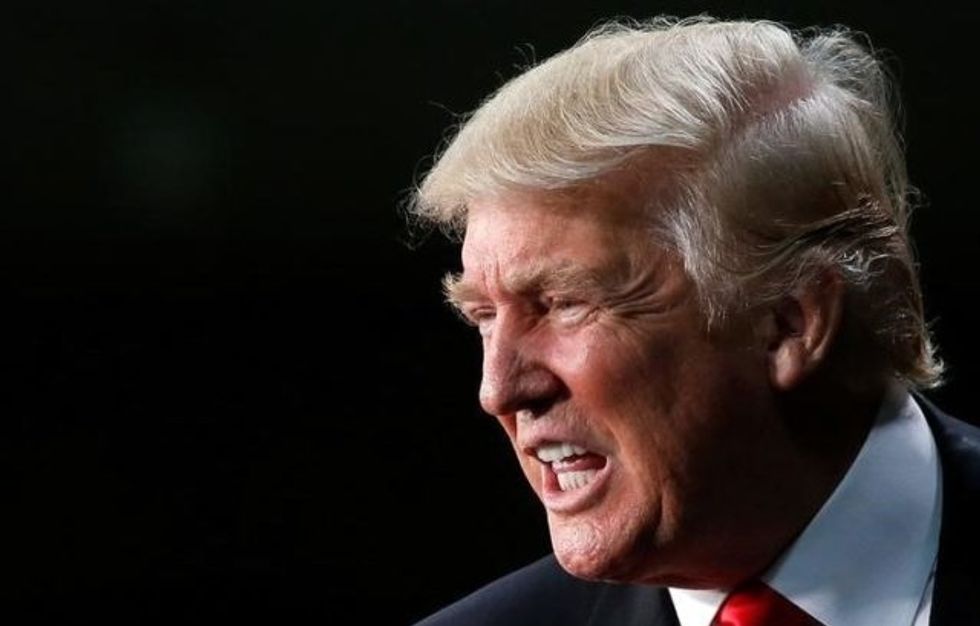 Reprinted with permission from AlterNet.
By Andrea Germanos / Common Dreams
Environmental groups, journalists, and climate scientists are reacting to the Trump administration's decision to release a major climate report the day after Thanksgiving—a move some are describing as an effort to bury an assessment packed with an "astonishing amount of science," and they are hoping to see that effort backfire "bigly."
"It's an absolute disgrace to bury the truth about climate impacts in a year that saw hundreds of Americans die during devastating climate-fueled megafires, hurricanes, floods, and algal blooms," said National Wildlife Federation president and CEO Collin O'Mara.
"Releasing the National Climate Assessment on Black Friday," he continued, "won't obscure the fact that authorities are still identifying bodies in California's unprecedented megafires, Florida is still dealing with toxic algae outbreaks fueled by warmer water, and Americans are still picking up the pieces from Hurricanes Florence and Michael and Typhoon Yutu that were worsened by climate change."
The report is the second volume of the Fourth National Climate Assessment or NCA4, which NOAA says is designed to be "an authoritative assessment of the impacts of climate change on the U.S. and its territories, and was written to help decision-makers, utility and resource managers, public health officials, emergency planners, and other stakeholders better understand the effects of climate change on the United States." Volume one of the assessment was released last year.
As CNN reported, the assessment was expected to be released in December:
It's unclear why the date was moved up. The National Oceanic and Atmospheric Administration announced the Friday afternoon release on Wednesday—the eve of the Thanksgiving holiday.
Among journalists and public relations experts, releasing information on Friday afternoon—not to mention Black Friday—or around a holiday is widely seen as a way to cushion the impact of critical news. The idea is that fewer people pay attention to news releases on the weekend, and by Monday, the news is old.
Given that situation, observers pounced on the timing:
The US government's big new National Climate Assessment will be released on…

the day after Thanksgiving?

Hmmm….https://t.co/JUsSYjQl2Y

— Chris Hayes (@chrislhayes) November 21, 2018
The National Climate Assessment is going to be released the Friday after Thanksgiving. Is there any way it could be buried more? How about New Years Eve at 9pm, guys?

— Angela Fritz (@angelafritz) November 21, 2018
Some noted that the report will come on the heels of Trump's tweet confusing weather and climate to ignore science:
Trump is serving up climate science denialism less than 48 hours before the National Climate Assessment is released. The in-depth look at how climate change affects Americans, required by law, will be released 2pm ET on Black Friday to minimize coverage. https://t.co/PkX8PFmBjG https://t.co/KQZ5dFyNIZ

— John Upton (@johnupton) November 22, 2018
In two days, the fifth U. S. National #Climate Assessment will be released and Trump has just tweeted a statement so stupid that it was known to be garbage before the first Assessment was released decades ago. https://t.co/VXvV0h3ZHS

— Peter Gleick (@PeterGleick) November 22, 2018
#DonaldTrump tweets this just before the new National Climate Assesment -that his administration signed off on- is to be released. The #NCA4 is the best collection of scientific information for communities to use to prepare for #ClimateChange https://t.co/oKsbmGdfOJ

— Michael Dexter (@LittorallyMike) November 22, 2018
Others took the timing of the release as a call to action, and suggested reporters fill the weekend with coverage of the report and social media users dump the hashtag #BlackFriday in favor of #ClimateFriday in an effort to #EndClimateSilence:
Calling all #climateheros: the new US National Climate Assessment is being released on #BlackFriday, no doubt in an attempt to bury it. Let's make it #climatefriday and amplify this message! https://t.co/qmnCRvCwh4

— Philip Loring (@ConserveChange) November 21, 2018
Reporters! Editors! Your chance to confound Trump's climate fakers by filling the Thanksgiving weekend TV and print news hole with news from the National Climate Assessment. Don't let them bury it in the national tryptophan haze! (Used up my supply of !!!) https://t.co/5ZC8oKHpXa

— David Doniger (@ddonigernrdc) November 21, 2018
Attention everyone. We are celebrating (tweeting) the National Climate Assessment on Friday instead of buying stuff. Please join us and #EndClimateSilence. #ClimateFriday https://t.co/5FK95fITWb

— Tessa Hill (@Tessa_M_Hill) November 21, 2018
Andrea Germanos is a staff writer for Common Dreams.