White House Press Aide Gidley Yearns For 'Complicit, Compliant Media'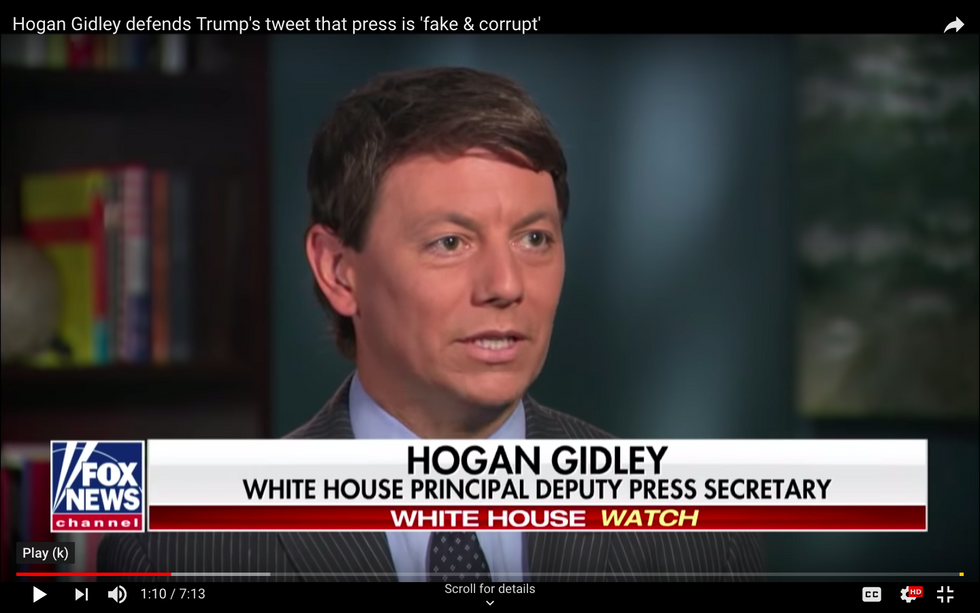 Reprinted with permission from Alternet.
White House Principal Deputy Press Secretary Hogan Gidley on Sunday accused the press of painting all of Donald Trump's actions in a negative light, telling Fox News' Howard Kurtz he wishes the Trump administration "had a complicit, compliant media."
Hogan was speaking with Kurtz on Mediabuzz Sunday. He was asked about Donald Trump's bizarre press conference last Thursday, during which the president asked White House Press Secretary Sarah Huckabee Sanders, counselor to the president Kellyanne Conway and others to attest to his calmness during a Wednesday infrastructure meeting with House Speaker Nancy Pelosi.
"Was it awkward for all of the advisers to have to vouch for the boss?" Kurtz asked Gidley.
"Absolutely not," Gidley replied. "Especially if you're in the face of 92 percent negative news coverage against you. We have to vouch for him all the time. It's amazing how the media covers what he does, what he says in a slant that makes everything negative, no matter how positive the subject matter may be."
"When he leaves the meeting with Nancy Pelosi and all they do is mischaracterize his demeanor and take whatever she says, lock, stock and barrel," Gidley continued. "It would be so nice if we had a complicit, compliant media the way the Democrats do, and we don't."
Gidley went on to defend Trump's tweet following the failed meeting with Pelosi, in which the president insisted he was "extremely calm yesterday" because he knew Pelosi and Senate Minority Leader Chuck Schumer would characterize his demeanor as "raging" if he acted out.
"I was extremely calm yesterday with my meeting with Pelosi and Schumer, knowing that they would say I was raging, which they always do, along with their partner, the Fake News Media. Well, so many stories about the meeting use the Rage narrative anyway – Fake & Corrupt Press!" Trump tweeted.
"How is that fake and corrupt press?" Kurtz asked Gidley.
"Because of the language they used and they say things like, 'he was enraged' or 'he stormed out.' Those are editorialized words," Gidley claimed.
Watch the video below:
WH spokesman Hogan Gidley told me a "majority of journalists" cover Trump "with a slant," using "editorialized words" like he "stormed out" of a meeting #Mediabuzz https://t.co/GSHnTDOCp5

— HowardKurtz (@HowardKurtz) May 26, 2019