White Nationalist VDare Hosting Conference In Colorado With Breitbart Columnist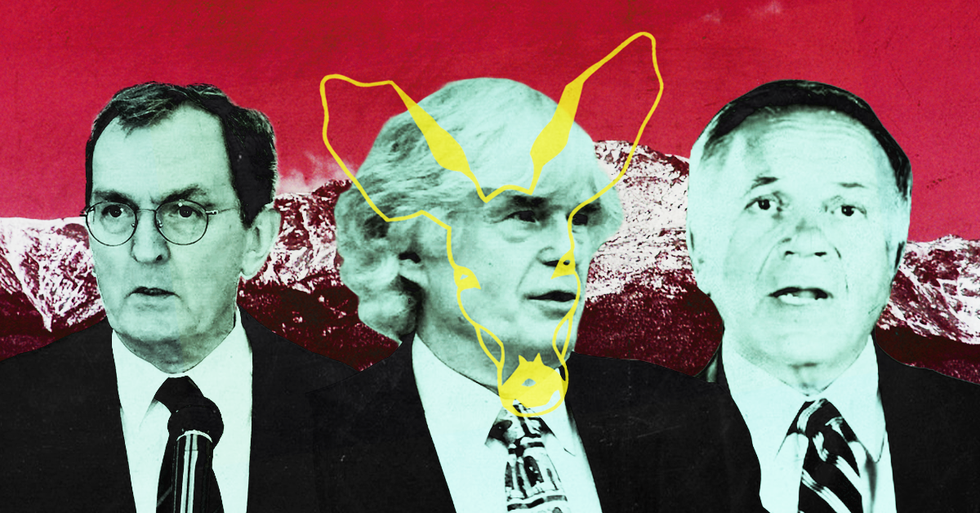 Reprinted with permission from MediaMatters.
The white nationalist and anti-immigrant hate group VDare will host its next conference at Cheyenne Mountain Resort in Colorado Springs, CO. The 2018 event will feature anti-immigrant writer Peter Brimelow, Breitbart.com columnist Tom Tancredo, and writer John Derbyshire, who describes himself as a "mild and tolerant" "homophobe" and "racist."
Civil rights groups have heavily criticized VDare for its racism and anti-immigrant rhetoric. According to the Southern Poverty Law Center (SPLC), VDare is a white nationalist website that "regularly publishes articles by prominent white nationalists, race scientists and anti-Semites." The Anti-Defamation League wrote that VDare is a racist site that "posts, promotes, and archives the work of racists, anti-immigrant figures, and anti-Semites."
Headlines on VDare include: "One Problem With These Hispanic Immigrants Is Their Disgusting Behavior," "Indians Aren`t That Intelligent (On Average)," "Diversity Is Strength! It's Also…Hispanic Immigrants Taking Over FBI's Ten Most Wanted," "America Does Not Need ANY Immigrants From Africa," and "Roll Over, JIHAD—There's Also HIJRA, Muslim Conquest By Immigration."
Numerous media outlets have correctly identified the site as white nationalist, including The Washington Post, The New York Times, The Associated Press, and CNN.
VDare recently announced, and started taking reservations for, its April 2018 conference at the Cheyenne Mountain Resort, which is a part of Benchmark Resorts & Hotels. A booking page for the event states that it will feature "a weekend of candor, fellowship, and top-notch speakers, as we celebrate the shifting political tides and discuss the way forward for patriotic immigration reform and American national identity."
VDare attempted to hold its first public national conference at Tenaya Lodge at Yosemite National Park earlier this year, drawing criticism from Media Matters and SPLC. The lodge subsequently took "steps to immediately cancel this booking" when it "became aware of the nature of VDare Foundation." VDare respondedby criticizing Media Matters for engaging in "cultural Marxism" and questioning whether "we live in a free country or not."
In response to Media Matters' inquiry about VDare's 2018 conference, a Cheyenne Mountain Resort spokesperson gave the following statement: "Cheyenne Mountain Resort respects the privacy of its guests and does not comment on groups or individuals that hold meetings at the resort."
VDare's scheduled speakers for its 2018 conference have a history of pushing racist, anti-immigrant, and white nationalist views.
Tancredo is a Breitbart columnist and a favorite immigration "expert" for White House chief strategist and former Breitbart head Stephen Bannon. His columns regularly demonize immigrants as dangerous and disloyal invaders, with headlines such as "Mexico Is Sending Us Colonists, Not Immigrants," "European Colonization, Not Refugee Resettlement," and "From Jenner to D.C., Multiculturalism Virus Is Destroying the U.S." He claimed in January 2016 that "Muslim rape culture … could be coming to a town near you all too soon" because of immigration.
Tancredo has a long history of making anti-immigrant and racist statements. He once suggested that the United States bomb Mecca; criticized Miami, FL, for purportedly becoming "a Third World country" because so many people speak Spanish there; and proposed a "civics literacy test before people can vote."
Derbyshire was fired from the National Review after he penned a column suggesting that white and Asian parents warn their children about the supposed threats posed by black people. Derbyshire has stated of his views: "I am a homophobe, though a mild and tolerant one, and a racist, though an even more mild and tolerant one, and those things are going to be illegal pretty soon, the way we are going."
In a profile of Brimelow, SPLC wrote that he "is one of the leading voices in the anti-immigrant movement. Interestingly, he is himself an immigrant (from England), a fact that he regularly brings up when he worriedly notes that his son, with his 'blue eyes' and 'blond hair,' could grow up in an America in which whites have lost their population majority. For Brimelow, immigration itself is not the problem — it's the influx of non-whites that is destroying America."
Header image by Sarah Wasko / Media Matters