White Supremacist Who Traveled to New York to Murder Black Men Followed Extremist Racist On-Line Groups Who Support Trump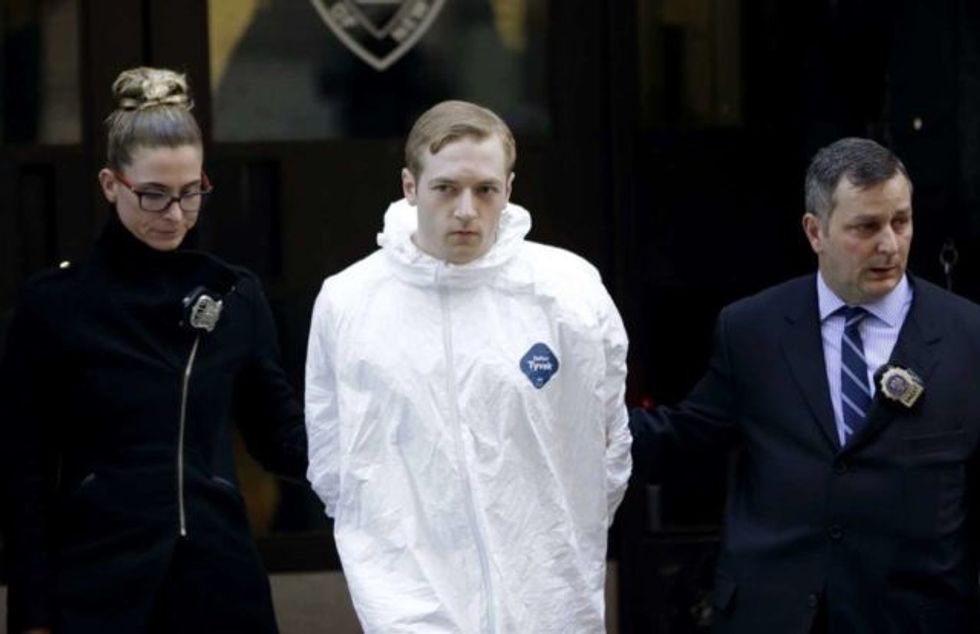 Reprinted with permission fromAlternet.
A white supremacist who traveled to New York City to kill black men subscribed to numerous neo-Nazi, anti-feminist and far-right conspiracy theory channels on YouTube, according to what appears to be his personal account on the website.
James Harris Jackson stabbed a black man with a sword on the street in Manhattan on Wednesday, March 22, in what he admitted to police was an intentional hate crime. Jackson, who is from Maryland, told police he is a member of a white supremacist hate group.
Jackson had traveled to New York with plans to kill black men in relationships with white women, but wound up targeting a homeless man in an act of terrorism. Jackson says he carried out the attack to "send a message" and claims he's written a racist manifesto.
On what appears to be Jackson's personal YouTube account, he subscribed to a variety of fascist YouTube channels, many of which support President Donald Trump and other far-right leaders and circulate anti-Muslim and anti-Semitic conspiracy theories. His subscription list is a who's who of alt-right figures, including Alex Jones, Stefan Molyneux, Paul Ray Ramsey and many more.
YouTube page of white supremacist terrorist James Harris Jackson
Jackson subscribed to the channel for the National Policy Institute and Radix. The former is the white supremacist organization founded by neo-Nazi Richard Spencer (who led a "Hail Trump" chant at a white supremacist conference last year), and the latter is the fascist journal Spencer publishes.
Openly neo-Nazi channels Jackson subscribed to include Cybernazi, Politically Incorrect and Esoteric Truths. He also frequented many racist, anti-Semitic, white nationalist and anti-feminist channels.
Jackson did not upload any videos onto his channel, but he did recently favorite racist videos, including two titled, "Is It Time For Whites To Start Voicing Their Displeasure With Black On White Crimes?" and "Blacks Know That Blacks Are Violent So Why Does The White Media Pretend They Are Not?"
YouTube subscriptions of white supremacist terrorist James Harris Jackson
The channel was uncovered by Internet detective @HenryKrinkIe, a leftist Twitter user who hunts Nazis. KrinkIe previously uncovered the white supremacist website and manifesto left by neo-Nazi Dylann Roof, who massacred nine people at a black church in Charleston, South Carolina in hopes of starting a "race war." Roof said in his manifesto that he was radicalized by far-right white supremacist websites.
Krinkle was able to uncover Jackson's YouTube channel through some master sleuth work.
Media reports noted that Jackson served in the U.S. Army for four years and was deployed to Afghanistan. Using this information, he was able to track down his LinkedIn profile, where Jackson included a copy of his résumé, which has his email address. When one searches this email on Google, only one result comes up: a Russian hacking website which posted the personal information of video game players. The webpage showed that Jackson played the video game "Assassin's Creed II" on PC, and used barris417 for his username. Type in barris417 on YouTube and an account with the name James Jackson pops up.
This attack is part of a massive surge in hate crimes in the past year, with the rise of far-right politicians like Donald Trump. In January, white gunman Alexandre Bissonnette massacred Muslims praying at a mosque in Quebec, Canada. His social media accounts and testimonies from classmates showed Bissonnette was a white nationalist, anti-feminist and staunch supporter of Trump, Marine Le Pen and other far-right demagogues.
This article was made possible by the readers and supporters of AlterNet.