Whither Goes The Holy Candidate?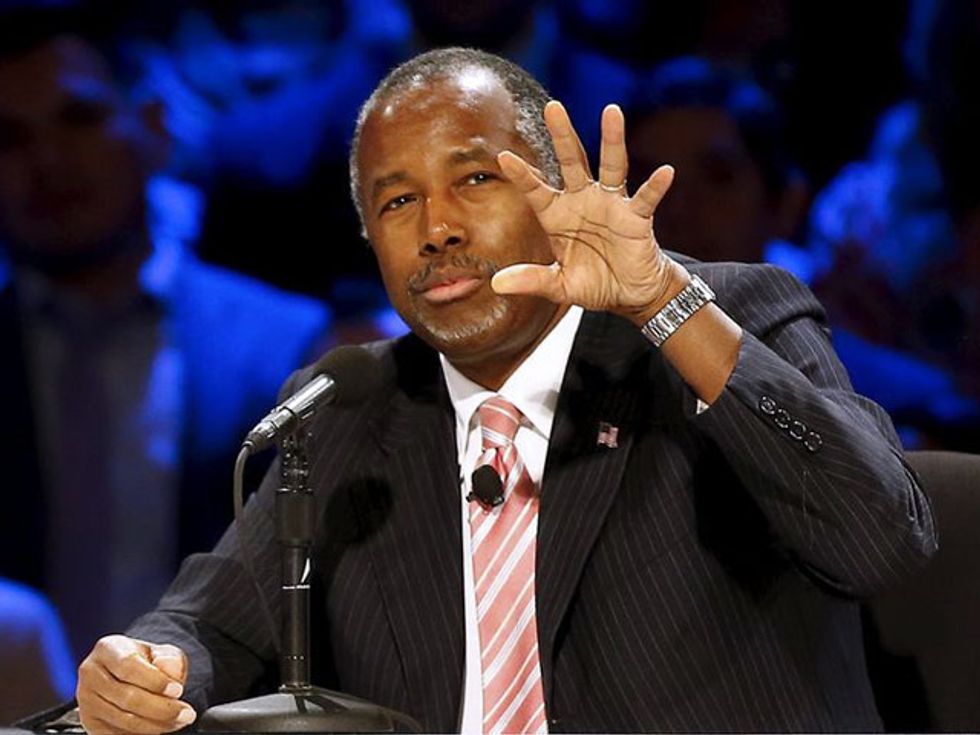 At the expense of spoiling all the fun, let's get real about Dr. Ben Carson's presidential campaign. Every four years, rural Iowa Republicans fall raptly in love with a bible-brandishing savior who vows to purge the nation of sin. In 2008 it was Mike Huckabee, in 2012 Rick Santorum.
Mr. Establishment, Mitt Romney, finished second both times.
In the general election, Iowa voters supported President Obama.
Soon after the New Hampshire primary, the holy candidate fades fast. Huckabee finished a weak third in New Hampshire, Santorum fourth with 9.5 percent of the vote. And that was basically the end of God's self-anointed candidates.
Particularly in view of increasing evidence that key elements of Dr. Carson's inspiring personal biography are imaginary or worse, there's no reason to think that he will fare any better than Huckabee or Santorum. A bit like Bernie Sanders supporters, Carson fans have been slow to grasp that their party's presidential nominee will need the votes of millions of "blue state" Republicans historically resistant to religious zealotry.
Indeed, New York magazine's Jonathan Chait makes a persuasive case that, quite like Huckabee, Carson isn't actually running for president. Rather, his campaign is a for-profit organization.
"Conservative politics are so closely intermingled with a lucrative entertainment complex," Chait writes "that it is frequently impossible to distinguish between a political project…and a money-making venture. Declaring yourself a presidential candidate gives you access to millions of dollars' worth of free media attention that can build a valuable brand."
The fact that Carson's campaign evidently plows a reported 69 percent of its donations into further fund-raising may be a clue. Real political campaigns spend the bulk of their cash building an organization and advertising. Carson invests his loot in pyramid-like direct-mail and phone-spamming operations.
Freed of the time-consuming necessity of being president, Carson will be able to hire more ghost-writers, give inspirational speeches and peddle fundamentalist Christian DVDs to a rapt audience of millions. With any luck, he can market himself as a martyr to liberal media bias.
Even the books currently being dissected by reporters at the Wall Street Journal and Politico aren't standard campaign biographies. They're basically miracle fables, contemporary versions of John Bunyan's 17th century classic Pilgrim's Progress, mingling an allegory of divine salvation with the material rewards of the "American Dream."
Now you'd think that Carson's actual life story, rising from the Detroit streets to become a world-renowned pediatric brain surgeon, would be enough to warrant admiration. Mere reality, however, won't suffice to cover the miraculous narrative of sin and salvation evangelical Christians have come to expect. Thus, Carson can't simply have been raised a poor kid in a rundown ghetto, he has to have been a violent thug touched by God.
Similarly, Carson can't just be a bright, hard-working scholarship student. He has to have been victimized by a professorial hoax and rewarded as the most honest student at Yale. That this screwball tale from his 1990 book Gifted Hands appears to have been inspired by a prank pulled by the college humor magazine makes it no more believable. Only that the roots of Carson's magical thinking evidently lie deep in his past.
It would be interesting to know if friends and professional associates ever heard these whoppers previous to his book's publication. Because brain scientists tend to be a skeptical lot. He did leave medicine somewhat early.
That said, it's hardly unknown to encounter a physician, much less a neurosurgeon, with a God complex. The experience of holding life and death in one's hands may have something to do with it. The Guardian newspaper has published a photo layout of Carson's home — essentially a museum exhibit celebrating his greatness — that suggests an ego gone mad.
The man may actually believe, as he said recently on Meet the Press, that his candidacy represents a big threat to "the secular progressive movement in this country…because they can look at the polling data and they can see that I'm the candidate who's most likely to be able to beat Hillary Clinton."
Call me Mr. Worldly Wiseman, after the character in Pilgrim's Progress who tries to steer Christian down the wrong road, but it says here that Democrats could never get so lucky.
The negative TV ads practically write themselves. Imagine a clip of Carson during a GOP debate indignantly denying a business relationship with Mannatech, the hinky diet supplement company, followed by another of him bragging that the company basically bought him an endowed chair at Johns Hopkins.
Actually, it's mildly alarming living in a country where a crank like Carson commands any attention at all. Now me, I'd no more visit a physician who claimed that Satan inspired Darwin's Theory of Evolution than I'd climb into an airline piloted by somebody who denied Newton's Theory of Gravity.
But President of the United States?
Not a chance.