Who Are We Leaving Behind In Afghanistan?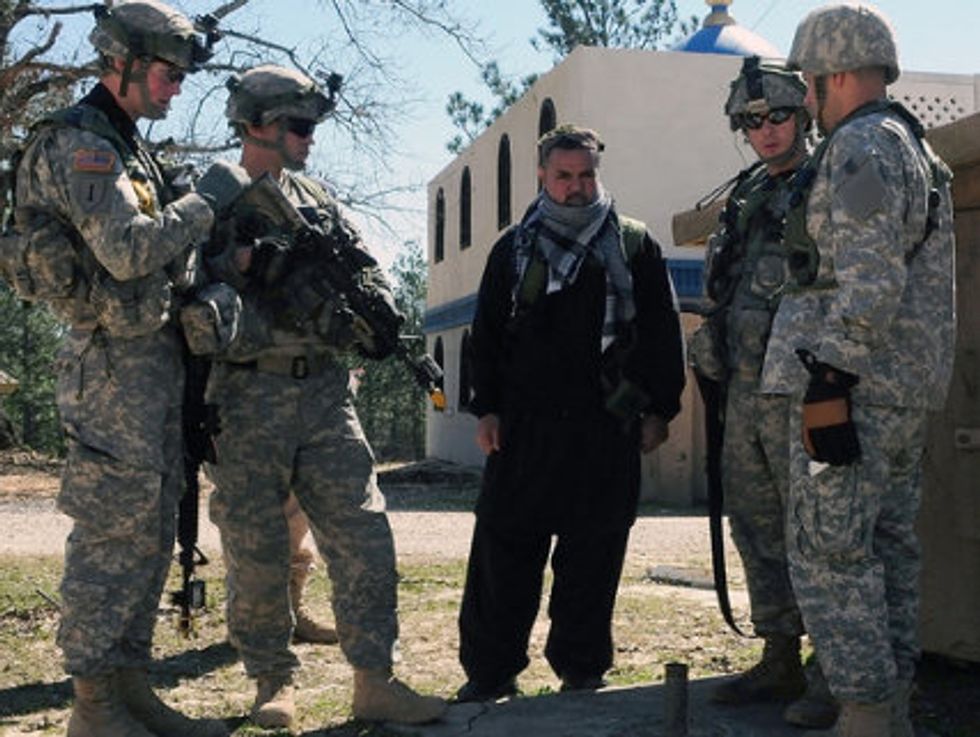 The idea that a true soldier never leaves a comrade behind is chiseled into U.S. military creed.
This heroic duty has been celebrated in story and film, and recorded in numerous battlefield citations. But does it extend to foreign allies who, though not exactly fellow soldiers, are crucial collaborators in our military missions? Specifically, what loyalty do we owe to interpreters, the people who have kept our troops safe with their language skills, their deft understanding of culture, and often with their bravery as they walked side by side with American soldiers?
Apparently, their safety and well-being are not so highly valued.
Visas for Afghan interpreters are being denied at a rate that is alarming many in the military. It ought to anger the American people, too. Public outcry might be necessary to right this wrong.
The visas in question are part of the business of wrapping up the war in Afghanistan. We're leaving, pulling our troops out. And we're forcing some of Afghans who worked for our forces to stay at great peril.
Afghan interpreters have been body armor for our troops. They have been invaluable. But in choosing to work closely with our military, they made themselves an enemy of the Taliban. Some reportedly have been placed on insurgents' hit lists. Others have received death threats. Some have already been killed.
An Afghan friend, a man who helped train our military in the Afghan language and culture at the Army's Fort Leavenworth in Kansas, told me the interpreters are "marked."
"They will always be known as American 'servants' and will be killed by the Taliban," said Faieq Zarif, now an adjunct professor of philosophy at San Diego City College.
Complicating the interpreters' situation, Zarif added, is the fact that the U.S. military paid them a better wage for their services than the average Afghan could earn. So there is little to no sympathy for their plight among ordinary Afghans, or from the government there.
Recognizing the dangerous but vital role interpreters played, Congress several years ago authorized special visas for which such interpreters could apply. A total of 8,750 were made available for Afghans who had worked for the U.S. government, of which about 1,600 have been granted.
The catch is that they must prove that they face "an ongoing serious threat." And they must convince State Department officials, first through applications at the U.S. Embassy in Kabul.
In some of these cases, the officials pleading for diplomatic mercy for the interpreters are the members of the U.S. military whom they aided during fighting.
"Every house we went into, he went into. Every firefight we went into, he went into," Lt. Matt Orr told the Washington Post about one interpreter whose visa was denied.
It's an interesting turning of the tables.
These are the Afghans who many times alerted the U.S. military to threats that we didn't have the ability to perceive. Yet when the threats are to them, we don't believe them.
Another astounding allegation is that interpreters from Iraq appear to be treated much more favorably than their Afghan counterparts. Immigration attorneys are asserting that the letters of denial based on a lack of a serious threat are only being given to the Afghans.
If that is true, what accounts for the difference? Advocates for visa seekers claim that the denials to Afghan linguists are partly motivated by a reluctance to allow a large number of better-educated and English-speaking Afghans to leave the country. As Forbes reported earlier this year, then-U.S. Ambassador to Afghanistan Karl Eikenberry warned in 2010 that granting these visas "could drain this country of our very best civilian and military partners: our Afghan employees."
That assumes, of course, that the U.S. is committed to any lasting partnership to rebuild a viable state in Afghanistan, rather than marking time until the corrupt regime of Hamid Karzai falls to the Taliban.
Afghanistan remains a war zone and a living hell for countless inhabitants. The least the United States can do is extend a hand to our onetime comrades among them, people who will be marked out for pitiless extermination in any area the Taliban recovers. They were essential to our forces' mission there, such that it was. We owe it to them to save their lives.
(Mary Sanchez is an opinion-page columnist for The Kansas City Star. Readers may write to her at: Kansas City Star, 1729 Grand Blvd., Kansas City, MO. 64108-1413, or via email at msanchez@kcstar.com.)
Photo: Christopher Smythers via Flickr