Who Comes Up With All Those Super PAC Names?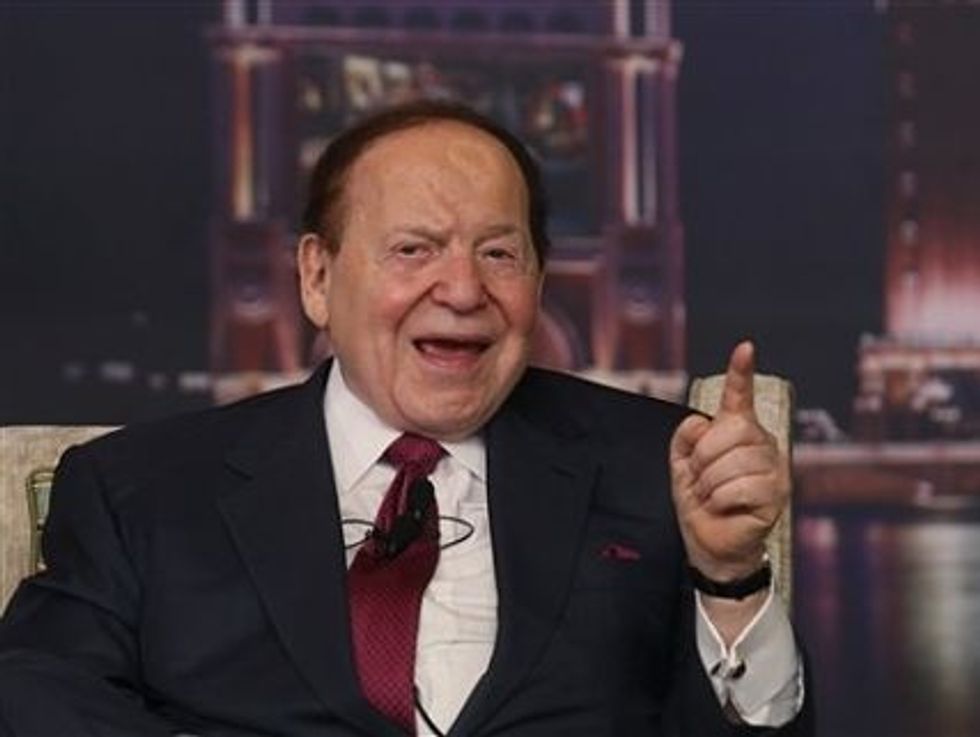 Nineteen weeks before the elections, and already the airwaves are clogged with competing political commercials.
Many are funded by so-called super PACs, political action committees that are allowed to collect unlimited sums from companies, unions and individuals, and then spend that money supporting or attacking candidates.
Every Super PAC commercial flashes microscopic text at the end, lawfully stating which group paid for the ad. This is a huge inside joke, because the names of the actual donors are on file with the Federal Election Commission and never listed in the commercials. Otherwise voters might get suspicious.
Super PACs also are, on paper, independent. That means candidates who benefit from the attack ads can conveniently disavow any involvement with their content.
If you're starting a Super PAC, the most important thing (besides having suck-up billionaire friends) is choosing a feel-good name that looks solid at the end of your ads. No matter how venal and selfish your motives might be, the name of your fund-raising machine should always be sturdy and patriotic.
One of the biggest Republican Super PACs is called American Crossroads, which sounds like the title of a Woody Guthrie folk song but is in fact a tool of Karl Rove, the smear-and-fear guru who ran the presidential campaigns of George W. Bush.
American Crossroads has raised about $30 million, most of which is being spent on commercials bashing President Barack Obama. The credibility of its ads is immeasurably enhanced by not mentioning the connection to Rove, who isn't widely beloved.
Overall, the GOP does a craftier job of naming its Super PACs than Democrats do.
Mitt Romney's main Super PAC is called Restore Our Future, which suggests a broad grass-roots movement. In reality, the group is bankrolled by hotel and home developers, Wall Street investment firms, coal companies and a few super-rich guys who are chiefly interested in their own futures.
Still, it's a darn good front — better than calling it Restore Our Tax Breaks.
By contrast, the top Super PAC supporting Obama is Priorities USA Action, which sounds like a lame combat video game. Who's the dweeb that came up with this?
Supporters of Texas Gov. Rick Perry (remember him?) formed a Super PAC inspiringly called Make Us Great Again, which raised about $5.6 million despite backing a candidate who displayed the debating skills of a sleep-deprived toll-both attendant.
Ron Paul's biggest Super PAC was unassailably titled Endorse Liberty, while Rick Santorum's supporters poured $8.4 million into a chest thumper called Red, White and Blue.
Then there was Newt Gingrich, whose Super PAC trumped archrival Romney's Restore Our Future with one called Winning Our Future.
It raised almost $24 million, the largest contributor being a casino tycoon named Sheldon Adelson whose enchantment with Newt wasn't contagious. However, none of the Super PAC's brutal TV attacks on Romney noted Adelson's role as Gingrich's Vegas sugar daddy.
What a great system!
Adelson recently gave $10 million to Romney's Super PAC, and he'll spend many millions more trying to defeat Obama and certain members of Congress. You'll never see his name in any of the commercials.
Last week, Adelson donated $250,000 to Florida Gov. Rick Scott's PAC, cheerily titled Let's Get to Work. The contribution — which surely wasn't intended to influence Scott's views on upcoming casino legislation — was a boost for the Republican governor, whose poll numbers are at naked-zombie levels.
Scores of Super PACs are listed with the federal elections office. Many of the groups haven't collected a dime in contributions, hinting that somebody just came up with a name and wanted to claim it. One of the funniest Super PACs is called Florida Is Not For Sale.
There's also Fight for the Dream, Feel the Heat, End the Gridlock, Prosperity First, Patriots for a Better Tomorrow, Americans for America — and even Americans for a More American America.
You'd be hard-pressed to come up with a title as tone-deaf as Priorities USA Action, but Obama's key fundraisers obviously thought it was pretty catchy. The dullness didn't discourage movie executive Jeff Katzenberg (Shrek and other hits) from writing a check for $2 million.
Go-to words in the Republican Super PAC formula are "liberty," "freedom" and "values." Democratic-leaning groups prefer "forward," "action" and "progress." It's purely a difference in advertising strategy.
A more forthright approach to the outside funding of presidential campaigns would be to set up two honestly named Super PACs. One could be called Crush Obama and the other could be called Stomp Romney.
The special interests and super-rich who hate one candidate more than the other could still give as much money as they wish, only their names would be prominently scrolled at the end of each commercial — the same way directors and producers are credited in films.
That way, voters would know who was really paying for the attack ads.
And all these big donors could stop pretending to stand for the common citizen by cloaking themselves with slogans written for fools.
(Carl Hiaasen is a columnist for the Miami Herald. Readers may write to him at: 1 Herald Plaza, Miami, Fla., 33132.)