Who Deserves Bernie Sanders' Endorsements?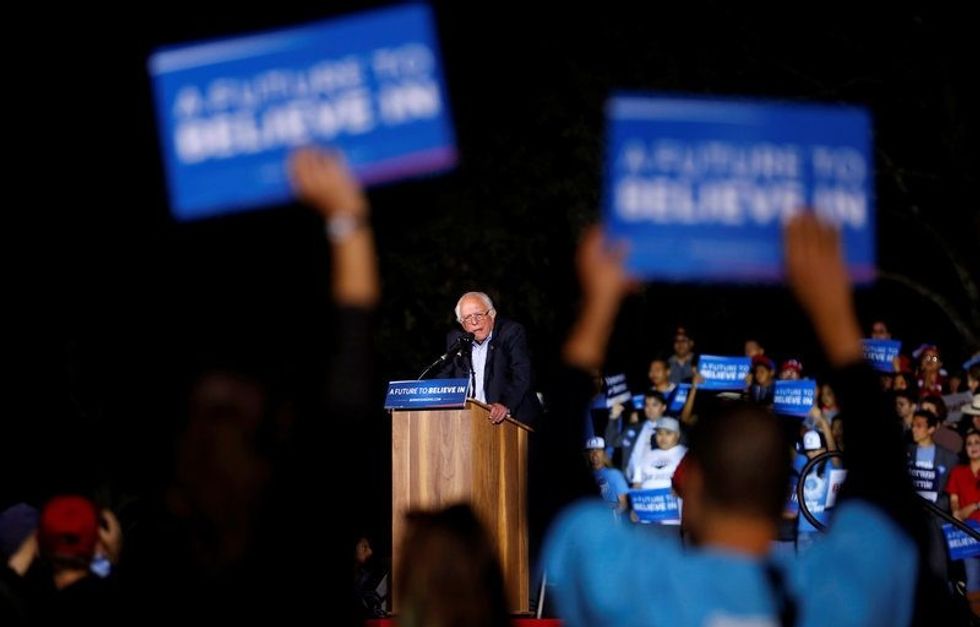 Fresh off the heels of his announcement of a progressive slate of Democratic Platform Committee picks, Vermont Sen. Bernie Sanders is looking to use his national platform to make a difference for down-ballot progressives.
Bernie Sanders recently announced endorsements of eight state legislative candidates, hailing their progressive records while reminding his supporters that change comes from the bottom up. Sanders' selections for the DNC platform consisted of prominent progressive activists, some of whom had little history working within the Democratic Party.
The irony here is obvious: Why is Sanders endorsing candidates at all? The former independent democratic socialist has been a member of the Democratic Party for just a few months, and the vast majority of Democrats in politics have endorsed his rival for the party's nomination. But that's just it: Like the rest of his candidacy, Sanders is using endorsements as a tool for bringing progressivism into the mainstream, broadening the tent of the Democratic Party.
Here's some background on Bernie Sanders' latest endorsements:
Justin Bamberg is an attorney and member of the South Carolina House of Representatives who represented the family of Walter Scott, an unarmed black man who was murdered by police officer Michael Slager. Bamberg initially supported Clinton, but switched his support to Sanders because of his longtime support of "racial, social and economic justice." Sanders has made criminal justice reform a key part of his platform, slamming private prisons while pushing for accountability among police departments amid disturbing trends of force against unarmed black men.


David Bowen is running for another term in the Wisconsin State Legislature. Bowen led the effort to pass a bill requiring a living wage of $11.32 per hour to employees of businesses that work with Milwaukee County. Last summer Bowen campaigned against the public funding of the Milwaukee Bucks' new arena, which called for a whopping $400 million from taxpayers mostly in Milwaukee.

Clara Hart, candidate for the South Dakota House of Representatives, is an immigrant who escaped turmoil in Mozambique and now works to help immigrant families in the Sioux Falls school district. Sanders touted her work on immigration reform, a key part of his platform.

Terry Alexander, another representative out of South Carolina, landed Bernie Sanders' endorsement thanks to his work on voting rights, health care reform, and raising the minimum wage.

Carol Ammons, the first African American representative to represent her district in Illinois, serves on a number of committees dedicated to issues relevant to Sanders' campaign such as college affordability and the environment. She won her first election against a candidate whom Sanders described as a "well-funded establishment opponent."

Chris Pearson is running for the Vermont State Senate. Sanders called Pearson a "champion" on the issues of livable wages, climate change, voting rights, and union advocacy.

Jane Kim is running to become a California State Senator and has fought for affordable housing and fair wages in San Francisco.

Joe Salazar is a representative of the Colorado State House and earned Bernie Sanders' endorsement for his work on civil rights, criminal justice reform, and the effort against fracking.
A group of Sanders supporters who call themselves "Brand New Congress" have already started advancing a goal of securing progressive representation on the federal level by 2018, and Bernie Sanders' endorsement spree could help continue that push nationwide — he's asking supporters to split their donations between his campaign and those he has endorsed.
These endorsements aren't Sanders' first this election season. In April, he endorsed three key progressive women running for Congress: Zephyr Teachout, Pramila Jayapal, and Lucy Flores. He had asked supporters to split donations for them as well.
Photo: U.S. Democratic presidential candidate Bernie Sanders holds a rally in National City, California, United States May 21, 2016.  REUTERS/Mike Blake