Why Did Rudy Giuliani Say Milwaukee Rioting Proves Trump Right On 'Law And Order'?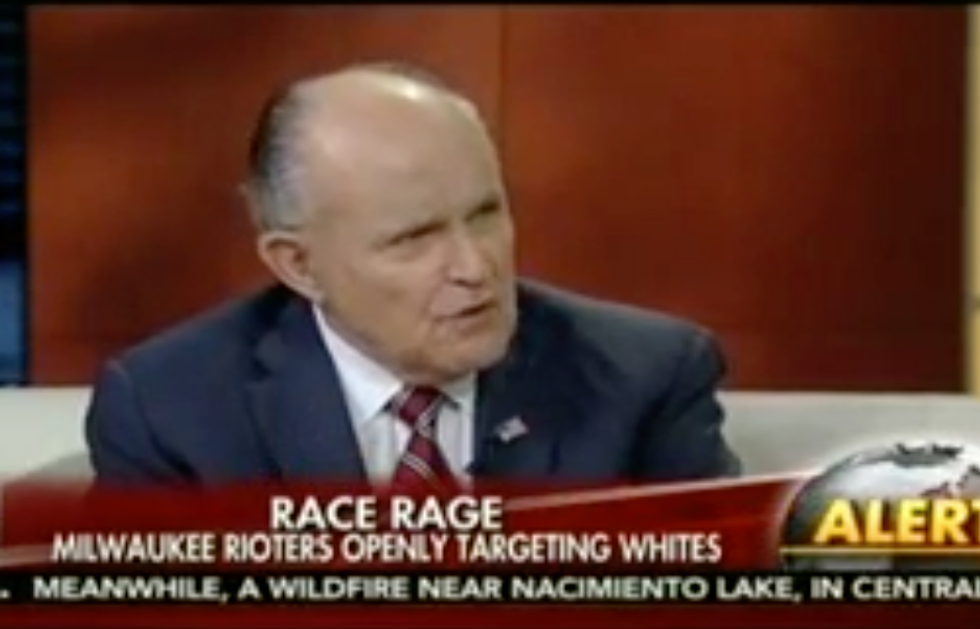 In an appearance on Fox and Friends Monday morning, former New York City mayor Rudy Giuliani said that the protests and rioting currently talking place in Milwaukee, Wisconsin — which began after police used deadly force against Sylville K. Smith, 23 — proved that Trump was correct to pivot his campaign towards a "law and order" message two months ago, after the attack that left five Dallas police officers dead. Giuliani laid the riots in Milwaukee at the feet of the Black Lives Matter movement.
But what does "law and oder" mean? The Trump campaign, which Giuliani frequently represents as a surrogate, has used the phrase in reference to "radical Islamic terrorism," illegal immigration, crime rates in cities, the status of law enforcement in American culture, and one-off events like the murder of five Dallas police offices. Sometimes, Trump mixes them all up.
Trump has only been a "law and order" candidate for two months. And it started innocently enough: After the murder of five police officers in Dallas during a Black Lives Matter protest in Dallas, Texas, Trump said in a written statement, "This is a time, perhaps more than ever, for strong leadership, love and compassion. We will pull through these tragedies." He mentioned the deaths of Alton Sterling and Philando Castile at the hands of police as evidence of "how much work we have to do in order to make every American feel that their safety is protected," in a video the same day.
But by the following Monday, Trump declared himself "The Law and Order candidate," and over the next week he began tweeting about crimes rates in "inner cities," apropos of nothing.
Crime is out of control, and rapidly getting worse. Look what is going on in Chicago and our inner cities. Not good!

— Donald J. Trump (@realDonaldTrump) July 12, 2016
For too many years, our inner cities have been left behind. I am going to deliver jobs, safety and protection for those in need.

— Donald J. Trump (@realDonaldTrump) July 12, 2016
This election is a choice between law, order & safety – or chaos, crime & violence. I will make America safe again for everyone. #ImWithYou

— Donald J. Trump (@realDonaldTrump) July 12, 2016
By July 13, five days after the Dallas attack, Factcheck.org was compelled to publish "Dueling Claims on Crime Trend," in response to Trump's shift in tone:
President Barack Obama said there have been "huge drops in the murder rates" in cities like New York, Los Angeles and Dallas. Republican presidential candidate Donald Trump said "violent crime has increased in cities across America." Which is it? We'll score this one for Obama.
Obama has in the past correctly pointed to trends that show that crime rates, and murder rates specifically, have dropped to historic lows. Trump also referred to a factual claim: In many cities, murder rates were higher in 2015 than they were in 2014. In Dallas, for example, there were 112 murders in 2014 versus 124 in 2015.
But as Factcheck.org noted, according to the Dallas Morning News, despite the slight increase, 2015 saw "the city's fourth-lowest since Dallas police started counting in 1930." Cities across the country have experienced similar decades-low crime numbers in recent years.
For historians and many political leaders, Trump was clearly calling back to the same kind of "law and order" that made that message so popular with supporters of Richard Nixon and Barry Goldwater: It harkens a crackdown on civil rights unrest and rioting in black neighborhoods in major cities in the '60s.
"It reminds me of another period. You cannot bring the country together by speaking of 'law and order,'" said civil rights icon and Georgia congressman John Lewis to The Hill in response to Trump, shortly after the Dallas attack.
In his speech accepting the Republican nomination, 15 days after the attack, Trump said that the party's convention "occurs at a moment of crisis for our nation. The attacks on our police, and the terrorism in our cities, threaten our very way of life."
Milwaukee Country Sheriff David A. Clarke Jr. spoke at the same convention about the danger of any "anarchy" that disregards the supremacy of the rule of law, referring to Black Lives Matter. Clarke has called the Black Lives Matter movement "thinly veiled anarchy" on other occasions, including during the ongoing protests and rioting in Milwaukee — despite members and leaders of the Black Lives Matter movement repeatedly expressing support for the rule of law and denunciation of violence. 
In October of last year, Clarke let his 96,000 Twitter followers know what the real threat was:
Before long, Black Lies Matter will join forces with ISIS to being down our legal constituted republic. You heard it first here.

— David A. Clarke, Jr. (@SheriffClarke) October 28, 2015
Claiming Black Lives Matter has terrorist sympathies is a well-worn trope by now. The goal is to paint the movement as an enemy of the state; of "law and order" themselves.
In January, reporting on an recruiting video allegedly published by the terrorist group Al Shabaab which featured rhetoric about racial disparities in America, Lee Stranahan of the the conservative site Breitbartposited that "Ultimately, it should come as no surprise that Islamist jihadists would adopt the messaging of a far-left group like Black Livers Matter. … [B]oth Islamists and Leftists have a deep hatred of the West in general, America specifically and a deeply nihilistic contempt for human life itself… Both Islamists and Leftist actively use deception as a tactic."
Two days before the Dallas shootings, a petition was created calling on the White House to "Formally recognize Black Lives Matter as a terrorist organization." After the attack, Rush Limbaugh called the group a terrorist organization, and within days, most major conservative outlets picked up the petition story (Daily Caller, Washington Times, Breitbart, InfoWars, et cetera).
The Dallas shooter, though he reportedly said he wanted to kill white police officers, did not identify himself as a member of any particular protest movement.
That didn't stop opponents' of the civil rights group attempts to pin the attack on Black Lives Matter's activism. Nor has it stopped commentators of all stripes from referring to any group of black people on camera as "Black Lives Matter," including in reference to the Milwaukee riots.
Is it any wonder Trump's "law and order" — and his surrogates' application of the term to every racial issue in his agenda — has blanketed this election cycle? Trump's betting that his supporters will react to coded racial language. Next time he calls for law and order, though, we should ask: For whom?
Matt Shuham is the associate editor of The National Memo. Find him on twitter at @mattshuham.
Photo: Rudy Giuliani appears on Fox News. Via Media Matters.