Why Hillary Clinton Can't Win The Fundraising Expectations Game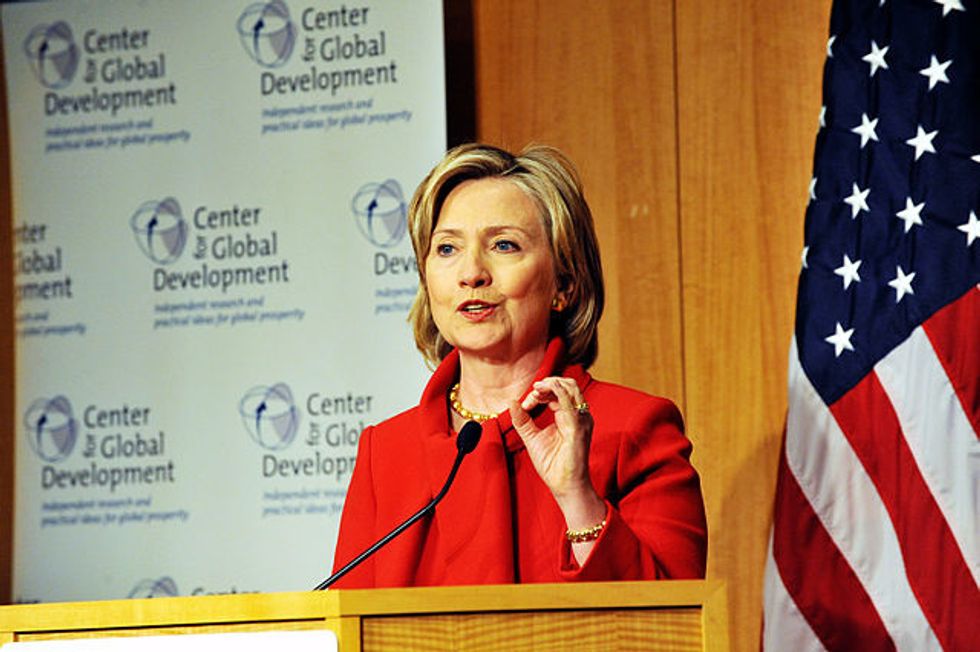 By Julie Bykowicz and Jennifer Epstein, Bloomberg News (TNS)
As Hillary Clinton begins her second presidential bid, and the business of paying for it, her supporters predict that she will be deemed a fundraising failure no matter how much money she collects.
One of the world's most recognizable politicians, Clinton has lifelong relationships with the Democratic Party's top donors, putting her in position to amass a record amount of cash. The former first lady and secretary of state already has locked up many of her party's biggest underwriters, from billionaire New York investor George Soros to Hollywood producer Marcy Carsey.
She has raised far more money during the course of her career than any of her 2016 rivals, banking $229 million during her 2008 presidential campaign before conceding the nomination to Barack Obama. Recently, Clinton has honed her skills in approaching big donors herself. Since leaving her post as secretary of state, she has spent much of her time helping her family's Clinton Foundation build a $250 million endowment — an effort that has proven controversial for the nascent campaign.
Ready for Hillary, a super PAC that's been ginning up support for Clinton since 2013 is ready to provide its email list of about 4 million, following its final Saturday rally in Manhattan. Priorities USA Action, a super-PAC first established to help Obama win a second White House term, is now prepared to raise tens of millions of dollars for Clinton. She also happens to be married to a master fundraiser.
In spite of — or perhaps because of — all this, Clinton boosters are already sounding warnings about the stratospheric expectations and trying to tamp them down.
"The standards she will be judged on are so high and ridiculous," Donna Brazile, a Democratic strategist close to the Clintons, said in an interview. "The expectations are sky high and they're based on fiction."
In one respect, the low-balling is understandable: Clinton has always been measured against her own star power. In 2007, when she filed her first fundraising report as a presidential candidate, a Chicago Tribune article called the $26 million total "staggering," then added that it "fell short of the sky-high expectations that had developed for Clinton."
Her aides emphasize that in this campaign — unlike in 2008 — Clinton first will ask donors to contribute only for the primary and to hold off on general election donations. Under federal regulations, individuals can give up to $5,400 for Clinton's 2016 campaign, $2,700 earmarked for the primary and $2,700 for the general. During her first presidential race, Clinton asked donors to max out for the cycle up front. That approach left her with a tantalizing amount of cash she wasn't legally able to use in what became a brutal primary fight with Obama.
Because of the one-step-at-a-time fundraising approach, aides say it shouldn't be surprising if Clinton reports less than the $47 million Obama raised in the three months after announcing his 2012 re-election campaign (when the president also asked donors to give both primary and general election contributions up front), or perhaps even less than the $26 million Clinton herself raised during the first three months of her 2008 campaign. Her campaign's first accounting of its fundraising is due to the Federal Election Commission in July.
Past cycles hardly seem relevant, however. Since her last run, the campaign fundraising landscape has been completely remapped, in part by the Internet and in part by the Supreme Court. As a result, the price of entry for serious presidential contenders has become much higher.
In addition to the time-tested methods of key fundraisers bundling together checks, the very top and very bottom of the political money spectrum have exploded in growth.
It's now standard for candidates to raise a few bucks from thousands of supporters over the Internet — something Obama pioneered in his race against her. The two Republicans who have begun presidential bids have already touted their strength in this area: Texas Sen. Ted Cruz said 95 percent of the $4 million he raised in his first eight days of campaigning was from low-dollar donors, and Kentucky Sen. Rand Paul, whose father perfected the Internet "money bomb," said he netted more than $1 million this way in his first 24 hours.
At the other end of the spectrum, super PACs, which can take unlimited sums of money from individuals, companies and unions and spend the money boosting specific candidates, have become a major part of campaign fundraising since they first emerged after the in the wake of the Supreme Court's decision in Citizens United v. the FEC. Former Florida Gov. Jeb Bush, who hasn't declared his run, has spent much of 2015 headlining events for Right to Rise, a super-PAC trying to pile up cash to help him win the presidency. Some of his supporters said he hoped to raise $100 million just in the first few months of this year. Right to Rise won't report its finances to the FEC until July.
Upping her game among small donors may be the biggest test for Clinton. The Center for Responsive Politics estimates that during the 2008 campaign, 42 percent of Clinton's donations were under $200. That compared to 53 percent for the web-savvy Obama.
For traditional fundraising, the Clinton campaign has a finance director, Dennis Cheng, but regional directors will be based in the areas they serve, rather than at headquarters in Brooklyn, N.Y. There won't be a national finance chair — a glitzy spot that usually goes to a wealthy donor with deep ties to the candidate — and any distinctions for donors and bundlers will be based on how much they bring in, a source with knowledge of the operation said.
Supporters who are able to get 10 friends to write $2,700 checks during the first 30 days the campaign will be called "Hill-starters," and will be invited to a May donor summit.
It's unclear how Clinton will interact with Priorities USA Action, the super PAC poised to help her. Now that she's in, Priorities, which hasn't held fundraisers since raising $78 million to help elect Obama in 2012 campaign, immediately will begin its money chase. Buffy Wicks, an Obama campaign operative in 2008 and 2012, is the group's executive director.
"There is tremendous enthusiasm for Hillary Clinton's candidacy," said Wicks in an email, "and we are confident we will have the resources we need to help elect her president."
Only about a half-dozen people are empowered to raise money for Priorities. Wicks, Michigan Gov. Jennifer Granholm and former Bill Clinton adviser Paul Begala, who are among them, have been having lunches and one-one-one meetings with the 2012 donors and with new prospects.
But Clinton could legally appear at fundraisers for the super PAC, so long as she doesn't specifically ask for contributions to the group. More intriguingly, so could her husband. That could provide Team Clinton with a way to offer major donors a VIP experience without Hillary Clinton getting into the kind of venues that could damage the populist credentials her party's left wing will demand.
Bottom line: Bill Burton, a former Obama aide who co-founded Priorities in 2011 but is no longer involved, said between the super PAC and Clinton campaign, "there's no way she's not going to raise what she needs."
(c)2015 Bloomberg News, Distributed by Tribune Content Agency, LLC
Photo: U.S. Secretary of State Hillary Rodham Clinton provides remarks on "Development in the 21st Century" at the Center for Global Development in Washington, DC January 6, 2010. [State Department photo / Public Domain]