Why Romney Will Lose Ohio (Hint: Vroom, Vroom)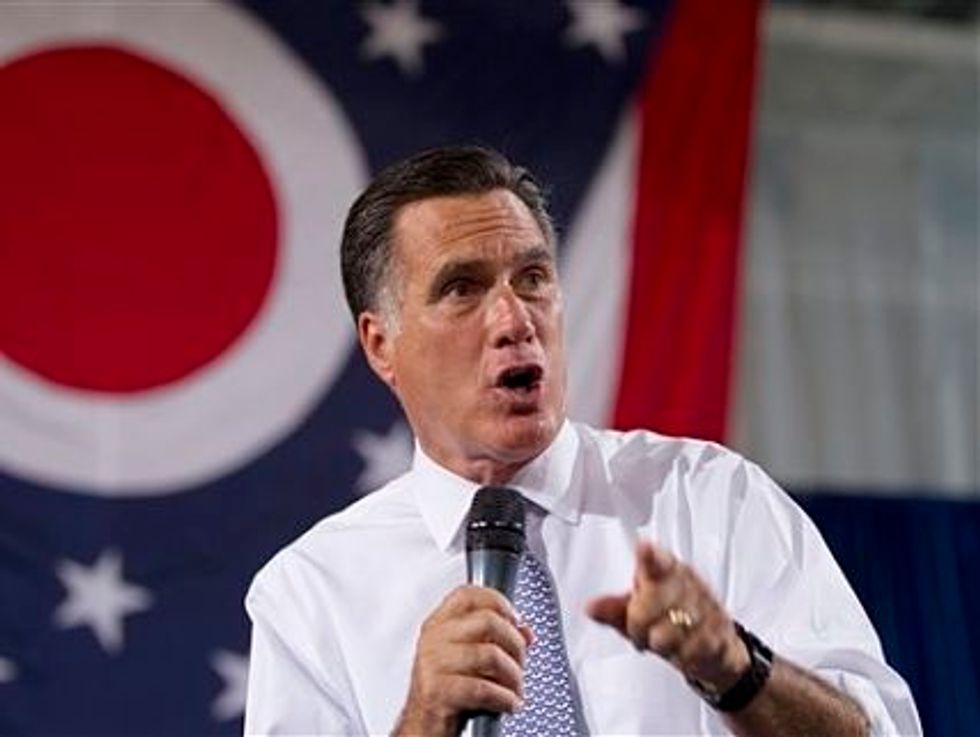 Greetings from the battleground state of Ohio, which Democrats and Republicans alike insist will determine the presidential race.
No use resenting us if you don't live here. For a few more days, we'll be the center of the universe. After Election Day, you can go back to wondering how a state with so many dairy farms and coal miners can be in the same time zone as Manhattan.
President Barack Obama continues to hold the lead in polls in Ohio. Beltway pundits love to rattle off the reasons, but this Buckeye who lives here has narrowed it down to one: the auto rescue.
So, let me tell you about my car.
Last summer, I traded in my Pontiac Vibe for a Chevy Cruze. It's bright red. I call it my red-hot mama car, just to embarrass the kids.
I bought the Cruze primarily because of my roots. I was born in Ohio and raised here by blue-collar parents who believed in God, hard work and organized labor. In the early 1970s, dozens of my relatives, including my utility worker father, worked in union jobs at power plants, steel mills and auto factories. I grew up believing that Ohioans knew how to make things — big things — that were shipped all around the world.
How my parents would have loved the story of the Chevy Cruze. It's a tale of many cities, many of them in my home state, full of the people I come from.
Bear with me, please, as I rattle off Ohio workers' contributions to the Cruze, which is now one of the best-selling cars in America:
The engine is made in Defiance.
The seat frames: Lorain.
The brackets: Waverly.
The fasteners: Brunswick.
The plastics: Tallmadge.
The seats: Warren.
The transmission: Toledo.
The sound system: Springboro.
The steel: Middletown and Cleveland.
The wing nuts: Tiffin.
The weld nuts: Hudson.
The weld studs: Medina.
The insulators: Norwalk.
The wheel bearings: Sandusky.
That is a partial list of Cruze parts made in Ohio.
The Cruze is assembled by about 4,500 union workers in Lordstown, Ohio, which is producing cars around the clock.
But wait… there's more.
Even if you don't live here, you probably have heard about another made-in-Ohio car: Chrysler's Jeep Wrangler, which is assembled by union workers in Toledo.
I'll spare you that list of Ohio suppliers. Lots of cities — and lots of workers, too.
Mitt Romney, who opposed the auto rescue, recently claimed during a campaign stop in Defiance, Ohio, that Chrysler is planning to move its Jeep production to China.
For a few hours, I was willing to write off this absurd claim as just another Romney gaffe. He says a lot of ridiculous things. Some of them are even unscripted.
Then Romney doubled down on his lie with TV and radio ads here in Ohio. In them, he claims that President Obama "sold Chrysler to Italians who are going to build Jeeps in China." A little word-tweaking, but the clear intention is to scare Ohio workers into believing they are about to lose their jobs.
For this whopper, Romney has earned nonpartisan PolitiFact's worst rating, "Pants on Fire." As PolitiFact also reminded readers, about 1 in 8 jobs in this state are auto-related. That's more than 800,000 jobs, which means at least a half-million families who have better lives because of the auto industry. These workers have relatives — friends and neighbors, too. Most of them care about the survival of the auto industry, too, because they care about the people who work in it.
This is very bad news for Romney — just as it was bad news for Ohio Republicans when going after the collective bargaining rights of state workers backfired on them last year.
In the wake of Romney's ad, Chrysler CEO Sergio Marchionne felt the need to send a letter to his employees: "Jeep assembly lines will remain in operation in the United States and will constitute the backbone of the brand," he said. "It is inaccurate to suggest anything different."
Nevertheless, as I write this, Romney's ad continues to run in Ohio.
And I'm days away from renaming my made-in-Ohio Chevy Cruze the red-hot victory car for Barack Obama.
Connie Schultz is a Pulitzer Prize-winning columnist and an essayist for Parade magazine. She is the author of two books, including "…and His Lovely Wife," which chronicled the successful race of her husband, Sherrod Brown, for the U.S. Senate. To find out more about Connie Schultz (con.schultz@yahoo.com) and read her past columns, please visit the Creators Syndicate Web page at www.creators.com.
Photo credit: AP/Evan Vucci