WikiLeaks Source Manning Sentenced To 35 Years
@AFP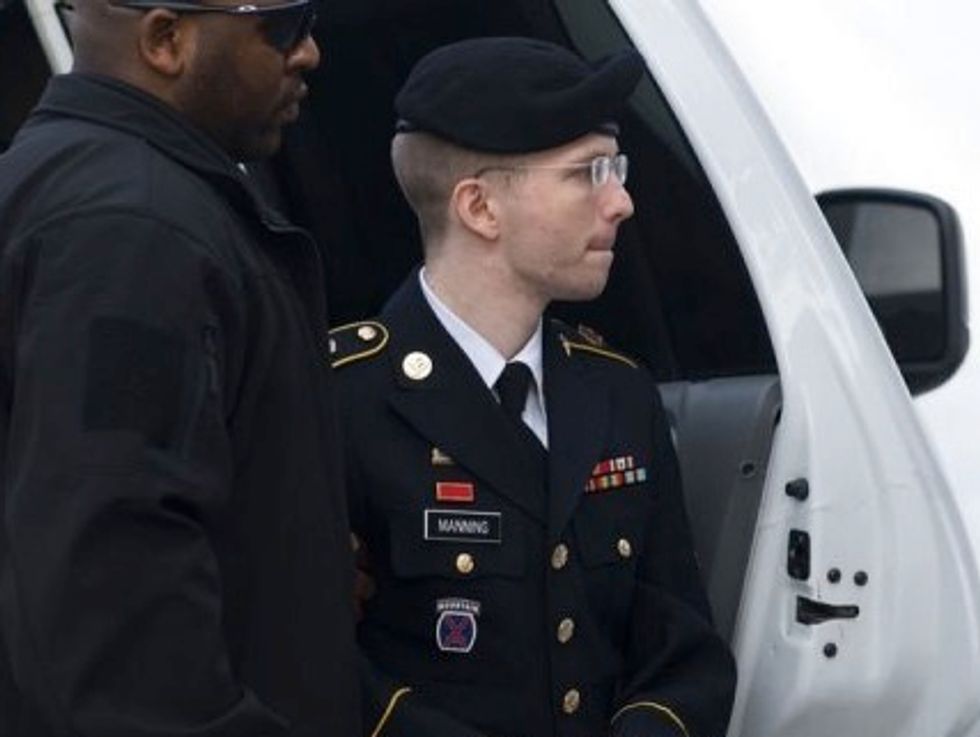 FORT MEADE, Maryland (AFP) – U.S. Army Private Bradley Manning was sentenced to 35 years in jail and dishonorably discharged Wednesday for the biggest breach of official secrets in American history.
Military judge Colonel Denise Lind delivered her verdict after a months-long trial for Manning, who passed a massive cache of classified government documents to WikiLeaks, the anti-secrecy website headed by Julian Asange.
Manning, 25, appeared ashen-faced as he awaited the verdict, which came in a less than two-minute statement by Lind.
A video link to the courtroom at Fort Meade military base near Washington cut out as soon as Lind stopped speaking.
The soldier was convicted of espionage and other crimes last month, having earlier admitted being the source of hundreds of thousands of battlefield reports from the wars in Afghanistan and Iraq and confidential U.S. diplomatic cables.
His sentencing is considered especially important as another leaker — the former intelligence contractor Edward Snowden, currently in Russia — is wanted in the United States on espionage charges, having disclosed details of the National Security Agency's secret electronic monitoring operations.
Military prosecutors on Monday pressed for a 60-year prison term for Manning, arguing that the penalty would send a message to people contemplating the theft of classified information.
Lead defense attorney David Coombs, however, appealed for leniency for his client. He said Manning had expressed remorse, cooperated with the court and deserved a chance to have a family and one day walk free.
Coombs is scheduled to speak to reporters at 1:30 pm (1730 GMT) and outline the next steps in the soldier's case, which may well include against the 35-year sentence, which will receive a 1,293 day discount for time he has already served.
Manning was a junior intelligence analyst at a U.S. base near Baghdad when he handed over the data — about 700,000 documents — to WikiLeaks.
The soldier was arrested in Iraq in 2010 and has been in military custody since. The documents that he disclosed rankled American allies when WikiLeaks published them, prompting warnings from U.S. officials that troops and intelligence sources had been jeopardized.
The most notorious breach was a video and audio file, dubbed "Collateral Murder" by WikiLeaks, showing graphic cockpit footage of two U.S. Apache attack helicopters opening fire and killing 12 people in Baghdad in 2007.
U.S. soldier Bradley Manning arrives alongside military officials at Fort Meade, Maryland on August 21, 2013
Manning, a hero to supporters who regard him as a whistleblower who lifted the lid on America's foreign policy, was found guilty of 20 of the 22 charges leveled against him.
He was, however, cleared of the most serious charge — "aiding the enemy," chiefly Al-Qaeda. More than 100,000 people have signed a petition calling for Manning's nomination for a Nobel Peace Prize.
Underlining the seriousness of the case, the U.S. government painted him as a reckless traitor whose actions put his country at danger.
Expert witnesses testified during the sentencing phase of Manning's trial that the soldier was confused about his gender and sexuality and under enormous psychological stress at the time he committed the leaks.
Manning also apologized. "I'm sorry that my actions have hurt people and have hurt the United States," he told Lind during a hearing last week.
Photo Credit: AFP/Saul Loeb