Wildfire Grows To 6,000 Acres Near Napa Valley; Evacuations Ordered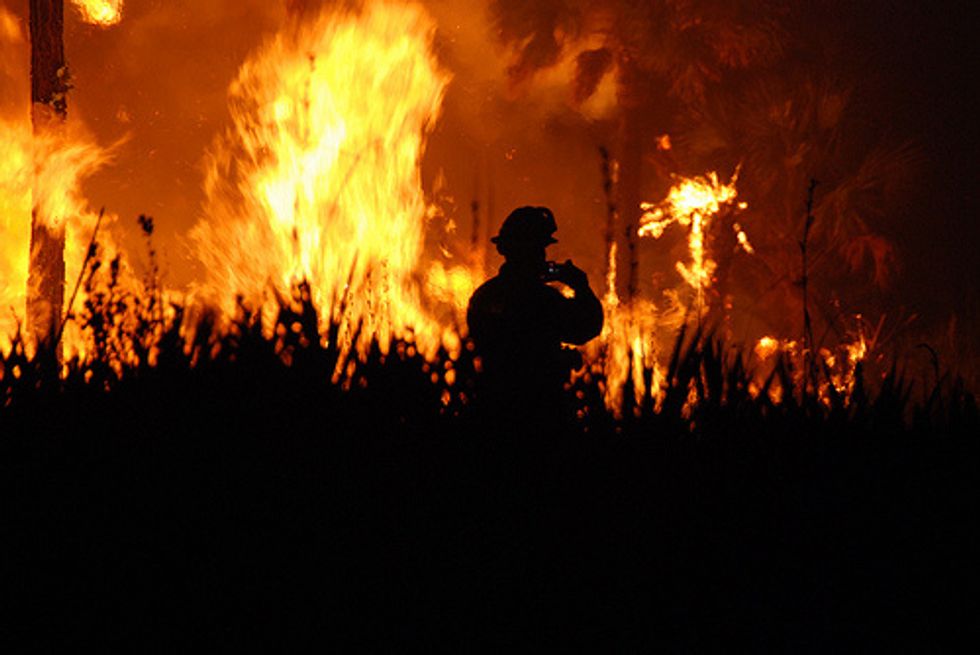 By Joseph Serna and Matt Hamilton, Los Angeles Times (TNS)
LOS ANGELES — Unpredictable winds and difficult terrain helped a fast-moving brush fire near Lake Berryessa grow 1,000 acres overnight and has triggered more evacuations in Napa and Sonoma counties, fire officials said Thursday.
The Wraggs fire was 6,000 acres and only 5 percent contained Thursday morning, a 1,000-acre increase in a single night, according to the California Department of Forestry and Fire Protection.
"The fire has remained … at a rapid rate of spread," Cal Fire said in a news release. "The terrain is brush-covered, rugged and steep, with difficult access. Winds are erratic."
The blaze first broke out about 2:30 p.m. Wednesday near Highway 128 and Greaves Road, Cal Fire said.
Flames spread swiftly through the steep, rugged terrain near the borders of Napa, Solano, and Yolo counties, Cal Fire officials said.
Evacuations were ordered for Cold Canyon, Mix Canyon, and Quail Ridge. Three hikers in Cold Canyon were rescued, said Cal Fire spokesman Daniel Berlant. Campers in the Canyon Creek and Lake Solano campgrounds were also evacuated, officials said.
About 200 structures are threatened in the Quail Ridge Community, Cal Fire reported. The Red Cross has opened an evacuation center.
An estimated 525 firefighters are battling the flames, which prompted a closure of Highway 128 and Wragg Canyon, according to the state fire agency.
A vehicle collision was initially believed to have sparked the blaze. The exact cause remains under investigation, Berlant said.
The Red Cross opened a shelter for evacuees at the Winters Community Center in Winters, California.
Photo: USFWS/Southeast via Flickr