Will Clarence Thomas Boost Trump's Sneaky Mar-A-Lago Scheme?
@LucianKTruscott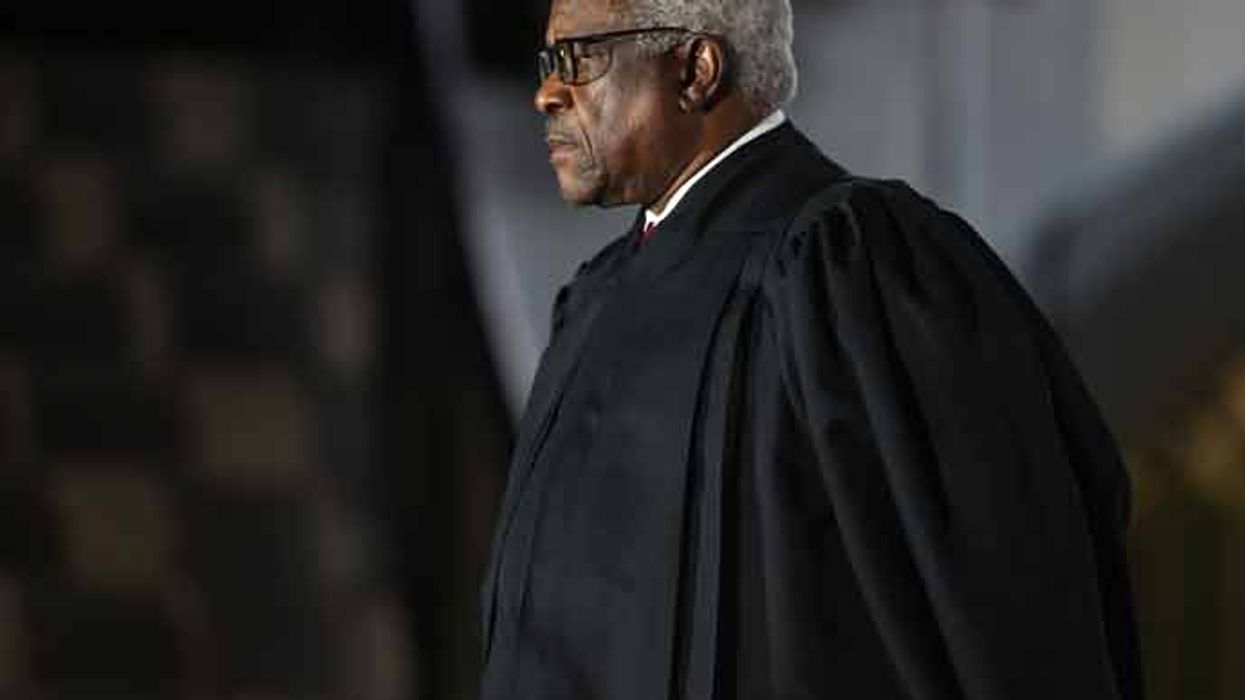 J
All was well when we left Northeast Pennsylvania yesterday afternoon…uhhh…except for the car rental agency that called this morning when they were due to pick us up with the news that nobody returned their cars yesterday, so they didn't have any cars and didn't expect to get one until around noon.
So there went the schedule. We were supposed to drive down to Charlottesville, Virginia in time for a late afternoon family reunion with my sisters and sister-in-law and Truscott cousins and nieces and nephews. All of us are here for my Uncle James' and Aunt Helen's funeral tomorrow at Monticello, a sad occasion, but when you're a family that's spread out all over the country and hardly ever see each other, you take your opportunities where you can get them.
So, we missed the reunion barbeque because we were stuck in bumper to bumper traffic coming through central Pennsylvania in a torrential downpour left behind by Hurricane Ian. Tractor trailer accident after a multi-car pile-up after flipped-over dump truck after a string of rear-ender pick-ups and SUV's -- you could barely make them out along the sides of I-78 and I-81 in the white-out fog and rain.
Then, to get us around the nightmarish traffic, Google-map Lady decided we would be better off heading south on two-lane roads through the rest of Pennsylvania, through the little hiccups of Maryland and West Virginia you must endure before entering Virginia, and onward we went through north-central Virginia headed vaguely south and vaguely east, presumably aimed by the wonders and miracles of GPS and God toward a Best Western on I-64 just east of Monticello.
We didn't count the various farm roads and country lanes or the number of turns we took during the six hours after we left the interstate, and we will never know where we went until I get my monthly "You Were Here" notice from Google Maps at the beginning of next month. But if we see another turn-off for a Civil War battlefield or the name of another Confederate general, we're emigrating, and I'm telling you, we don't care where we end up, just so long as we never have to look at another crumbling barn or dead Dairy Queen.
We both thought it would be a nice day off before the funeral, you know, a leisurely drive and no news…
But noooooo…
We thought we were in yet another FM radio dead zone when suddenly the radio hit a station with the news that Trump had filed an "emergency petition" with the Supreme Court asking them to overturn just an eeeny-teeeny-mini-little portion of the 11th Circuit Court of Appeal's recent decision allowing the Department of Justice to use the 100 classified documents Trump took to Mar-a-Lago from the White House and stored in cardboard boxes all over the place…er, ah…except for the ultra-secret ones the FBI found in his desk fucking drawer.
Trump's petition looks innocuous on the surface. He's asking that the classified documents be returned to the purview of the special master, not necessarily that the DOJ be disallowed from using them in their criminal investigation of Trump. You won't find those words anywhere in the petition.
What you will find, however, is a sneaky little backdoor I'm sure Trump is figuring the Supreme Court…or as he likes to call it, my Supreme Court…will slip through to return jurisdiction over the classified documents to, get ready for it, Trump's favorite judicial appointee, Aileen Cannon of Florida.
That's right. Trump's petition tells the Supreme Court that the 11th Circuit did not give adequate weight to "the District Court's broad discretion without justification." That would be Judge Cannon, of course.
And so, naturally, "This unwarranted stay should be vacated as it impairs substantially the ongoing, time-sensitive work of the Special Master."
Whoa, nellie, what a cutie, huh? Trump is all of a sudden telling the Supreme Court he's all worried that what the special master is doing is so "time-sensitive" the court needs to slow things down and allow everyone to take a deep breath while the 11,000 documents, plus the 100 classified files filled with secrets, are shuffled around between the parties long enough that Trump has adequate time to announce he's running for president, so he can squawk and scream and claim the nasty "Democrat" DOJ is running roughshod all over his rights as a candidate for political office.
You're just going to love this part. Emergency petitions like Trump's are filed with individual justices who oversee the various Circuit Courts in the country, and the 11th Circuit just happens to be overseen by…taadaa…Ginni Thomas' personal oath keeper, Justice Clarence Thomas.
Thomas immediately ordered the DOJ to file a response to the Trump petition by November 11 – there's a new date to throw in with the other dates already delaying the very "time-sensitive" work of the special master. Thomas is supposed to turn the matter over to the whole court for a decision on how to handle Trump's nifty little "gimme some more delay-time, puleeeeeze?" petition. But of course, the Supreme Court handles all of its work by rules it makes up by itself, and in the matter of emergency petitions, the justices overseeing the circuit courts are allowed to handle emergency petitions by themselves if they want and issue their own decisions without asking the other justices to weigh in.
So it's up to Ginni Thomas' husband how to handle Trump's petition that might end up once again barring the DOJ from using the classified documents…or any other documents Trump removed from the White House for that matter…in its criminal investigation of Trump.
I just don't know how Ginni's husband is going to handle it, do you?
The whole thing could go in about three or four directions with seven or eight various permutations and combinations of jurisdictional hocus pocus and oral arguments being scheduled if the whole court gets involved, but it's almost certain that this "emergency petition" by Trump will end up delaying the whole special master thing even longer.
When of course the whole special master thing was a bogus gambit right from the start because there is no attorney-client privilege that can be claimed regarding government-owned classified documents, and the same is true for executive privilege, because they are not "communications within the executive branch" that are covered. They are secrets involving the national security of the United States, not Trump's personal property.
So today we'll bury my Uncle, James Truscott, USAF Ret., who flew F-100's over the skies of post-war Germany, while down on the ground in East Germany and Czechoslovakia, Russian soldiers manned rockets armed with tactical nuclear weapons aimed at the very air bases he flew out of. And we'll bury my Aunt, Helen Truscott, who was an Air Force nurse in the very, very hot Germany of the cold war.
God bless them that they will be under the red soil of the graveyard at Monticello and will never again have to witness the madness afoot in the land they served with such love and distinction.
Lucian K. Truscott IV, a graduate of West Point, has had a 50-year career as a journalist, novelist, and screenwriter. He has covered Watergate, the Stonewall riots, and wars in Lebanon, Iraq, and Afghanistan. He is also the author of five bestselling novels. You can subscribe to his daily columns at luciantruscott.substack.com and follow him on Twitter @LucianKTruscott and on Facebook at Lucian K. Truscott IV.
Reprinted with permission from Lucian Truscott Newsletter