Will The Ted Cruz Presidential Campaign Be All Hat, No Cattle?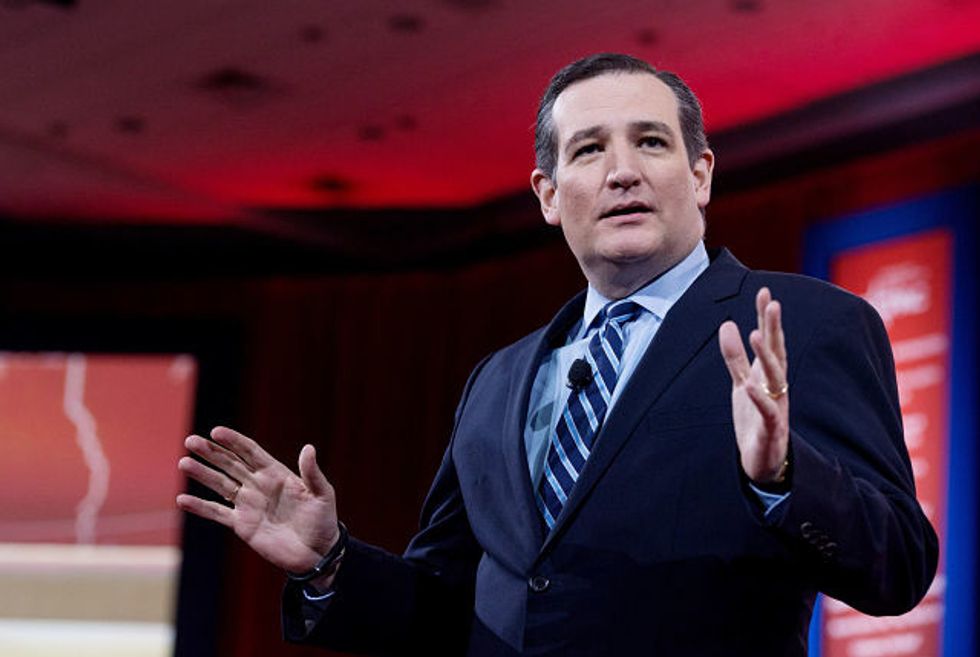 A presidential campaign often poses the largest, toughest management challenge of a candidate's life to date, and fairly or not, is often considered a proxy for whether a politician has what it takes to lead a country.
In order to be the first 2016 candidate to officially launch, Texas senator Ted Cruz skimped on a few hallmarks of a fully prepared, well-run campaign. He used stock footage of American landmarks in a midnight announcement video. He announced in a prefabricated setting before an attendance-required crowd at Liberty University. And his post-announcement tour was actually a media blitz that included Fox News, NBC, CBS, The Laura Ingraham Show and The Glenn Beck Radio Program.
Kentucky senator Rand Paul, by contrast, plans to enter the race April 7 in Louisville and spend the next four days at rallies and other events in the crucial early voting states of New Hampshire, South Carolina, Iowa and Nevada. Jeb Bush and Hillary Clinton are laying even more extensive groundwork.
Cruz's choice of an evangelical Christian university for his Monday announcement certainly reinforced his identity as a religious conservative. But it also raised inauspicious questions. Start with the fact that had he not slated his event for that day in that place, the 12,000 students Cruz described as "on fire" would have been listening (albeit perhaps less enthusiastically) to Virginia governor Terry McAuliffe. A leading Democrat and Clinton family ally, he was the speaker originally scheduled for that slot.
Could Cruz have gotten his own crowd, one that did not show up under threat of university penalties, and that did not feature people wearing Rand Paul T-shirts? Does Cruz have infrastructure in early primary states? Can he raise sufficient money? In short, will the campaign be real? Or will it be an extension of Cruz's Senate persona as a champion talker, more interested in making a point than moving the ball?
There have been many candidates who say they are running for president and even are included in primary-season debates. But their campaigns are Potemkin villages — long on facade, short on bricks and mortar.
Cruz would argue that he is all about substance. He bristled during several interviews when it was noted that both he and Obama chose to run for president at the same early point in their Senate careers. Cruz rightly pointed out that he spent more than five years as solicitor general of Texas and won big victories before the Supreme Court. "Unlike Barack Obama, I wasn't a community organizer," he said.
Obama was indeed a community organizer — after college for three years, two of them as director of the program. He then went to Harvard Law School, practiced law, taught law, and spent eight years in the Illinois Senate, where he was a leader in improving ethics and transparency, health and tax programs for the poor, and police practices affecting minorities.
As for the U.S. Senate, Cruz repeatedly called Obama an inconsequential backbencher. By contrast, Cruz said, he has personally led fights to uphold conservative principles "on issue after issue after issue," including stopping Obamacare and stopping "amnesty" for immigrants in the country illegally.
Obama might well have made fewer headlines than Cruz in the U.S. Senate. He did, however, play a key role in the passage of laws and sections of laws on ethics, transparency, green energy, protecting veterans, securing nuclear materials, and prohibiting no-bid contracting in the aftermath of disasters. The fights Cruz led against Obama's health and immigration policies, meanwhile, produced one government shutdown, one near-shutdown, and sinking GOP approval ratings. The policies he fought are still in effect.
Clearly, leading a fight is not the same as winning a fight. Winning in Congress often means laboring and sometimes compromising in obscurity — all to get your bill or provision or amendment wrapped into a huge piece of legislation with someone else's name on it.
In his focus on battles as opposed to results, Cruz recalls former Rep. Michele Bachmann. Voters want "a fighter against the political establishment of Washington, D.C., and I have credentials there," the Minnesota Republican said four years ago on Fox News, as she was gearing up for a 2012 presidential bid. She did express a lot of fighting views. But when she retired from Congress, her legislative record was characterized as thin.
Cruz raised a half-million dollars on his first official day as a candidate, a good start. Among his tests is whether he can sustain that pace and build a full-fledged campaign. To call on a cowboy cliché, Cruz has a lot of ground to make up if he wants to show he is not all hat, no cattle.
Follow Jill Lawrence on Twitter @JillDLawrence. To find out more about Jill Lawrence and read features by other Creators Syndicate writers and cartoonists, visit the Creators Syndicate website at www.creators.com.
Photo: U.S. Sen. Ted Cruz (R-TX) speaks at the 42nd annual Conservative Political Action Conference (CPAC) on Thursday, Feb. 26, 2015, in National Harbor, MD. Cruz announced his presidential bid Monday. (Olivier Douliery/Abaca Press/TNS)