Why I Will Vote For Andrew Cuomo — On The Working Families Line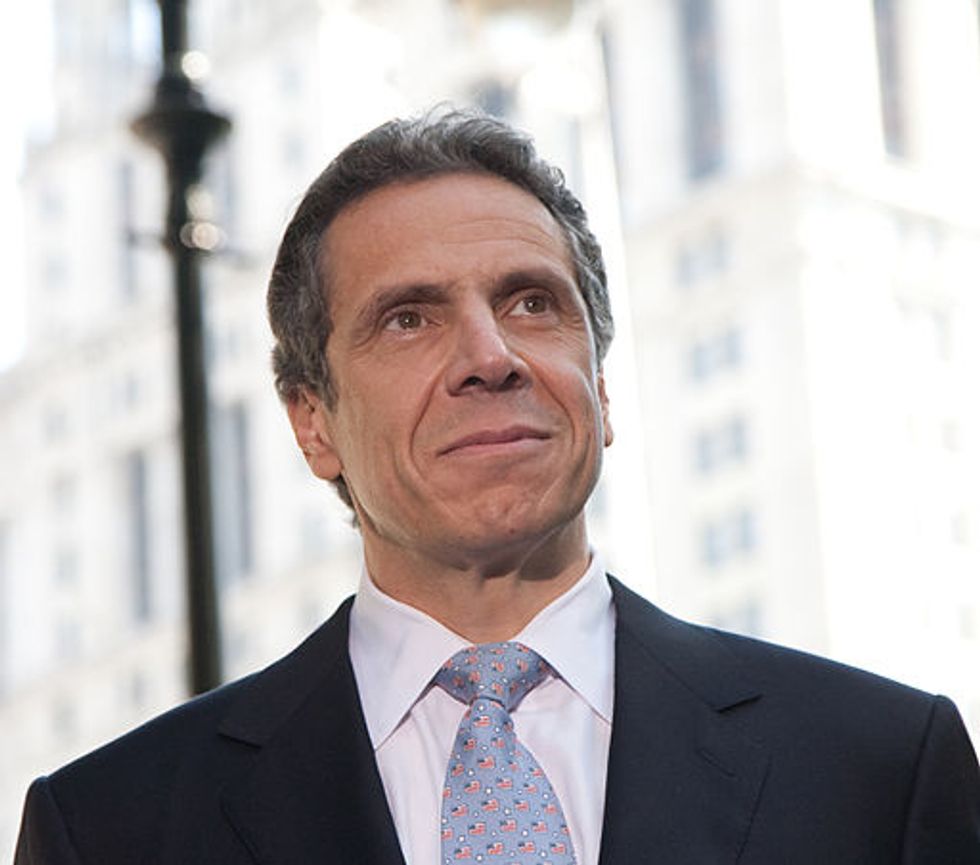 As Election Day approaches, I want to mention why I plan to cast a ballot that may at first seem contradictory. My aim is to admonish Andrew Cuomo for behavior unbecoming the "progressive" governor that he says he is, so I'm going to vote for him — on the Working Families Party line.
For me, voting the Working Families line is nothing new. I've supported the small but scrappy outfit's "fusion" approach to politics in New York, where it is allowed by law to cross-endorse Democrats, ever since its founding in 1998 by a coalition of union leaders, community organizers, and labor activists.
Over the past decade or so, the party has expanded into other states — including Connecticut, Oregon, New Jersey, Pennsylvania, Wisconsin, and Maryland — and won some important victories on issues such as the minimum wage, drug law reform, and paid sick leave. In New York City, the party has helped elect dozens of progressive Democrats to the City Council and in 2013 vaulted one of its leading candidates, Letitia James, into citywide office as Public Advocate. (For a deeper understanding of the party's history and strategy, it is worth reading this smart, thoughtful profile in The American Prospect.)
Earlier this year, the party was required to choose between Andrew Cuomo, the incumbent Democratic governor it endorsed in 2010, and Zephyr Teachout, a Fordham law professor challenging him in the Democratic primary. Like every minor party in New York, the Working Families Party must renew its ballot status every four years by winning at least 50,000 votes for its gubernatorial candidate – an outcome that hardly seemed guaranteed with Teachout before her surprisingly strong showing in the primary.
So the WFP nominated Cuomo, despite his various shortcomings, in a deal that obliged him to endorse the party's program, notably public election financing, a Democratic-led State Senate, and higher minimum wage. Cuomo has since reneged publicly on important aspects of that agreement, which is bad enough, but seems to be attempting something even worse. He has sponsored another entity — the "Women's Equality Party" — which seems designed mainly to drive the Working Families Party off the ballot by siphoning away its votes. There is no need for a separate women's party, as feminist legend Gloria Steinem emphasized with her endorsement of the WFP, which she calls "the most important vote this year."
Now some activists who despise Cuomo — and remain angry with the WFP for endorsing him — are urging progressive voters to support the Green Party candidate. But that is always a political dead end: The only significant consequence of a Green Party vote during the past 20 years was the Bush-Cheney administration.
Nothing quite so awful will happen this time, but the demise of the Working Families Party would mark the premature end of one of the most successful experiments in progressive politics that America has seen in decades – a combination of idealism and pragmatism, growing from the grassroots, that deserves to expand. Its thousands of activists have worked long and hard to build a vital institution with real power. Wrecking the WFP for the sake of a "protest" vote would be the electoral equivalent of a destructive tantrum.
Ironically, the only way to sanction Cuomo, who will win by a large margin on Tuesday, is to vote for him on the WFP line – and by doing so, frustrate his apparent wish to ruin them. I'm not alone in this approach, which has been stated eloquently by Nation magazine editor Katrina vanden Heuvel and former Teachout campaign manager Mike Boland. Mayor Bill de Blasio has endorsed Cuomo on the WFP line, too.
If the state's most powerful politician is scheming to get rid of the Working Families Party, then that may be the single strongest argument for keeping them on the ballot. But it is by no means the only one.
Photo: Pat Arnow via Flickr