With McCain Gone, GOP Scheming To Repeal Obamacare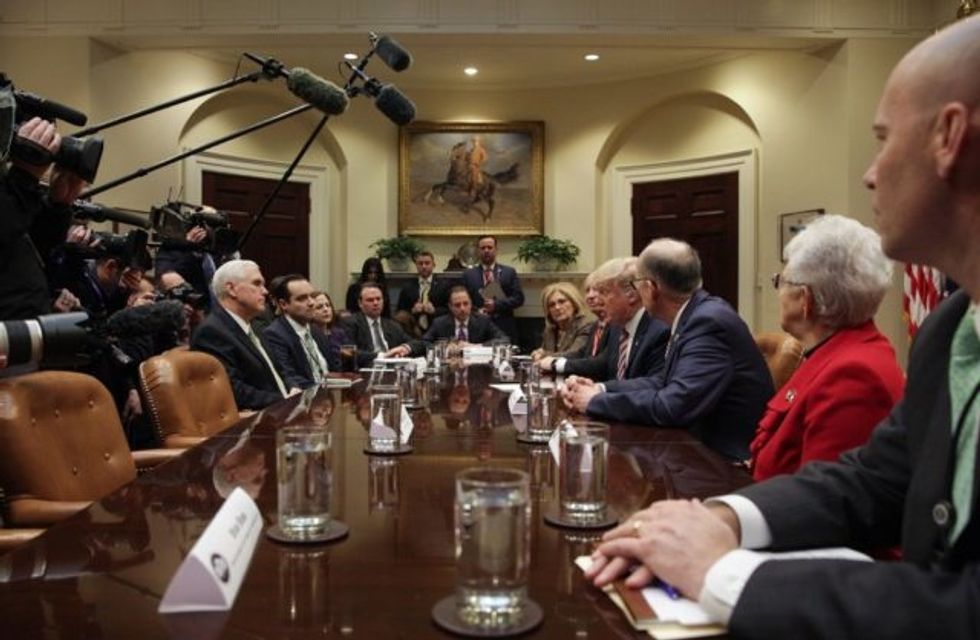 Reprinted with permission from Shareblue.
Republicans are plotting to use the recent death of Sen. John McCain (R-AZ) as a way to attack Obamacare, even though polls show residents of Arizona want the law to stay in place.
Senate Republicans say they are trying to convince Arizona governor Doug Ducey (R), who will appoint McCain's replacement, to pick a senator who will back Obamacare repeal.
McCain voted against the Republican effort to repeal the law, which would have stripped health insurance from millions of vulnerable Americans.
Sen. John Thune (R-SD) said, "If we re-engage in that discussion in some point in the future, it would be nice to have members who enable us to pass [repeal]."
Echoing Thune's sentiment, Sen. Ron Johnson (R-WI) said he hoped the next senator from Arizona would be a "strong ally" in Republican repeal efforts.
And Sen. David Perdue (R-GA) said he'd "love to have somebody" in the Arizona seat to "take care of" health care repeal.
Meanwhile, Sen. Jim Inhofe (R-OK) wants an Arizona senator with "sincere appreciation and respect" for Trump, who is himself singularly obsessed with doing away with Obamacare.
But Arizona voters don't want health care repeal, or a spike in health care worries in their state and around the country that would result.
A May poll from Public Policy Polling found that by a 57-35 margin, Arizona voters say they want to fix what is working in Obamacare and fix what isn't, rather than scrap the entire law like Republicans want.
The same poll showed 46 percent of Arizona voters would be less likely to support a politician who backs Obamacare repeal, versus 33 percent who would support a pro-repeal politician.
Arizonans are echoing national sentiment in favor of keeping Obamacare, which has increased in popularity as Republican attacks have intensified.
The GOP sees upending Obamacare as one of the major goals for the party if it retains control of Congress, going against the will of the people.
Their attempt to use McCain's death as cover for the ongoing campaign shows a marked disconnect from voters in Arizonan. They want health care, just like most Americans.
Published with permission of The American Independent.