Without Explanation, FBI Abruptly Releases Old Documents About Clinton Pardons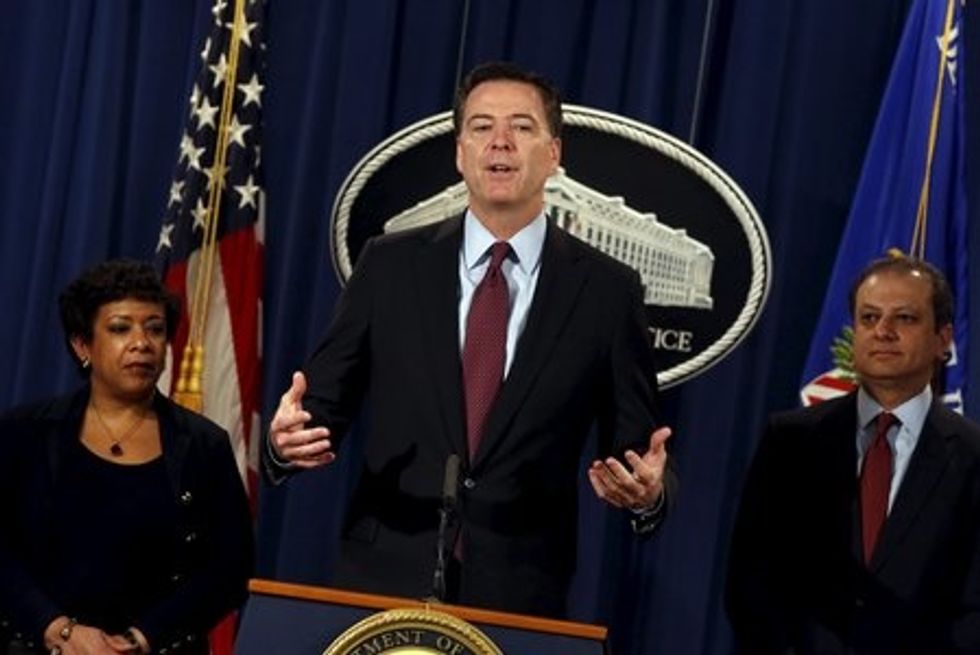 Why would the FBI suddenly release hundreds of mostly blank pages of documents from its investigation of presidential pardons by Bill Clinton — a probe that ended without any prosecution almost 15 years ago — just one week before Election Day? On Tuesday morning, the "FBI Records Vault" tweeted a link to the bureau's website where those documents were displayed with a short description, but no explanation for the abrupt release.
What little can be gleaned from the heavily redacted pages indicates they mainly concern the pardons of Marc Rich and Pincus Green, a pair of fugitive traders then living in Switzerland, although the pardon investigation undertaken by the U.S. Attorney for the Southern District of New York in February 2001 dealt with other pardons as well.
In the hours that followed, the bureau failed to explain its decision to dump the pardon documents, despite many press inquiries. But the mysterious release immediately stoked fresh consternation about FBI director James Comey's clumsy intervention in the presidential race on Oct. 28, when he sent a letter to Congress announcing that agents had discovered materials on a laptop owned by former Rep. Anthony Weiner that might prove pertinent to its investigation of Hillary Clinton's email server.
Since then, Comey has been under increasingly direct fire from Democrats, former prosecutors, and Justice Department employees for ignoring ethical guidelines about interfering in elections. Senate Minority Leader Harry Reid and a former ethics counsel in the Bush White House have accused him of violating the Hatch Act, which prohibits federal employees from using their office to intervene in elections.
Almost nothing in the released documents is new, beyond glancing references to bits of evidence (a "red rope") that may or may not have anything to do with Rich, whose ex-wife Denise was a major donor to the Democratic Party and the Clinton Foundation's library fund. It was Denise Rich's donations that spurred demands for an investigation.
Angry federal prosecutors in New York who had worked on Rich's indictment were only too happy to proceed. Clinton's failure to follow normal Justice Department procedures in awarding scores of pardons during the final hours of his presidency had aroused public suspicions and further enraged the prosecutors whose opinions he had ignored.
Mary Jo White, the U. S. attorney in the Southern District appointed by Clinton, opened the case within weeks after the pardons. At the time, Rich was living in a luxurious chateau in Zug, Switzerland, where he had fled to avoid trial on charges that he had done illicit business with Iran. He died in a Lucerne hospital in 2013, never having returned to the United States because Clinton's pardon required him to pay a $21 million civil fine if he came back.
As the documents released on Tuesday attest, several squads of FBI agents across the country spent months serving subpoenas and interviewing witnesses in pursuit of evidence that the pardons were awarded corruptly. With its demands for information from the Clinton Foundation and its donors, the bureau effectively intimidated many from making additional contributions.
Yet while the investigation continued for months after White returned to the private sector and President Bush appointed a new U.S. attorney in her place, the case against Clinton was always weak. After all, he had rejected requests from personal friends who had given much larger sums than Denise Rich and then sought pardons for arguably more deserving convicts, such as financier Michael Milken and native American activist Leonard Peltier — both of whom, unlike Rich, at least had served time.
Most important was the pile of evidence, produced by a Republican-led Congressional committee investigating the pardons, that Clinton had actually pardoned Rich chiefly as a favor to Israeli prime minister Ehud Barak, in the midst of Mideast peace negotiations. Barak had reached out to Clinton on three occasions, including the night before Clinton's final day in office, to importune him on behalf of Rich — who was a longtime secret asset of Israeli's intelligence services. (The full story of Barak's campaign to pardon Rich is told in Man of the World: The Further Endeavors of Bill Clinton, my new book about Clinton's post-presidency.)
The underlying irony of the FBI document dump is that the pardon investigation ended in 2002, on the watch of James Comey, the newly appointed U.S. attorney in Manhattan. Having inherited the Clinton matter from White, he effectively closed the case before moving on, after less than two years in that post, to serve as deputy attorney general in Washington.
While this action was obviously intended to frame the Clintons again, it is more likely to embarrass Comey, as yet another bonehead move by a law enforcement leader who no seems able to conform to crucial standards of fairness.