When Women Attack Men — A Double Standard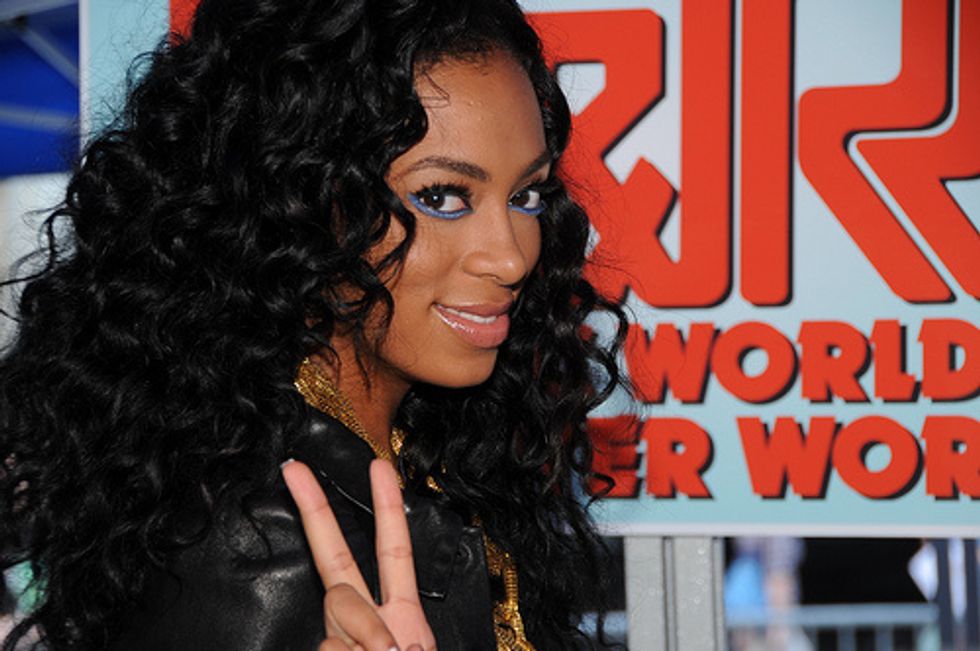 What if he had smacked her one?
She's going after him with fists and feet. What if he had defended himself in kind? Or what if he had been the one who attacked her without physical provocation?
Would it still be funny?
As we all know from a leaked elevator surveillance video that has been replayed countless times on television and online, that's not how it happened. Instead, rapper and businessman Jay-Z deflected the blows and at one point caught a kicking foot in midair, but otherwise made no aggressive moves as his sister-in-law, singer Solange Knowles, whaled on him. Beyoncé — his wife, her sister — watched without interfering, and an overmatched bodyguard tried to keep the peace.
Video of the one-sided brawl at a New York hotel first surfaced last week on TMZ. It has since been widely remarked upon and scrutinized. People have speculated on what made Solange go off like that. People have cracked jokes. But there has been little if any denunciation of the violence, nor are police known to be investigating.
Indeed, the world seemed ready to move on to the next oddity in the human carnival by the time the family released an opaque statement on Friday (they're both sorry) and Saturday Night Live lampooned the fight in a sketch.
But what if he had hit her, whether in self-defense or aggression? Wouldn't we be having a markedly different discussion right now? Wouldn't police be involved? Wouldn't his reputation be in the toilet?
Yes. So, what's the difference?
We know the answer intuitively, even if it is not politically correct to say: Real men don't hit women. Not even in self-defense, unless maybe she holds a black belt or a baseball bat. Men are taught from boyhood to be mindful of their superior size and strength: Don't hit girls.
So Jay-Z  took his sister-in-law's abuse because there was, in a real sense, nothing else he could do.
And don't you think she knew that? Don't you think she was counting on it when she waded in there?
One is wary, as a man, of calling out double standards between the sexes. In the first place, men benefit from more double standards than we have space to count. In the second place, it would be specious to pretend the physical abuse of men by women is a problem anywhere near as ubiquitous as the physical abuse of women by men.
That said, it's hard to let this go without at least acknowledging this other double standard — and Solange's exploitation thereof.
Too bad police didn't raise the specter of an investigation, even if only to have it batted down. Might not have been the worst thing in the world if Jay-Z's heavy-handed in-law had to at least momentarily contemplate explaining herself to a judge.
But that, of course, is wishful thinking. It won't happen — not only because police would be disinclined, but also because as a guy, Jay-Z  would in all likelihood be mortified by the very idea. Forget the family dynamic: To press charges because a woman hit you without injury would be to betray male pride. Might as well join a monastery. You could never show your face again.
So it bears repeating: There was nothing he could do but take it. And if that wasn't physically hurtful it had to, at the very least, be profoundly humiliating.
Isn't it interesting how, 50 years into the modern feminist movement, with women represented at previously unthinkable strata in our national life, gender roles continue to define and constrain us, often in ways as subtle and unseen as they are abiding and real?
We will be thrashing that out for the foreseeable future. But we might make a small, albeit welcome change in that future if we reconsider what we have long told our little boys and expand it to include their sisters, too.
Don't hit girls? No.
Don't hit at all.
(Leonard Pitts is a columnist for The Miami Herald, 1 Herald Plaza, Miami, Fla., 33132. Readers may contact him via email at lpitts@miamiherald.com.)
Photo: J&R Music World via Flickr