Women Go Marching On Washington
@JamieStiehm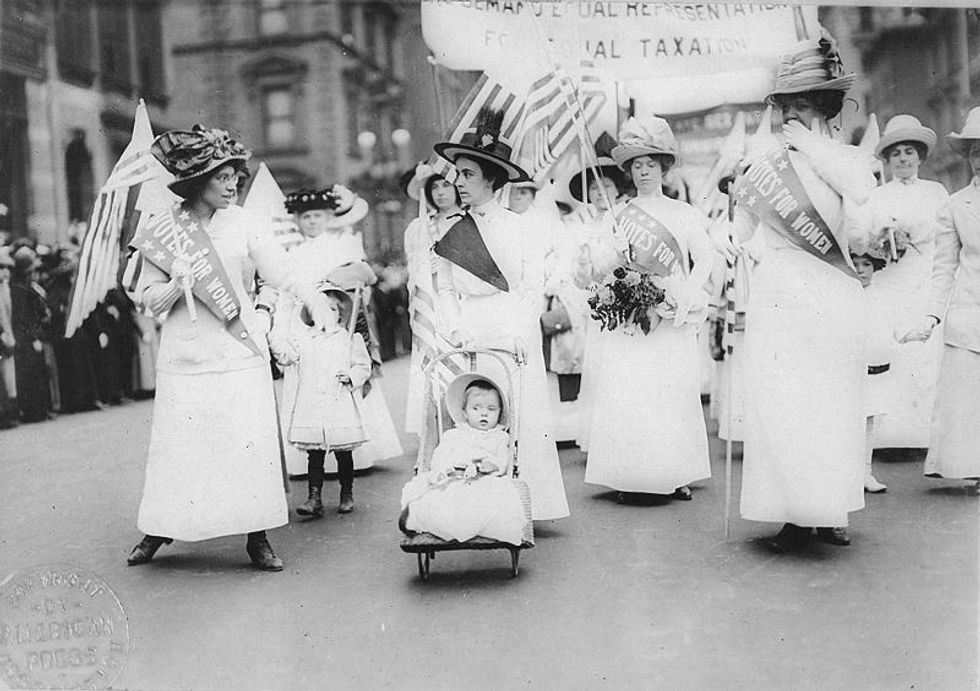 WASHINGTON — Greetings from the bluest city in America — where Democratic melancholy runs as deep as the Potomac. The capital is reeling from the presidential election's verdict. A near-death experience. People are swapping election night stories like Titanic survivors.
Women feel dashed, a keen loss, knowing we may not live to see the first woman president. We're going to grief counseling. But that's not all.
Ladies, let's march. Plans for a Women's March on Washington on Jan. 21, 2017 are underway. That's the day after the presidential inauguration, so the timing is perfect.
My sister's coming from California with her family. My mother, too. My dear friend from Michigan is flying in with her daughter, as is my mother's girlhood friend from Wisconsin. (Two states that turned out not to be true blue.)
Slumber parties, unite. We women seek to reawaken cohesion: acting like we're all in this together, not each rowing her own boat. We've made incremental progress at best in recent years. The Family and Medical Leave Act was signed by President Bill Clinton, believe it or not, ages ago. Let's do better.
In the historic 2016 contest, Hillary Clinton won well over a million votes more than her opponent, Donald Trump. This exposes the Electoral College as hogwash. All American votes should be created equal. Lest we forget. The slaveholding era state-by-state counting discriminates against the larger, urbane states like New York and California. We're tired of that.
Take my word, we're desperate to know just how the new sheriff coming to town — president-elect Donald Trump — won Michigan, Wisconsin and Pennsylvania, and thus carried the country by such slim margins. Washington Agonistes. As a 20-something neighbor said, she fears misogyny, racism and bigotry becoming "codified."
Exactly. Millennials have much at stake, starting careers and families in Trump's America.
The shame is not just that Trump won in such a rude, reckless and belittling fashion; it's also that Clinton lost, with her brilliance and experience. They are the best and worst poles in their generation, dominant baby boomers, never to go quietly without a scene. The election went from farce to drama to tragedy, as an editor noted.
It was a damned near thing, to paraphrase the Duke of Wellington on winning the Battle of Waterloo. Depend upon it, sir, this was our Waterloo.
The Civil War-era Capitol Dome is shiny and ready for the inauguration, after a three-year restoration. The only thing is, it looks like "hard plastic," as a leading journalist put it. It looks as faux as Trump's dome in the autumn light.
Also on Capitol Hill is the posh townhouse where Alice Paul lived and led the suffrage movement to victory through constant street scenes. Woodrow Wilson, the Democratic president, hated seeing protests out on Pennsylvania Avenue, but he had no chance against the stunning, modern Philadelphia Quaker.
Wilson was a proper Princeton man who believed ladies and blacks should stay in place. Other than that, the professor was a great guy.
The next Senate will have two more women senators, for an all-time high of 22 out of 100. Take heart, they are almost all blue, Democrats in the minority, who will brace to hold the line against the Trump-led onslaught.
They had been looking forward to blue skies with Clinton, a former senator. Oh, it was going to be grand.
Lucy Calautti, board president of the National Woman's Party, which brought suffrage home in 1920, issued a stoic statement from the townhouse, now the Belmont-Paul Women's Equality National Monument.
"We're disappointed that a woman candidate for President did not break the highest glass ceiling this time around, but we are very, very hopeful for the future. Strong, highly capable women in both political parties ran for office in 2016 … (They) illustrate to women and girls everywhere that our democratic process needs and benefits from our civic participation."
Page Harrington, executive director, hosted a packed post-election salon at the townhouse and said the "phone is ringing off the hook" regarding the January march.
She said Paul's seven-year campaign inspired her more than ever: "This is the long game."
A million will mobilize. The dream shall never die.
Abraham and Martin will be expecting us at the Lincoln Memorial.
To find out more about Jamie Stiehm and read features by other Creators Syndicate writers and cartoonists, visit www.creators.com.
IMAGE: Women's Suffrage Parade in New York City, May 6, 1912. Via Wiki Commons