Women Setting New Records As Midterm Approaches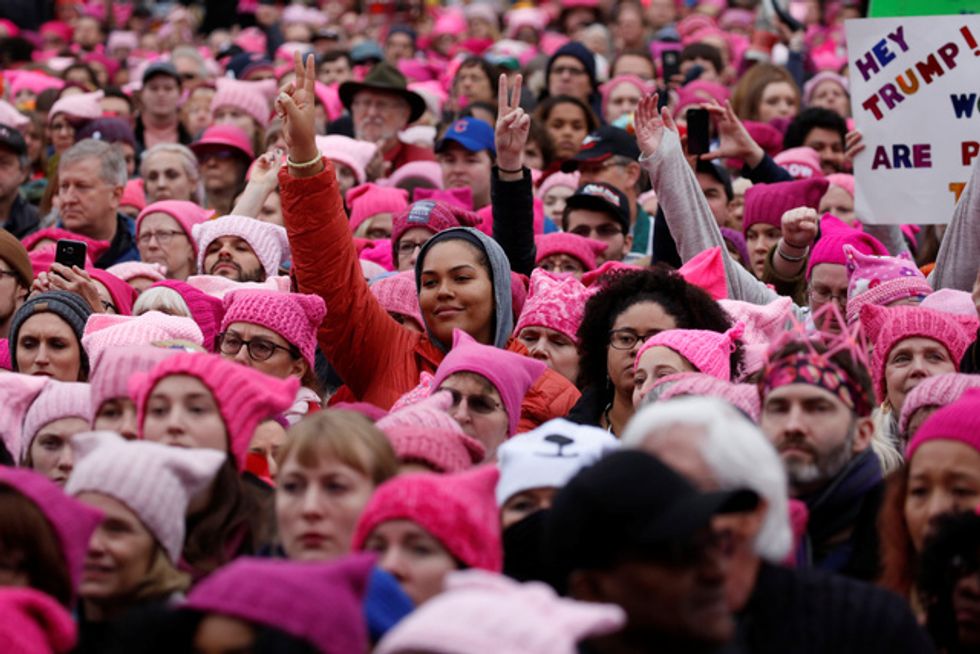 Reprinted with permission from DCReport.org
By Jillian S. Ambroz
Women are becoming political powerbrokers. They are setting new trends for candidacies, donations and activism. To date, 23 percent of all federal candidates for the midterm elections are women, according to the Center for Responsive Politics. That is a new record, eclipsing 2016's high by seven percentage points. A partisan breakdown shows that 30% of candidates are Democrats while 13 percent are Republicans.
As donors, women now account for 31 percent of all donations—another new record. The growth in donations appears driven by women's support of Democratic candidates, and particularly, female candidates. Women accounted for 44 percent of the contributions to female candidates and for 34% of the donations to men, which both reflect historic high points. Female contributions to Republican candidates remain flat, according to data from the Center for Responsive Politics.
Activism—or more accurately, protest—has been a huge factor in this Age of Trump since his Inauguration, and may play a role in getting out the vote in November. To date, women have led the movements, from the Women's March last year to the March for Our Lives events against gun violence last month. Based on research samples, 2017's Women's March had an 85 percent female turnout – no surprise there. The March for Our Lives event, on the other hand, was made up of 70 percent women, most just under the age of 49, with 72% holding a degree of BA or higher.
The Supreme Court heard a case on partisan gerrymandering in Maryland in Benisek v. Lamone March 28 that could affect the nation. The case involves the 6th Congressional District in Maryland, which pulled hundreds of thousands of voters from Democrat-heavy Montgomery County to redraw the Republican district in 2012 and hand it to the Democrats. The court is unsure if it wants to wade into the political waters and actually make a ruling at this point. If the court does decide to weigh in on the issue of partisan redistricting, it could have a profound effect on our nation's politics going forward. Another case before the court involves a redrawn district that favors Republicans in Wisconsin, Gill v. Whitford. The Court heard that case last fall but has yet to make a ruling.
A flood of Congressional departures has been announced ahead of the midterm elections, the most since 1994. A whopping 41 Republicans are leaving Capitol Hill, while 18 Democrats are retiring. So far, five Senate seats are up for grabs and 54 House seats. Democrats need 23 seats to take over the House and two to take control of the Senate. While it may seem like an easy feat to reclaim those two seats and get control, the Democrats have a few vulnerable incumbent seats to defend in the Senate. But recent upsets in special elections in Alabama and Pennsylvania and the state legislature voting in Virginia, which was seen as a bellwether for November's elections, suggest the Democrats have more than a fighting chance of taking back both houses.
Despite seven years of Republican legislation that has seen dirty tricks take away voting rights in 23 states, from 2010 through 2017, the pendulum is starting to swing the other way. So far this year, 30 states have introduced at least 206 bills to expand access to the polls to counteract voter-suppression efforts at the national level, according to an article by Mother Jones.
Maryland lawmakers voted to become the eleventh state, plus the District of Columbia, to make voter registration automatic, meaning people could register to vote at the Department of Motor Vehicles and other state agencies. The bill is before Gov. Larry Hogan for signature. Residents could also opt out of the voter registration, which would go into effect in July 2019. The legislature also wants to add a state constitutional amendment making it possible for eligible citizens to register and vote on the same day. That proposal will be on the ballot in November.
The race is heating up to fill the Congressional seat for the late Louise Slaughter (D-N.Y.), who served in the House for more than 30 years. Slaughter, whose district is greater Rochester, N.Y., passed away at the age of 88 on March 16. N.Y. Gov. Andrew Cuomo (D) has yet to set a timeline for the special election, but it is believed he will follow the regular congressional election calendar. That would mean candidates would have until April 12 to collect 1,250 signatures to be eligible for a June 26 primary.
Help us help keep you informed about what's happening in Washington