Worry, Wondering, And Waiting As The Grand Jury Ponders Michael Brown Shooting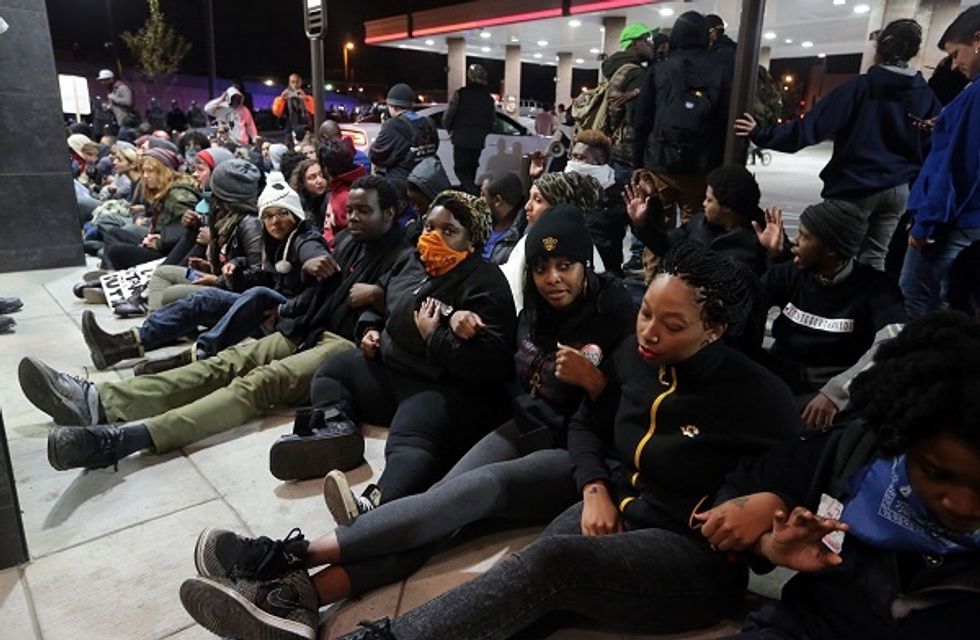 By Jim Gallagher, St. Louis Post-Dispatch (TNS)
ST. LOUIS — Worry, wondering, and impatience marked the mood in Ferguson and Clayton as a dreary Sunday passed with no word from the grand jury considering whether to bring charges against a Ferguson police officer in the fatal shooting of Michael Brown.
People went about a rainy day shopping, sitting in cafes, and speculating about what is to come. The grand jury, meanwhile, is to convene again Monday.
Richard Schademann, a teacher at Johnson Wabash Elementary School in the Ferguson-Florissant School District, was taking a break at the Corner Coffee House in Ferguson.
"The school's mood is pretty tense. We've been going through lockdown drills," Schademann said. "We want the kids to be safe."
Children seem to be taking the situation in stride, he said. But after one drill, a fifth-grader asked him, "Why would they want to attack our school?"
People worried about a possible repeat of the scenes of August, when police and demonstrators confronted each other amid tear gas, hurled rocks, occasional gunfire and outbreaks of burning and looting along West Florissant Avenue in Ferguson.
"I worry because I have a daughter," said Anisha Cole as she shopped at the Buzz Westfall Plaza shopping center, near the scene of the August troubles. "Why should we tear down our own community?"
Her 3-year-old's day-care center will close if there is violence, she said.
On Canfield Drive, at the scene of Brown's death, a small crowd gathered as two men arrived after traveling by foot from Atlanta, a journey that began on Nov. 3.
Londrelle Hall broke down in tears as he knelt next to the makeshift memorial of flowers and stuffed animals that mark the site. He and fellow runner Ray Mills called it a "run for justice" to raise awareness of "racial injustice and police brutality."
In Ferguson and in Clayton, where the grand jury is meeting and demonstrations also are expected after the grand jury's decision, people expressed degrees of unease.
"I don't think it's a dangerous as the media made it out to be," said Marina Vile, 22, a University of Missouri-St. Louis student enjoying lunch at a Ferguson cafe. "But I don't feel I'd come out here at night."
People in downtown Clayton gazed at metal fencing stretching around the county police headquarters, and barriers around the jail and prosecutor's office. Postal boxes were locked shut around the Clayton business district.
The national news media had taken over the parking lot across from the Buzz Westfall Justice Center, setting up tents and satellite trucks.
Kaitlyn Pemberton, a waitress at the Break N Egg diner, wasn't worried by the barriers half a block away. "I think it's been blown out of proportion," she said, saying she was confident in the police.
Others were more cautious. "If something starts happening, we'll get everybody out to safety," said Josh Venverloh, manager of a restaurant across the street from the St. Louis County police headquarters.
Clayton businesses are open, said Ellen Gale, executive director of the Clayton Chamber of Commerce. "People are still coming into Clayton," she said.
Many had expected the grand jury's decision on Sunday, and people were speculating about the delay. Others continued the debate over whether Darren Wilson, a white Ferguson police officer, was justified in shooting Brown, an unarmed black 18-year-old.
Some hope that, if the grand jury opts not to call for an indictment, protests that follow will send a message. "If it doesn't blow up, I'll be very disappointed," said Ardester Williams, a security guard at the Buzz Westfall Plaza shopping center in Jennings. "People have been putting up with this kind of thing for 300 years. I want people around the world to know we're tired of it."
Several of those interviewed hoped some good would come from four months of trouble. Cassandra Butler said it had placed racial "unfairness" on the national agenda.
"Everybody is apprehensive," she said. "Even the hopeful are apprehensive."
MCT Photo/Laurie Skrivan/St. Louis Post-Dispatch