Wretched Winter Grips Northeast; Huge Pennsylvania Turnpike Pileup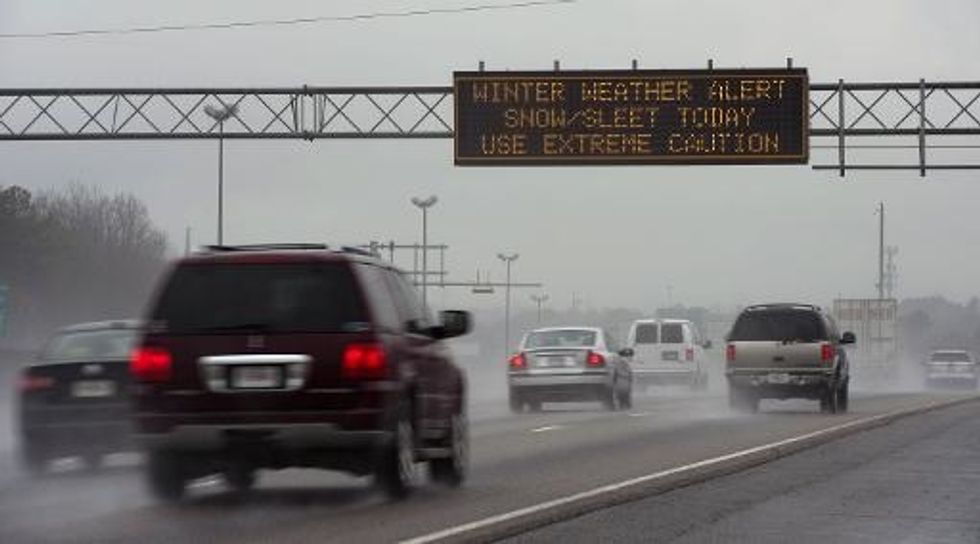 WASHINGTON — Mother Nature had scant love for the eastern part of the United States on Valentine's Day, continuing a streak of miserable and deadly weather that has turned much of the nation into a snowy, icy mess and caused a major pileup on the Pennsylvania Turnpike.
On Friday, one side of the Pennsylvania Turnpike outside Philadelphia, an area that got more than a foot of snow, was blocked by collisions that caused minor injuries.
At least 16 motorists were injured, including five trauma victims, in a series of crashes involving dozens of vehicles on the Pennsylvania Turnpike that began just after 8 a.m. Friday. Traffic along the turnpike was backed up for miles, the Associated Press reported.
As the South and mid-Atlantic regions continued to dig out Friday, the storm, carrying heavy snows and gusty winds, moved through New England, according to the National Weather Service. Despite sunny skies in previously hard-hit regions, hundreds of thousands of people remained without electricity, mainly in the South, and more than 20 people have died, including a pregnant woman killed by a plow in Brooklyn. Her baby son was delivered by emergency cesarean section Thursday.
Snowfalls, already at record levels after a series of storms this season, continued to accumulate. More than 22 inches of snow was reported in Somerset County, Pa., and parts of upstate New York received more than 2 feet of snow.
The nation's airline system was beginning to recover. More than 10,000 flights had been canceled in recent days since the storm came roaring out of the Southwest, through the Deep South and following the traditional track of a nor'easter up the East Coast. On Friday, cancellations dropped to about 1,100 from 6,500 on Thursday, according to Flightaware.com, a website that monitors the airline system.
One of the biggest concerns remained the power outages, caused by heavy ice that coated and weighed down power lines and trees. More than 1 million utility customers lost power as the storm moved across the country. By Friday morning, it had dropped to about 440,000 outages mostly in South Carolina and Georgia.
The treacherous weather was blamed for nearly two dozen deaths, many of them in motor vehicle accidents that began earlier in the week in Texas.
In Brooklyn, 36-year-old Min Lin died after she was struck by a utility vehicle with an attached snow plow that was moving in reverse. Lin, who had been putting groceries into the trunk of her car, was pronounced dead at a hospital, where her son was born via a cesarean section. The nearly full-term, 6-pound, 6-ounce baby remained in critical condition on Friday.
Washington received nine inches of snow Thursday; Westminster, Md., reported 19 inches; and Newark, Del., had 14 inches. New York City received nearly 10 inches, and parts of New Jersey had more than 11.
Washington on Friday was digging out of its biggest storm of the season.
Federal offices and airports were open Friday, and the District of Columbia government lifted its snow emergency, though many schools were closed another day.
The commute was dicey and icy around the nation's capital.
A stretch of the Baltimore-Washington Parkway was closed for 2 hours because of icy conditions. More buses were put back into service, but the Washington Metropolitan Area Transit Authority warned commuters to expect detours in order to keep buses "off of hilly terrain, narrow side streets and other problem areas."
Contributing to the difficult commute was that more snow fell Thursday night after plows cleared roads earlier in the day.
And something remarkable happened: The sun came out.
But wait. More snow is forecast to hit the D.C. region Friday night and Saturday morning.
In New York, the teachers union and TV weatherman Al Roker harshly criticized Mayor Bill de Blasio's decision Thursday to keep schools open. Roker, who was in Russia for the Winter Olympics but has a daughter in New York's public schools, said on Twitter: "It's going to take some kid or kids getting hurt before this goofball policy gets changed."
Roker stood by his criticism on Friday but apologized on NBC's Today show for a tweet forecasting "one term" for De Blasio, saying that was "below the line."
AFP Photo/Davis Turner