Yanukovich Says He's Still Ukraine Leader, Calls On Russia To Act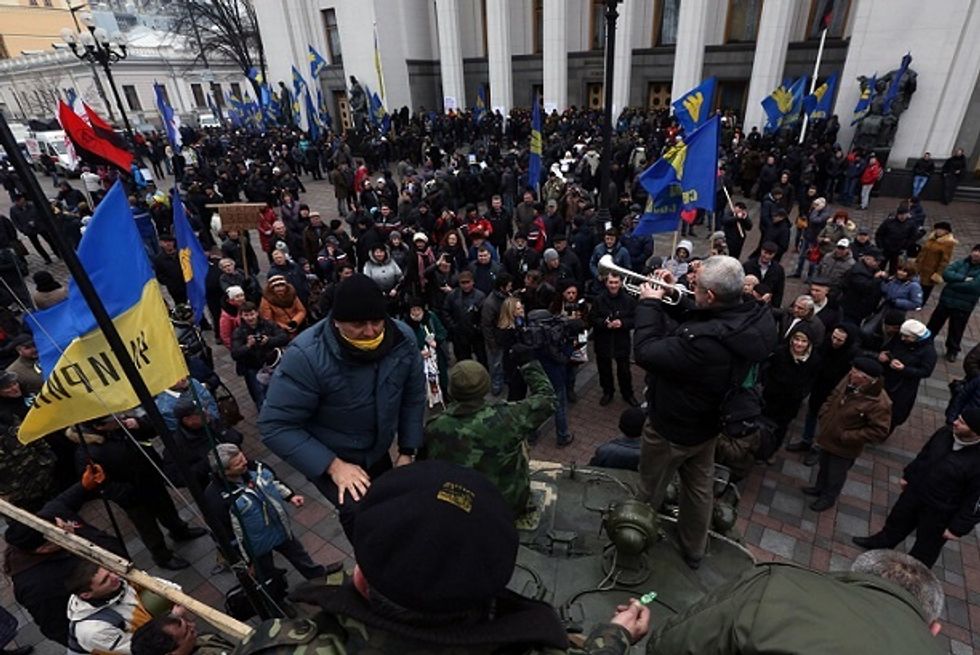 By Carol J. Williams, Los Angeles Times
MOSCOW — Ukraine's deposed President Viktor Yanukovich on Friday declared himself still the legitimate leader of his divided country and said his Russian allies in the Kremlin "should and must act" to put an end to the political chaos.
"Knowing the character of (Russian President) Vladimir Vladimirovich Putin, I am surprised that he is until now so restrained and silent" on the subject of intervening to bring calm to Ukraine, Yanukovich said at a news conference in southern Russia carried live nationwide on Russia-24 television.
At the packed gathering in Rostov-on-Don, Yanukovich said he had not met with Putin since being granted refuge in Russia this week after appealing to Moscow to protect him from what he termed the "nationalist and fascist thugs" who have taken power in Kiev, the Ukrainian capital.
Yanukovich blamed the disorder and communal clashes in eastern Ukraine, in particular in the predominantly Russian-speaking region of Crimea, on Western diplomats who brokered an agreement to quell violence in Kiev last week, saying they had failed to hold the opposition forces now running the Ukrainian government to the letter of the pact. He accused European Union and U.S. diplomats of encouraging the three-month revolt against him, saying the crisis wracking the country "was not scripted in Ukraine."
Instead of ensuring that all arms were laid down at the violent epicenter of the confrontation on Independence Square, known as Maidan, "Kiev was flooded with people carrying weapons who started breaking into houses and churches, inflicting suffering on absolutely innocent people who were robbed and beaten up," he said. "This is going on now."
The European Union mediators who brokered the Feb. 21 settlement after at least 82 people were killed last week failed to compel the opposition to keep to a timetable of first enacting constitutional changes, then organizing early presidential elections by the end of this year, he contended.
Yanukovich loyalists in parliament defected in droves after the deadly crackdown by special forces who fired on demonstrators. The opposition-led parliament then voted to oust Yanukovich as president, appoint former speaker Oleksandr Turchynov as interim president, set a May 25 presidential election and disband the Berkat special police unit that had clashed with protesters.
Deputies switched their allegiance to the opposition only because their lives and those of their families were threatened, Yanukovich alleged.
"They were forced to vote in this way," he said. "Their houses were burned. These are the realities in Kiev."
Yanukovich sent mixed signals to the Russian-speaking community in Crimea, where ad hoc militiamen have taken up positions at the Simferopol airport, occupied the autonomous republic's parliament and stationed roadblocks at the border between the strategic peninsula in the Black Sea and the rest of Ukrainian territory.
Crimean Russians' fear and anger is "understandable," Yanukovich said. But he appealed to his supporters there: "Do not allow blood to be shed or for conflict to begin. As the legitimate president of Ukraine, I think Crimea should be part of the Ukrainian state with their autonomous rights ensured."
But Yanukovich later seemed to appeal to Moscow to send in troops to restore order.
Russia has numerous industrial interests and economic agreements in Ukraine, he said in answer to a question of whether he wanted intervention by Moscow to restore what he considers the constitutional order. "Russia has the right to act. I think that Russia should and must act."
Crimea remained tense Friday amid reports from UNIAN that about 30 gunmen had surrounded the Ukraine border coast guard unit in Sevastopol. The coast guard officers identified the gunmen as Russian marines from Brigade 810 of the Russian Black Sea Fleet, the report said.
Later in the day, a Russian naval officer arrived on the scene and demanded that none of the coast guard forces leaves their base, saying the marines were fulfilling the demands of the Crimea regional Security Council to prevent the captures of weapons by extremists, UNIAN reported.
Yanukovich appeared nervous at the start of his address to Russian and Ukrainian media in the city near the border with Ukraine. He repeatedly said he would return to Ukraine as soon as his security and that of his family could be guaranteed.
He arrived in Rostov-on-Don on a flight from Moscow late Thursday that was escorted by military aircraft, the DonInfoBuro agency reported, according to RIA Novosti.
Earlier Friday, Swiss authorities announced in Geneva that they had launched a criminal probe of Yanukovich and his son, Aleksander, after searching and seizing documents from a business owned by the ousted Ukrainian president there. The office of Geneva's chief prosecutor, Yves Bertossa, said in a statement on its website that the probe was investigating allegations of "aggravated money laundering."
Ukraine's newly installed interim prime minister, Arseny Yatsenyuk, charged Thursday that the former government had plundered the country's finances and siphoned off about $70 billion to private offshore accounts since Yanukovich came to power in 2010. During the last three years, Yatsenyuk said, Ukraine's gold and hard currency reserves had plunged to $15 billion from $37 billion.
Photo: Sergei L. Loiko/Los Angeles Times/MCT