Young People Have Abandoned Trump In Almost Record Numbers, Polls Show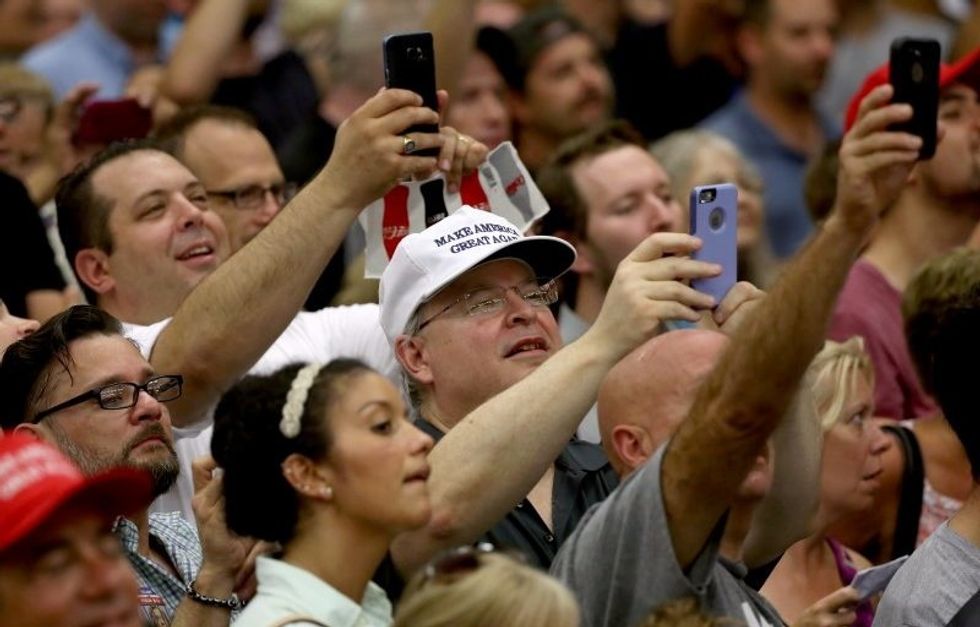 According to a new USA TODAY/Rock The Vote poll, Donald Trump is performing at almost record lows among young American voters. This showing is fueled, in part, by many millennial Bernie Sanders supporters finally flocking to Hillary Clinton.
The poll shows Clinton leading Trump 56 percent to 20 percent among voters under the age of 35. Adding in third-party candidates, the numbers still show Clinton with a wide lead at 50 percent to Trump's 18 percent, Gary Johnson's 11 percent, and Jill Stein's 4 percent.
The poll also found that 50 percent of voters under the age of 35 are supportive of the Democratic Party, with only 20 percent supportive of the Republican Party, and 17 percent independent. Young voters believe that Trump seemed less presidential after the Republican Convention. This is in direct opposition to Clinton's numbers among young voters, which indicate that after the DNC she seems more presidential.
The recent USA TODAY/Rock The Vote poll isn't the only one to document Trump's floundering campaign with young voters. A McClatchy Poll released last week actually shows Trump trailing behind both third-party candidates Gary Johnson and Jill Stein among voters under the age of 30. In that poll, Trump polled at 9 percent, compared to Clinton's 41 percent, Johnson's 23 percent and Stein's 16 percent. Trump's level of support was just one point above "undecided" voters at 8 percent.
The McClatchy poll showed Trump's favorability rating with young millennials at a paltry 13 percent, which is worse than his favorability rating among Latinos of all ages (25 percent) and just above his favorability rating with liberals (10 percent).
The methodology of this particular McClatchy poll allows for a higher margin of error than normal, but the numbers still tell a damning story about Trump's flailing candidacy among millennials.
Even a Fox News poll from last week shows Trump struggling with voters under 35: Trump polled at 23 percent with Johnson very close behind him at 19 percent. Clinton dominated that survey too, at 50 percent. Jill Stein was not included in the poll.
Multiple polls throughout this election cycle have shown young people reacting negatively to Trump. In July, a GenView poll found that more than two thirds of respondents between 18 and 30 years old thought that Trump was racist, including six out of 10 white respondents. Young voters have responded by rejecting Trump's violent rhetoric and moving away from his campaign.
The USA TODAY/Rock The Vote poll was taken by Ipsos Public Affairs from August 5 through August 10th. It included 1,539 adults ages 18-34 and has a credibility interval akin to the margin of error of 4.6
Photo: Republican presidential nominee Donald Trump speaks during a campaign event in Fairfield , Connecticut, U.S., August 13, 2016. REUTERS/Michelle McLoughlin